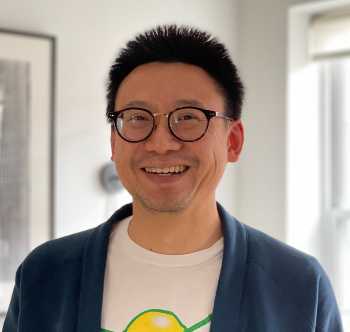 Hua Hsu
Born:
Champaign-Urbana, IL, 1977
Connection to Illinois
: A second-generation Taiwanese American, Hsu was born in 1977 in Champaign-Urbana, Illinois.
Biography
: Hsu was a tenured associate professor of English and director of American Studies at Vassar College until 2022, when he became professor of English at Bard College.[9] Since 2017, he has also been a staff writer at The New Yorker. His work includes investigations of immigrant culture in the United States, as well as public perceptions of diversity and multiculturalism. Other research work and interests include studies of literary history and arts criticism. Hsu has been a fellow at New America, a public policy think tank and a contributor to The New Yorker, The Atlantic, Slate, and The Wire. His 2012 essay for Lucky Peach about suburban Chinatowns was nominated for a 2012 James Beard Award for food writing. He is a board member of the Asian American Writers' Workshop. His book, A Floating Chinaman: Fantasy and Failure Across the Pacific, was published in June 2016 by Harvard University Press. He was a 2016 National Fellow for the New America Foundation.
---
Awards
:
Primary Literary Genre(s):
Non-Fiction
Primary Audience(s):
Adult readers
Web:
http://www.huascene.com/
Wikipedia:
https://en.wikipedia.org/wiki/Hua_Hsu
WorldCat:
http://www.worldcat.org/search?q=Hua++Hsu
---
Selected Titles
A floating Chinaman : fantasy and failure across the Pacific
ISBN: B01G5B45BM OCLC: Harvard University Press June 7, 2016 Who gets to speak for China? During the interwar years, when American condescension toward China yielded to fascination with all things Chinese, a circle of writers sparked an unprecedented conversation over U.S.-Chinese relations. Hua Hsu tells how they became ensnared in bitter rivalries over who could claim the title of leading China expert.
Stay True: A Memoir
ISBN: B09N6QRVR7 OCLC: Doubleday September 27, 2022 In the eyes of eighteen-year-old Hua Hsu, the problem with Ken—with his passion for Dave Matthews, Abercrombie & Fitch, and his fraternity—is that he is exactly like everyone else. Ken, whose Japanese American family has been in the United States for generations, is mainstream; for Hua, the son of Taiwanese immigrants, who makes 'zines and haunts Bay Area record shops, Ken represents all that he defines himself in opposition to. The only thing Hua and Ken have in common is that, however they engage with it, American culture doesn't seem to have a place for either of them. <p /> But despite his first impressions, Hua and Ken become friends, a friendship built on late-night conversations over cigarettes, long drives along the California coast, and the successes and humiliations of everyday college life. And then violently, senselessly, Ken is gone, killed in a carjacking, not even three years after the day they first meet. <p /> Determined to hold on to all that was left of one of his closest friends—his memories—Hua turned to writing. Stay True is the book he's been working on ever since. A coming-of-age story that details both the ordinary and extraordinary, Stay True is a bracing memoir about growing up, and about moving through the world in search of meaning and belonging.