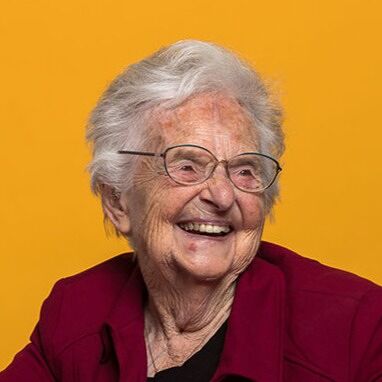 Jean Delores Schmidt
Born:
San Francisco, California 1919
Pen Name:
Sister Jean Dolores Schmidt
Connection to Illinois
: Schmidt moved to Chicago in 1961 and has lived there ever since.
Biography
: Sister Jean Dolores Schmidt is a religious sister of the Sisters of Charity of the Blessed Virgin Mary. She has spent her entire adult life working as a teacher, administrator, and volunteer, first at elementary and grade schools in Chicago and Los Angeles, and later at Mundelein College and Loyola University. Since 1994, Sister Jean, as she is known, has served as team chaplain for Loyola's men's basketball team. She gained national – and international – fame in 2018 when the Ramblers went on a Cinderella run to the Final Four. Sister Jean has been a household name ever since. In August 2022 Sister Jean celebrated her 103rd birthday.
---
Awards
:
Primary Literary Genre(s):
Non-Fiction
Primary Audience(s):
Adult readers
Web:
https://www.luc.edu/campusministry/about/meetourteam/srjeandolores-schmidtbvm/
Web:
https://www.luc.edu/features/stories/sisterjean-100birthday/
Wikipedia:
https://en.wikipedia.org/wiki/Sister_Jean
WorldCat:
http://www.worldcat.org/search?q=Jean++Delores++Schmidt
---
Selected Titles
Wake Up With Purpose!: What I've Learned in My First Hundred Years
ISBN: 1400333512 OCLC: 1333620062 Harper Select [S.l.] : 2023 Known to millions as simply "Sister Jean," the Loyola Chicago matriarch and college basketball icon invites you into her remarkable memoir filled with history, wonder, and common-sense wisdom for this century and beyond. As Sister Jean wisely says, "I've seen so many changes in the last 102 years, but the important things remain the same." Part life story, part philosophy text, and part spiritual guide, Sister Jean's wit, wisdom, and common sense has broad appeal and application that transcends religious creed, belief, and even feelings on Loyola's basketball team. Along with her collaborator Seth Davis, an award-winning writer, broadcaster and New York Times best-selling author, Wake Up with Purpose! lets you experience: Sister Jean's words and her spirit. her sharp sense of humor. life lessons gleaned from one hundred years of living. universal themes that connect us all. priceless wisdom. The driving force inside Wake Up with Purpose! is the narrative of Sister Jean's fascinating life--from teaching at a Catholic school during the Second World War to serving on a Chicago college campus in the sixties and beyond to cheering from the sidelines of a men's basketball tournament in March 2018. As you learn about Sister Jean's century-long life, you'll feel just like the Loyola students do when they knock on her office door, plop down in a chair, and ask if she would have time to chat, an activity that she still does daily.