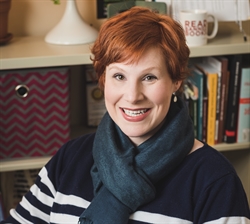 Kristin Pekoll
Born:
Connection to Illinois
: Pekoll lives in Forest Park.
Biography
: Kristin Pekoll is the ILA Conference and Continuing Education Manager. She has also served as the Assistant Director for the Office of Intellectual Freedom at the American Library Association since 2014. She also worked as a youth librarian in Wisconsin and is a lifelong Green Bay Packers fan who happens to live in Chicago Bears country. Her primary focus is supporting librarians who are going through censorship issues and raising awareness of the value of intellectual freedom within the profession and throughout the public.
---
Awards
:
Primary Literary Genre(s):
Non-Fiction
Primary Audience(s):
Adult readers
LinkedIn:
https://www.linkedin.com/in/kristinpekoll
WorldCat:
http://www.worldcat.org/search?q=Kristin++Pekoll
---
Selected Titles
Beyond Banned Books: Defending Intellectual Freedom throughout Your Library
ISBN: 0838919014 OCLC: 1155636782 ALA Editions 2019 Equitable access to information for all, including underserved populations, is a core value of librarianship. The growing awareness of where this inequality persists has led many professionals to take steps to advance social justice within their institutions, from creating book displays about the Black Lives Matter movement or LGBT History Month to hosting programs by potentially controversial speakers. But while libraries are often well-versed in protecting the right to read books, many lack policies and experience in addressing censorship of resources and services. This resource from Pekoll, Assistant Director of the American Library Association's Office for Intellectual Freedom (OIF), uses specific case studies to offer practical guidance on safeguarding intellectual freedom related to library displays, programming, and other librarian-created content. Essential for library directors, administrators, marketers, and programming staff, Beyond Banned Books spotlights case studies drawn from public libraries, schools, universities, and government agencies dealing with library displays, artwork, programs, bookmarks and reading lists, social media, and databases; summarizes possible complaints and controversies related to each area; draws connections between the intellectual freedom principles involved and associated legal issues, with relevant court opinions when possible; shares questions to consider when strengthening a library's defenses against censorship; discusses the importance of reporting challenges to OIF, and the professional and institutional support that OIF can provide when challenges arise; and includes key ALA policies on intellectual freedom as appendices. This guide will ensure that libraries are prepared to protect diverse voices from censorship while fostering more inclusive institutions that represent and welcome all people and ideas.