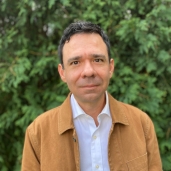 Juan Martinez
Born:
Connection to Illinois
: Martinez lives near Chicago.
Biography
: Juan Martinez is a writer and an associate professor at Northwestern University. His work has appeared in many literary journals and anthologies, including Ecotone, Small Odysseys, McSweeney's, Glimmer Train, The Sunday Morning Transport, Shenandoah, Huizache, NPR's Selected Shorts, Mississippi Review, NIGHTMARE, and elsewhere.
---
Awards
:
Best Worst American: Stories Literary Arts Award for Debut Speculative Fiction, Neukom Institute
Extended Stay Starred Review, Publishers Weekly
Primary Literary Genre(s):
Fiction
Primary Audience(s):
Adult readers
E-Mail:
fulmerford [at] gmail.com
Web:
https://www.fulmerford.com/
WorldCat:
http://www.worldcat.org/search?q=Juan++Martinez
---
Selected Titles
Best Worst American: Stories
ISBN: 1618731246 OCLC: 960906042 Small Beer Press 2017 These are the best Americans, the worst Americans. In these stories (these cities, these people) there are labyrinths, rivers, wildernesses. Voices sound slightly different than expected. There's humor, but it's going to hurt. In "On Paradise," a petshop manager flies with his cat to Las Vegas to meet his long-lost mother and grandmother, only to find that the women look exactly like they did forty years before. In "The Spooky Japanese Girl is There For You," the spooky Japanese girl (a ghost) is there for you, then she is not. These refreshing and invigorating stories of displacement, exile, and identity, of men who find themselves confused by the presence or absence of extraordinary women, jump up, demand to be read, and send the reader back to the earth changed: reminded from these short stories how big the world is.
Extended Stay (Camino del Sol)
ISBN: 0816547971 OCLC: 1319246228 University of Arizona Press 2023 In a rundown neighborhood in the heart of Las Vegas, the Alicia hotel awakens and beckons to the most vulnerable—those with something to hide. After his parents are killed in a horrific roadside execution, Alvaro flees his home in Colombia and finds work as a line cook at the seedy hotel. Together with his sister, Carmen, he begins to make a new life in the desert, earning a promotion to management along with an irresistible offer to stay at the hotel rent-free. But as beloved photographs go missing, cockroaches seep from the walls, and grotesque strangers wander the corridors, the promise of the Alicia decays into nightmare. Alvaro discovers that the hotel is a small appendage of an enormous creature that feeds on guests and their secrets, one that will eventually bring him face-to-face with the memories he most wants to outrun. Alvaro, Carmen, and their friends decide to cooperate with the creature rather than fight it. But in their efforts to appease it, do they sacrifice too much of themselves? Haunting and visceral, Extended Stay uses the language of body horror and the gothic to comment on the complicated relationship between the Latinx undocumented experience and capitalism, the erasure of those living and working on the margins, the heavy toll exacted by memory, and the queasy permeability of boundaries that separate the waking world from the world of dreams.