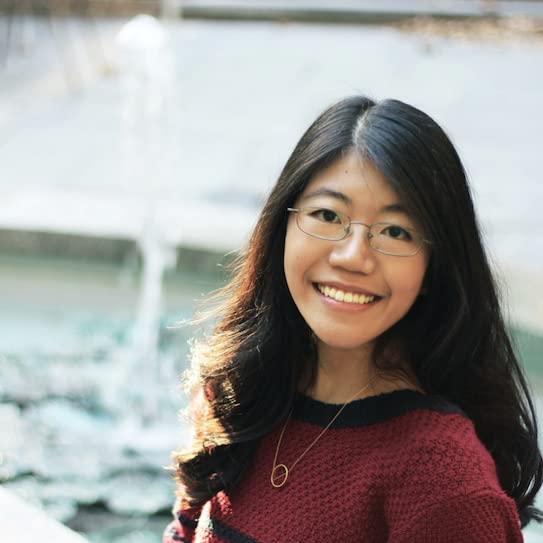 Joan He
Born:
Philadelphia, Pennsylvania
Connection to Illinois
: He currently splits her time between Philly and Chicago.
Biography
: Joan He was born and raised in Philadelphia but still, on occasion, loses her way. At a young age, she received classical instruction in oil painting before discovering that stories were her favorite kind of art. She studied psychology and Chinese history at the University of Pennsylvania, and now splits her time between Philly and Chicago. She is the New York Times-bestselling author of The Ones We're Meant to Find and Descendant of the Crane, her young adult debut novel.
---
Awards
:
Descendant of the Crane A Book of the Month™ Selection; A Publishers Lunch Spring/Summer 2019 YA Buzz Book The Best Young Adult Fantasy Novels of 2019, Forbes 2020 Chelsey Award for Best Cover Illustration Finalist; SEVENTEEN MAGAZINE - The 35 Best YA Books of 2019 So Far; POPSUGAR - The 20 Best New Books to Read in April; EPIC READS - April is Bringing Us Three of the Year's New Must-Read Fantasy Novels; B&N Teen - 20 of Our Most Anticipated YA Debuts of 2019; Goodreads - Spring's Most Epic YA Books; Buzzfeed - 24 YA Books to Devour During Asian Pacific American Heritage Month; Starred Review - Foreword
Strike the Zither Starred Review - Kirkus, Publishers Weekly, Illinois READS Book Selection, Illinois Reading Council, 2023
The Ones We're Meant to Find Starred Review - Publishers Weekly; The Bulletin for the Center of Children's Books (BCCB), Recommended Book;An instant New York Times Bestseller; An Indie Bestseller; 2022 YALSA Top Ten Best Fiction for Young Adults; 2022 Excellence in Children's and Young Adult Science Fiction - Hal Clement Notable Young Adult Books List
Primary Literary Genre(s):
Fiction
Primary Audience(s):
Young adult readers
Instagram:
https://www.instagram.com/joanhewrites/
Twitter:
https://twitter.com/joanhewrites
Web:
https://www.joanhewrites.com/
WorldCat:
http://www.worldcat.org/search?q=Joan++He
---
Selected Titles
Descendant of the Crane
ISBN: 0807515515 OCLC: 1049828620 Albert Whitman & Co 2019 Tyrants cut out hearts. Rulers sacrifice their own. Princess Hesina of Yan has always been eager to shirk the responsibilities of the crown, but when her beloved father is murdered, she's thrust into power, suddenly the queen of an unstable kingdom. Determined to find her father's killer, Hesina does something desperate: she enlists the aid of a soothsayer―a treasonous act, punishable by death… because in Yan, magic was outlawed centuries ago. Using the information illicitly provided by the sooth, and uncertain if she can trust even her family, Hesina turns to Akira―a brilliant investigator who's also a convicted criminal with secrets of his own. With the future of her kingdom at stake, can Hesina find justice for her father? Or will the cost be too high? In this shimmering Chinese-inspired fantasy, debut author Joan He introduces a determined and vulnerable young heroine struggling to do right in a world brimming with deception.
Strike the Zither (Kingdom of Three, 1)
ISBN: 1250258588 OCLC: 1281240318 Roaring Brook Press 2022 The year is 414 of the Xin Dynasty, and chaos abounds. A puppet empress is on the throne. The realm has fractured into three factions and three warlordesses hoping to claim the continent for themselves. But Zephyr knows it's no contest. Orphaned at a young age, Zephyr took control of her fate by becoming the best strategist of the land and serving under Xin Ren, a warlordess whose loyalty to the empress is double-edged―while Ren's honor draws Zephyr to her cause, it also jeopardizes their survival in a war where one must betray or be betrayed. When Zephyr is forced to infiltrate an enemy camp to keep Ren's followers from being slaughtered, she encounters the enigmatic Crow, an opposing strategist who is finally her match. But there are more enemies than one―and not all of them are human.
The Ones We're Meant to Find
ISBN: 1250258561 OCLC: 1158586056 Roaring Book Press 2021 Cee has been trapped on an abandoned island for three years without any recollection of how she arrived, or memories from her life prior. All she knows is that somewhere out there, beyond the horizon, she has a sister named Kay, and it's up to Cee to cross the ocean and find her. In a world apart, 16-year-old STEM prodigy Kasey Mizuhara lives in an eco-city built for people who protected the planet―and now need protecting from it. With natural disasters on the rise due to climate change, eco-cities provide clean air, water, and shelter. Their residents, in exchange, must spend at least a third of their time in stasis pods, conducting business virtually whenever possible to reduce their environmental footprint. While Kasey, an introvert and loner, doesn't mind the lifestyle, her sister Celia hated it. Popular and lovable, Celia much preferred the outside world. But no one could have predicted that Celia would take a boat out to sea, never to return. Now it's been three months since Celia's disappearance, and Kasey has given up hope. Logic says that her sister must be dead. But nevertheless, she decides to retrace Celia's last steps. Where they'll lead her, she does not know. Her sister was full of secrets. But Kasey has a secret of her own.