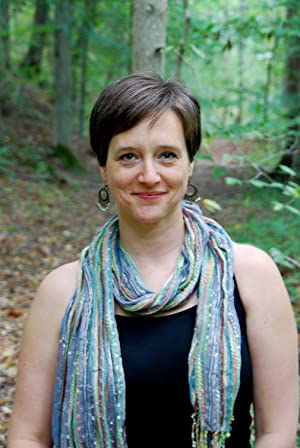 Susan Maguire
Born:
Pen Name:
Sarah Title
Connection to Illinois
: Maguire lives in Chicago.
Biography
: Susan Maguire received her BA in English from Vassar College and her MLS from Indiana University. Though she is from New Jersey, she has lived in San Francisco, West Virginia, North Carolina, and now lives in Chicago. She worked for a decade in public libraries before joining Booklist as a Senior Editor. She loves reading and talking about reading and talking to librarians about talking about reading. She publishes romance novels under the pseudonym Sarah Title.
---
Awards
:
Falling for Trouble Starred Reviews - Kirkus, Publishers Weekly
Primary Literary Genre(s):
Fiction
Primary Audience(s):
Adult readers
Facebook:
https://www.facebook.com/sarahtitlebooks/
Instagram:
https://www.instagram.com/titleauthor/
LinkedIn:
https://www.linkedin.com/in/susan-maguire-592bb2217
Twitter:
https://twitter.com/TitleAuthor
Web:
https://www.sarahtitle.com/
WorldCat:
http://www.worldcat.org/search?q=Susan++Maguire
---
Selected Titles
Falling for Trouble (Librarians in Love, Book 2)
ISBN: 1420141856 OCLC: 990336954 Zebra Shout 2017 The riot grrrl and the bookworm—just the pair to get the whole town talking… Liam Byrd loves Halikarnassus, New York. He loves its friendliness, its nosiness, the vibrant library at the center of it all. And now that Joanna Green is home, the whole town sizzles. A rebel like her stirs up excitement, action, desire—at least in Liam. Joanna never thought she'd have to come back to her dull, tiny fishbowl of a hometown ever again. She almost had a record deal for her all-girl rock band. She almost had it made in L.A. And then her deal went sour and her granny broke her leg . . . and now here she is, running into everybody's favorite librarian every time she heads to a dive bar or catches up with old friends. He has charm, he has good taste in music—and the sight of him in running shorts is dangerously distracting. But when he loves her old town and she can't wait to check out, their new romance is surely destined for the book drop...
Home Sweet Home (Southern Comfort, Book 3)
ISBN: 1601831366 OCLC: 884363433 Kensington Trade New York : 2014 "It is a truth universally acknowledged that a single woman in possession of a ramshackle house must be in want of a handyman." Just because English professor Grace Williams is a woman whose "new" house is crumbling around her doesn't mean she needs an arrogant, condescending man's help, even if he does look gorgeous in faded jeans and a tool belt. What she needs is a working bathroom, not a ridiculous crush. Jake Burdette has no use for the university types who stumble around Willow Springs, with their noses in the air whenever they're not in a book. He may not be a scholar, but he's proud of the hard, honest work he does--even if he would appreciate a little more of it. He doesn't need Grace's pity, even if he does wish she wasn't so adorably sexy. They're all wrong for each other. But Grace's troublesome house seems to feel differently. . .
Kentucky Home (Southern Comfort Book 1)
ISBN: 1601832044 OCLC: 881473973 Kensington Trade 2013 In this warm and witty new series, author Sarah Title introduces readers to the down home Kentucky hospitality of the Carson family and their Wild Rose Farm and Stables. It's a place where love is always possible-and sweeter than ever the second time around . . . Mallory Thompson and Keith Carson are far from impressed with each other when she arrives at his family's horse farm, fleeing an abusive marriage. Mallory sees nothing but a gruff man who's as patronizing as her soon-to-be ex-husband, and Keith has no time for a city girl who's afraid of dogs. But the struggling Wild Rose is too small to allow anyone to keep their distance . . . As one by one, Mallory wins the hearts of his family, from his cranky father to his headstrong younger sister and three-legged dog, Keith finds himself more than a little attracted to her stubborn charm. And the longer Mallory stays, the more she realizes Keith is nothing like the overbearing bully she married-and the more she fantasizes about being in his strong, loving arms. Maybe some folks get a second chance to make a first impression after all . . .
Laws of Attraction (Librarians in Love, Book 3)
ISBN: 1420141872 OCLC: 1007153451 Zebra Shout 2017 It's taken law librarian Becky Schrader a long time to stop comparing herself to her family of overachievers and hone in on what she really wants—a normal life, white picket fence and all, Mr. Dream Guy included. But before she gets ahead of herself, her girlfriends convince her she needs to let down her hair for once, meet a hot guy and let the moment take over . . .
The Undateable (Librarians in Love, Book 1)
ISBN: 142014183X OCLC: 951070402 Zebra Shout 2017 One San Francisco librarian would rather check out a good romance than dare to experience it herself. Luckily, her own next chapter is full of surprises… Melissa "Bernie" Bernard isn't familiar with fame. After all, she works at a college library with hardly any visitors. But when a video of a marriage proposal in her stacks goes viral, it's not the bride and groom who capture the Internet's attention. It's Bernie—caught rolling her eyes. Now, just as she's ready to go into hiding and permanently bury her nose in a book, a handsome reporter appears with a proposal of his own… If Colin Rodriguez doesn't do something big to attract new readers, his boss will hire someone else to dole out dating advice. Determined to prove he's an expert at romance—despite his own pitiful track record—he pitches a story: He will find dates for the undateable. Specifically, for the now-infamous, love‑hating librarian at Richmond College. Even though Bernie doesn't believe in happily-ever-afters, she's not one to resist a good challenge. Yet with one disastrous date after another, she's ready to give up. Until Colin proves he'll do anything to find her the perfect match—even if it means putting himself up for the role…
Two Family Home (Southern Comfort, Book 4)
ISBN: 1601834551 OCLC: 913767787 Lyrical Shine [Place of publication not identified] : 2015 One woman finds her place in the world—and in the hearts of her infuriating(ly gorgeous) landlord and a spunky puppy in this Southern Comfort novel. Lindsey Alford moved to Willow Springs, Kentucky, to prove to all doubters (mostly her parents) that she's all grown up. Something her neighbor Walker Smith never questioned—those short shorts of hers! Put a cute single girl with an overactive imagination next door to a reclusive hot guy, add in a decadent blue velvet sofa, a locked garage and a nursing home full of busybodies, and trouble is bound to pop up. Literally, in the form of an adorably naughty stray pup with a longing for two people to lick and a home all his own. Love isn't complex . . . it's a duplex!