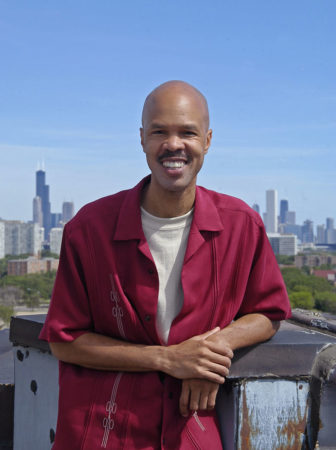 Lance Williams
Born:
Connection to Illinois
: Williams lives and works in Chicago.
Biography
: Lance Williams, professor of urban community studies at a university in Chicago has 28 years of personal and professional experience as a street gang interventionist, teacher, researcher, and scholar who focuses on gangs and serves as a court-appointed gang and violence expert. His expertise has been frequently aired and published by numerous international, national, and local media outlets, such as Al Jazeera, French TV Canal+, CNN, BET, HBO, PBS NewsHour, the New Yorker, Washington Post, and a number of other cable, television, radio, and print media.
---
Awards
:
Primary Literary Genre(s):
Non-Fiction
Primary Audience(s):
Adult readers
E-Mail:
l-williamsb@neiu.edu
LinkedIn:
https://www.linkedin.com/in/lance-williams-968593101
Web:
https://www.neiu.edu/faculty/lance-williams
WorldCat:
http://www.worldcat.org/search?q=Lance++Williams
---
Selected Titles
King David and Boss Daley: The Black Disciples, Mayor Daley, and Chicago on the Edge
ISBN: 1633887863 OCLC: 1259402128 Prometheus 2023 In Chicago in mid-twentieth century amid the haze and smoke of urban renewal and the sounds of the wrecking balls and bulldozers, there lived two men, both street-savvy, one Black, one Irish, one young, one old and both leaders of their clans. Each ruled with an iron fist. Each embodied the fighting spirit of the turbulent 1960s. One was David Barksdale, the Black Disciples leader, a Black youth club that would give birth to America's largest street gang; the other was Richard J. Daley, the legendary Mayor of the City of Chicago. He was one of the longest-serving, most prominent mayors in American history and the last of the big-city "bosses." Although the two never met, at least not face-to-face, their fates were linked by a time of change, an era of protest, which was a decisive moment of transformational power that was on the verge of a violent uprising in America's second-largest city. This is a book that is as lively as its subject. A braided narrative of two larger than life people, it has the boldness to combine two oddly related 1960s stories into a single narrative that is both intimate and epic. One captures the unlikely story of a Negro boy whose share-cropping family migrated from rural Mississippi to Chicago, where he started a street gang that became the largest in America. The book's other path follows America's last big city "boss," whose persona is legendary and bigger than life. While historians, political pundits, and those who knew him speak of "Hizzonor" as being a proud, Irish-Catholic who was the long-time godfather of the Chicago Democratic Party and Mayor who saved Chicago from becoming another Detroit or Cleveland, they also acknowledge that he was a fierce segregationist. He had a contentious relationship with civil rights leaders like Dr. Martin Luther King, Jr. Richard Daley also played a significant role in the history of the United States Democratic Party. Williams an internationally recognized gang expert and interventionist, eloquently tells the story of these men, their clans, and their on-going struggle for power, status, and legacy. However unheard of and unimaginable, some of the incidents may seem, this is not a work of fiction. Everything written comes from archival documents, official reports, focus groups, in-depth interviews, or first-hand accounts. The action takes place mostly in Chicago's Englewood neighborhood. Still, there are some occasions where the action takes place in Bronzeville, the Woodlawn community, on the West Side of the City and downtown.
The Almighty Black P Stone Nation: The Rise, Fall, and Resurgence of an American Gang
ISBN: 1556528450 OCLC: 719388611 Lawrence Hill Books Chicago, Ill. : 2011 In gangster lore, the Almighty Black P Stone Nation stands out among the most notorious street gangs. But how did teens from a poverty–stricken Chicago neighborhood build a powerful organization that united 21 individual gangs into a virtual nation? Natalie Y. Moore and Lance Williams answer this and other questions in a provocative tale that features a colorful cast of characters from white do-gooders, black nationalists, and community organizers to overzealous law enforcement. The U.S. government funded the Nation. Louis Farrakahn hired the gang—renamed the El Rukns in a tribute to Islam—as his Angels of Death. Fifteen years before 9/11, the government convicted the gang of plotting terrorist acts with Libyan leader Mu'ammar Gadhafi; currently, founding member Jeff Fort is serving a triple life sentence. An exciting story about the evolution of a gang, the book is an exposé of how minority crime is targeted as well as a timely look at urban violence