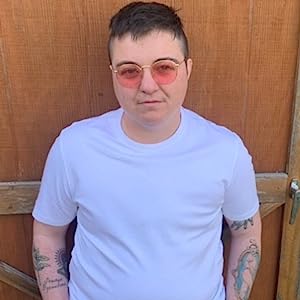 Rafael Frumkin
Born:
Connection to Illinois
: Frumkin lives in Carbondale and is a professor at Southern Illinois University Carbondale.
Biography
: Rafael Frumkin (he/they) is a writer of fiction and nonfiction and a professor of creative writing at Southern Illinois University. His first novel, The Comedown, is currently in development with Starz as a comedic drama series executive produced by Regina King and Freddie Highmore. Their writing has appeared in Granta, Guernica, The New York Times, The Washington Post, Virginia Quarterly Review, McSweeney's Internet Tendency, and The Best American Nonrequired Reading, among others. He is a graduate of the Iowa Writers' Workshop and the Medill School of Journalism.
---
Awards
:
Confidence A New York Times Editors' Choice Pick
The Comedown Starred Reviews - Kirkus and Library Journal
Primary Literary Genre(s):
Fiction; Non-Fiction
Primary Audience(s):
Adult readers
Instagram:
https://www.instagram.com/jeansvaljeans/?hl=en
Twitter:
https://twitter.com/jeansvaljeans
Web:
https://www.rfrumkin.com/
---
Selected Titles
Bugsy & Other Stories
ISBN: 1982189762 OCLC: Simon & Schuster 2024 A wildly imaginative story collection about sex, desire, queer identity, and the celebration of social taboos, by the author of Confidence.Bugsy & Other Stories is a deliciously entertaining collection of six genre-defying stories. In the title story, "Bugsy," a queer young adult battling depression finds community and transcendence through sex work.In "Futago" a psychiatrist loses his mind after a voice—eerily similar to that of Alex Trebek—appears in his head.In other stories, you will meet an e-girl and her fans, an elderly woman flashing through the pivotal scenes of her life, and a young boy on the spectrum trying to navigate life in a neurotypical world.Together, these six stories explore tenderness and what it means to care for each other and for ourselves, especially in a time when technology threatens to tear us apart.
Confidence: A Novel
ISBN: 1982189738 OCLC: 1371103153 Simon & Schuster 2023 "Theranos but make it gay." —Electric LiteratureBest friends (and occasional lovers) Ezra and Orson are teetering on top of the world after founding a company that promises instant enlightenment in this "propulsive, cheeky, eat-the-rich page-turner" (The Washington Post) about scams, schemes, and the absurdity of the American Dream.At seventeen, Ezra Green doesn't have a lot going on for him: he's shorter than average, snaggle-toothed, internet-addicted, and halfway to being legally blind. He's also on his way to Last Chance Camp, the final stop before juvie.But Ezra's summer at Last Chance turns life-changing when he meets Orson, brilliant and Adonis-like with a mind for hustling. Together, the two embark upon what promises to be a fruitful career of scam artistry. But things start to spin wildly out of control when they try to pull off their biggest scam yet—Nulife, a corporation that promises its consumers a lifetime of bliss."Propulsive" (The New York Times Book Review) and "laugh-out-loud funny" (BuzzFeed), with the suspense of The Talented Mr. Ripley, the decadence of The Great Gatsby, and the wit of Succession, Confidence is a story for anyone who knows that the American Dream is just another pyramid scheme.
The Comedown: A Novel
ISBN: 1250624509 OCLC: Henry Holt and Co. 2019 A dazzling epic that follows two very different families in Cleveland across generations, beginning with their patriarchs, who become irrevocably intertwined one fateful nightA blistering dark comedy, Rafael Frumkin's The Comedown is a romp across America, from the Kent State shootings to protest marches in Chicago to the Florida Everglades, that explores delineating lines of race, class, religion, and time.Scrappy, street smart drug dealer Reggie Marshall has never liked the simpering addict Leland Bloom-Mittwoch, which doesn't stop Leland from looking up to Reggie with puppy-esque devotion. But when a drug deal goes dramatically, tragically wrong and a suitcase (which may or may not contain a quarter of a million dollars) disappears, the two men and their families become hopelessly entangled. It's a mistake that sets in motion a series of events that are odd, captivating, suspenseful, and ultimately inevitable.Both incendiary and earnest, The Comedown steadfastly catalogs the tangled messes the characters make of their lives, never losing sight of the beauty and power of each family member's capacity for love, be it for money, drugs, or each other.