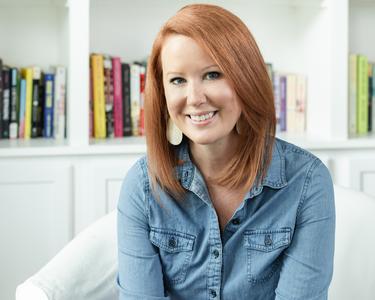 Maureen Kilmer
Born:
Pen Name:
Maureen Leurck
Connection to Illinois
: Kilmer lives in the Chicago suburbs.
Biography
: Maureen Kilmer graduated from Miami University in Oxford, Ohio. She thankfully has not had to battle the forces of darkness (unless going to Costco on a Saturday counts). She is also the author of Suburban Hell, her horror debut. Under Maureen Leurck, she wrote Cicada Summer and Monarch Manor.
---
Awards
:
Suburban Hell One of Bustle's Most Anticipated Books of August 2022 One of Buzzfeed's Summer Thriller Recommendations One of NY Post's Best New Books This Week One of Buzzfeed's New Books You Won't Be Able To Put Down
Primary Literary Genre(s):
Fiction
Primary Audience(s):
Adult readers
E-Mail:
maureenkilmer@gmail.com
Instagram:
https://www.instagram.com/authormaureen
Twitter:
https://twitter.com/maureenkilmer
Web:
http://www.maureenleurck.com/
WorldCat:
http://www.worldcat.org/search?q=Maureen++Kilmer
---
Selected Titles
Cicada Summer
ISBN: 1496706528 OCLC: 962008059 Kensington 2017 In this moving, witty novel, author Maureen Leurck explores the intricacies and joys of renovation and rediscovery—as one woman's improvement project promises to transform much more than a home . . . People keep a house alive, not the other way around. Alex Proctor has seen the truth of this in every empty, rundown property she's bought and renovated since her divorce almost three years ago. She's also experienced the thrill of making each one into a home. Her newest project is a dilapidated, century-old house just a few blocks from Geneva Lake, Wisconsin. Time and neglect, along with rats and raccoons, have ravaged it inside and out. Only Alex can see the beauty of what it once was and might become again. In just a few weeks—by the time the cicadas make their scheduled reappearance after seventeen years underground—the house should be ready to sell. In the meantime, there are construction disasters, and surprises, to contend with. Amid overgrown grounds and rooms brimming with debris, Alex finds treasures—pocket doors, hardwood floors hidden beneath layers of linoleum and grime—and carved initials that reveal a long-ago love story involving Alex's elderly neighbor, Elsie, and another cicada summer. At the same time, Alex finds herself searching for a way to reconcile her new life with lingering feelings for her ex-husband. For so long she felt sure that moving on was the only option, but maybe this house, and everything she's learning in it, could give Alex room for a second chance . . .
Hex Education
ISBN: 0593422392 OCLC: 1356960459 G.P. Putnam's Sons 2023 A guilt-ridden former coven is forced to tap into the magic of their past . . . if they want to stop their lives from going up in flames again. On the outside, luxury real estate agent Sarah Nelson looks like every other mom in the suburb. But she has an edge that others don't: She's a witch. And no one knows . . . except her estranged ex-coven and college friends, Katrina and Alicia. One terrible night during their freshman year, the trio accidentally burned down their dorm, and soon after they scattered. Their secret had been safe, until Sarah learns they've been invited back to commemorate the anniversary of the fire. Suddenly, the magic doesn't want to be controlled. Sarah's orange tabby cat, Katy Purry, now argues with her. Her broom has become self-brooming, and her fridge somehow restocks thirty pounds of sliced turkey for school lunches. As it grows increasingly difficult to hide the magic and the past, Sarah, Katrina, and Alicia must harness their power together . . . before they find out if polite society still burns witches.
Monarch Manor
ISBN: 1496719786 OCLC: 1061819582 Kensington 2019 Erin Marinelli has her work cut out for her when she arrives at her late grandmother's Wisconsin home to prepare for an estate sale. But sifting through the overwhelming collection of figurines, outdated appliances and dusty books, she finds something that captures her attention: a yellowed envelope of old photographs. In one, taken almost a century ago, a beautiful woman is seated with a young boy who looks uncannily like Erin's five-year-old autistic son, Will. Intrigued, Erin looks further into her family's history, and discovers parallels to her present‑day life. The boy in the picture, John Cartwright, was deaf. He and his mother, Amelia, are presumed to have drowned together in Geneva Lake, beside Amelia's family home. Named for the butterflies that flocked to its lush gardens, Monarch Manor still stands, though the once-grand Queen Anne house is now in ruins, slated for demolition. Seeking respite from her own exhausting battle to get the best care for Will, Erin delves even deeper into the past—unearthing a story that is both heartbreaking and surprising. Weaving Erin's and Amelia's narratives together, Maureen Leurck creates an unforgettable and moving novel of sacrifice and hope, and the way love between a parent and child can transform them both.
Suburban Hell
ISBN: 0593422376 OCLC: 1334949638 G.P. Putnam's Sons 2022 A Chicago cul-de-sac is about to get a new neighbor...of the demonic kind. Amy Foster considers herself lucky. After she left the city and moved to the suburbs, she found her place quickly with neighbors Liz, Jess, and Melissa, snarking together from the outskirts of the PTA crowd. One night during their monthly wine get-together, the crew concoct a plan for a clubhouse She Shed in Liz's backyard—a space for just them, no spouses or kids allowed. But the night after they christen the She Shed, things start to feel . . . off. They didn't expect Liz's little home-improvement project to release a demonic force that turns their quiet enclave into something out of a nightmare. And that's before the homeowners' association gets wind of it. Even the calmest moms can't justify the strange burn marks, self-moving dolls, and horrible smells surrounding their possessed friend, Liz. Together, Amy, Jess, and Melissa must fight the evil spirit to save Liz and the neighborhood . . . before the suburbs go completely to hell.