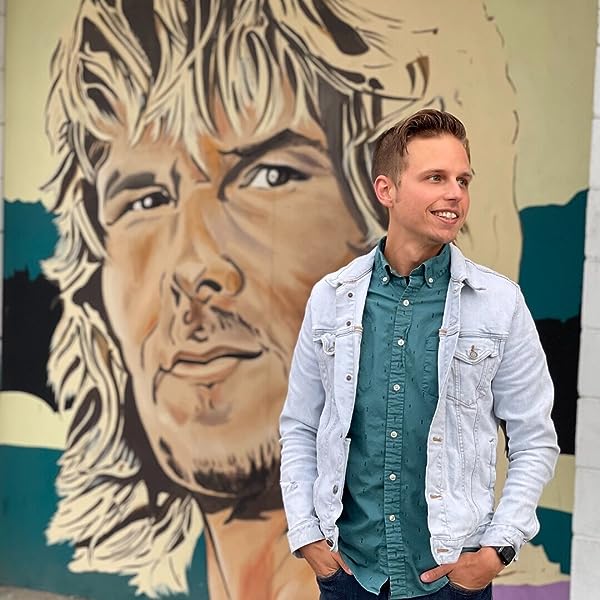 Neal E Fischer
Born:
North Riverside, Illinois
Connection to Illinois
: Fischer is a North Riverside native.
Biography
: Neal E. Fischer is an award-winning filmmaker, author, podcast host, and pop culture fanatic. Directly inspired by Swayze's creative versatility at a young age, Neal cut his teeth as a musician and performer on stage before ultimately transitioning behind the scenes. Neal's credits include the award-winning documentary 10 Mountains 10 Years, narrated by Anne Hathaway; #WhoKilledHeather, an innovative branded web series; and many short films and features screened at festivals around the world. Neal also directs commercials for brands such as Dunkin' Donuts, Wisconsin Lottery, and Cars.com, the latter of which was shortlisted for awards at Cannes Lions. You can hear Neal's bad impressions and obscure movie references each week on Triviality, a pub-trivia style podcast recorded under the watchful eye of its patron saint of podcasting, Patrick Swayze, whose poster proudly hangs in the studio.
---
Awards
:
Primary Literary Genre(s):
Non-Fiction
Primary Audience(s):
Adult readers
E-Mail:
neal.e.fischer@gmail.com
IMDB:
https://www.imdb.com/name/nm2258859/?ref_=nv_sr_4
Instagram:
https://www.instagram.com/nealefischer/
LinkedIn:
https://www.linkedin.com/in/neal-e-fischer-52669557
Twitter:
https://twitter.com/nealefischer
Web:
https://www.nealefischer.com/
WorldCat:
http://www.worldcat.org/search?q=Neal++E++Fischer
---
Selected Titles
Behind the Screens: Illustrated Floor Plans and Scenes from the Best TV Shows of All Time
ISBN: 179721943X OCLC: 1372496603 Chronicle Books 2023 Hand-drawn floor plans and richly imagined architectural illustrations tell the story of television's most memorable on-screen sets and scenes. Come explore where Lucy and Ethel baked a monstrous loaf of bread, where Phoebe performed "Smelly Cat," where Jim and Pam fell in love, and countless other homes, offices, and towns as familiar to you as your own living room. Illustrator Iñaki Aliste Lizarralde has expertly rendered thirty-five of the most memorable television floor plans in modern history—puzzling together the layouts with an architect's eye for detail and a director's sense of storytelling. TV fans will delight in the interiors and exteriors from shows like Friends, Seinfeld, and The Simpsons, where characters and plotlines converge to create worlds so mesmerizing you want to binge-watch season after season. With immersive illustrations from shows across decades and countries, this truly unique art collection offers hilarious TV moments, Easter eggs, and behind-the-scenes trivia to test even the biggest superfans. GIFT OF AN IMMERSIVE EXPERIENCE: Here is a thorough deep dive and binge-worthy art collection for television superfans, cinephiles, fans of the Warner Brothers' studio tour, and anyone who likes to watch hours of TV at a time. A NEW WAY TO BINGE YOUR FAVORITE TV: Rediscover your love of the classics like I Love Lucy and Little House on the Prairie; revisit childhood favorites like The Brady Bunch and Sesame Street; or explore recent classics like The Office, Sex and the City, and Friends. HAND DRAWN, HIGHLY INTRICATE: Imagine living and working in your favorite fictional worlds—these floor plans are drawn as if they could exist in your neighborhood or town rather than on a soundstage. Created from memory and research by a trained architectural illustrator, each image gives you a sense of place in the context of the show's world. INTERNATIONAL APPEAL: Throughout the book you'll find fan favorite shows from the United States, Canada, and the United Kingdom. Shows like Kim's Convenience, Schitt's Creek, Killing Eve, and Sherlock appear alongside U.S. favorites like Seinfeld, Gilmore Girls, New Girl, and The Big Bang Theory.
Being Patrick Swayze: Essential Teachings from the Master of the Mullet
ISBN: 1797212168 OCLC: 1257315463 Chronicle Books 2022 A humorous illustrated guide to the essential teachings of 80s and 90s pop culture icon and legacy, Patrick Swayze, with movie quotes, trivia, essays, exercises, games, activities, and quizzes. Divided into five elements—Tender Strength (versatility in performances and balance of his unique skill set), Pure Adrenaline (his physicality and death-defying stunt work), Hungry Eyes (effortless sensuality in life and on-screen), Peaceful Warrior (the philosophy behind his characters and their actions) and The Mullet (legacy of the man, the myth, the mullet)—this book is designed to cultivate your mind, body, and soul. Through the use of movie quotes and cinematic wisdom, physical (Sweatin' Like Swayze; Swayze Sutra) and mental exercises, games, activities (Swayze Pairing Guide), and quizzes, this journey will unlock your Swayze swagger, leading to a more harmonious life. When completed, you'll be impressing friends and strangers alike with your endless knowledge and admiration for one of Hollywood's most likable and underappreciated stars. For half a century Patrick Swayze has remained in our hearts, on our minds, and the sole reason that any trip to a vacation resort must first start at the dance hall . . . just in case they employ their own Johnny Castle. Embrace these teachings and achieve newfound clarity in all aspects of your life. BELOVED ICON: Patrick Swayze will forever be an icon, known for his legendary roles in classic and cult favorite movies like Dirty Dancing, Ghost, Point Break, Road House, and more. THE PERFECT GIFT: Chock full of trivia, behind-the-scenes anecdotes, short essays, and fun interactive content like quizzes, a pairing guide, a Swayze workout, and more, this is the perfect gift for Patrick Swayze fans and anyone who grew up in the 80s and 90s. FUNNY AND INFORMATIVE: Content is humorous, yet still contains biographical information, fun facts about Swayze and his philosophies, and tons of movie trivia. EXPERT AUTHOR: Written by an award-winning screenwriter and podcaster, and die-hard Patrick Swayze fan.