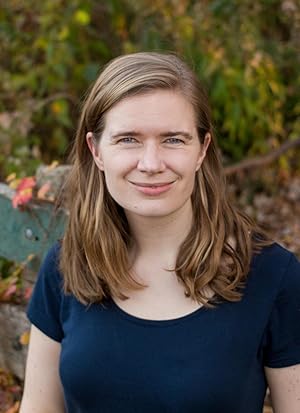 Amelia Brunskill
Born:
in Melbourne, Australia
Connection to Illinois
: Brunskill lives in Chicago.
Biography
: Amelia Brunskill was born in Melbourne, Australia, but she grew up mostly in Washington state where she picked a lot of blackberries, read a lot of books. She earned her bachelor's degrees in psychology and art from the University of Washington and her master's in information studies from the University of Texas at Austin. She now lives in Chicago, where she eats as much Thai food as possible and works as a librarian. Her short fiction has appeared in Indiana Review, Ninth Letter, Luna Station Quarterly, and Arts & Letters, and has been awarded an Illinois Arts Council Agency Literary Award.
---
Awards
:
Wolfpack Illinois Reads Book Selection, Illinois Reading Council, 2024
The Window Nominated for the Chicago Review of Books Award for fiction, Quick Picks for Reluctant Readers, and the NYSRA's Charlotte Award
Primary Literary Genre(s):
Fiction
Primary Audience(s):
Young adult readers
Facebook:
https://twitter.com/ameliab
Instagram:
https://www.instagram.com/ameliabrunskill/
Web:
https://ameliabrunskill.com
---
Selected Titles
The Window
ISBN: 1524720291 OCLC: 993652463 Delacorte Press 2018 Anna is everything her identical twin is not. Outgoing and athletic, she is the opposite of quiet introvert Jess. The same on the outside, yet so completely different inside--it's hard to believe the girls are sisters, let alone twins. But they are. And they tell each other everything.Or so Jess thought.After Anna falls to her death while sneaking out her bedroom window, Jess's life begins to unravel. Everyone says it was an accident, but to Jess, that doesn't add up. Where was Anna going? Who was she meeting? And how long had Anna been lying to her?Jess is compelled to learn everything she can about the sister she thought she knew. At first it's a way to stay busy and find closure . . . but Jess soon discovers that her twin kept a lot of secrets. And as she digs deeper, she learns that the answers she's looking for may be truths that no one wants her to uncover.Because Anna wasn't the only one with secrets.
Wolfpack
ISBN: 0316494550 OCLC: 1330712074 Little, Brown Books for Young Readers 2023 This shocking, suspenseful novel about a group of teenage girls living in a cult shows the terrifying paranoia and suspicion that emerges when one of them goes missing—perfect for fans of We Were Liars.Nine girls bound togetherin beautiful, virtuous Havenwood,a refuge from an unsafe world.Then there are eightone of them gone —departed with no warning.Did this member of their packstray willingly,or did something more sinister occur?The girls seek answersnot knowing if they should be angryor frightenedor perhaps,they should be both.