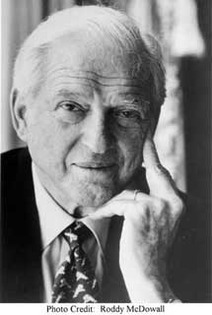 Sidney Sheldon
Born:
1917, in Chicago, Illinois
Died:
2007 in Rancho Mirage, California
Connection to Illinois
: Sheldon was born and raised in Chicago. He also attended Northwestern University.
Biography
: Best known today for his exciting blockbuster novels, Sidney Sheldon is the author of The Best Laid Plans, Nothing Lasts Forever, The Stars Shine Down, The Doomsday Conspiracy, Memories of Midnight, The Sands of Time, Windmills of the Gods, If Tomorrow Comes, Master of the Game, Rage of Angels, Bloodline, A Stranger in the Mirror, and The Other Side of Midnight. Almost all have been number-one international bestsellers. His first book, The Naked Face, was acclaimed by the New York Times as "the best first mystery of the year" and received an Edgar Award. Most of his novels have become major feature films or TV miniseries, and there are more than 275 million copies of his books in print throughout the world. Before he became a novelist, Sidney Sheldon had already won a Tony Award for Broadway's Redhead and an Academy Award for The Bachelor and the Bobby Soxer. He has written the screenplays for twenty-three motion pictures, including Easter Parade (with Judy Garland) and Annie Get Your Gun. In addition, he penned six other Broadway hits and created three long-running television series, including Hart to Hart and I Dream of Jeannie, which he also produced. A writer who has delighted millions with his award-winning plays, movies, novels, and television shows, Sidney Sheldon reigns as one of the most popular storytellers of all time.
---
Awards
:
Primary Literary Genre(s):
Fiction
Primary Audience(s):
Adult readers
IMDB:
https://www.imdb.com/name/nm0791084/
Web:
https://web.archive.org/web/20070105141616/http://www.hachettebookgroupusa.com/features/sidneysheldon/meet_ss.html
Wikipedia:
https://en.wikipedia.org/wiki/Sidney_Sheldon
WorldCat:
http://www.worldcat.org/search?q=Sidney++Sheldon
---
Selected Titles
A Stranger in the Mirror
ISBN: 0688030025 OCLC: 1858321 William Morrow New York : 1976 Super television and movie star and super heel, Toby Temple, adulated and feared everywhere, meets and briefly loves passionate, lovely Jill Castle, who has carried her terrible secret and dreams into a chimerical Hollywood.
Are You Afraid of the Dark?
ISBN: B0C3DB99S6 OCLC: Efinito 2022 All around the globe, people are being reported dead or missing. In Berlin, a woman vanishes from the city streets. In Paris, a man plunges from the Eiffel Tower. In Denver, a small plane crashes into the mountains. In Manhattan, a body washes ashore along the East River. At first these seem to be random incidents, but the police soon discover that all four of the victims are connected to Kingsley International Group (KIG), the largest think tank in the world. Kelly Harris and Diane Stevens—young widows of two of the victims—encounter each other in New York, where they have been asked to meet with Tanner Kingsley, the head of KIG. He assures them that he is using all available resources to find out who is behind the mysterious deaths of their husbands. But he may be too late. Someone is intent on murdering both women, and they suffer a harrowing series of near escapes. Who is trying to kill them and why? Forced together for protection, suspicious of each other and everyone around them, and trying to find answers for themselves, the two widows embark on a terrifying game of cat and mouse against the unknown forces out to destroy them. Taut with suspense and vivid characterization, full of shocking twists, and with an unnervingly realistic premise that could alter all of our lives, the long-awaited Are You Afraid of the Dark? is Sidney Sheldon at the top of his game.
Bloodline
ISBN: 0007837062 OCLC: 851773656 HarperCollins Publishers HarperCollinsPublishers, 1989 Roffe and Sons is a family firm, an international empire filled with desperate, cash-hungry family members. At its head was one of the wealthiest men in the world—a man who has just died in a mysterious accident and left his daughter, Elizabeth, in control of the company. Now as this intelligent, tough, and gorgeous woman dares to save—not sell—Roffe and Sons, she will have to outwit those who secretly want her power ... and the unknown assassin who wants her life. Bloodline is a sweeping novel of high financial intrigue on three continents, love, murder, danger, and suspense.
Chasing Tomorrow
ISBN: 006230402X OCLC: 882738707 William Morrow 2014 #1 New York Times bestselling author Sidney Sheldon's most popular and enduring heroine—Tracy Whitney of If Tomorrow Comes—returns in a sensational sequel full of passion, suspense, and breathtaking twists. Tracy Whitney never thought she wanted to settle down. With her suave and handsome partner, Jeff Stevens, she'd been responsible for some of the world's most astounding heists, relishing the danger and intensity of life on the wild side. But there is still one thing missing from Tracy's perfect life: a baby. At first "going straight" feels like a new adventure. But as the months pass and Tracy's longed for pregnancy doesn't happen, she finds herself yearning for the adrenaline rush of the old days. When a mysterious and beautiful stranger enters their lives, Tracy and Jeff's once unbreakable partnership is suddenly blown wide open. Jeff wakes one morning to find Tracy gone, vanished without a trace. For more than a decade, a broken Jeff struggles to carry on knowing Tracy is out there somewhere. But the rest of the world believes Tracy Whitney is dead . . . until a series of murders leads a tenacious French detective to her doorstep. Eleven victims, in ten different cities, over nine years—all of the cities where Tracy pulled off some of her most brilliant capers. Someone is targeting her, manipulating a series of disturbing events and raising terrifying ghosts she thought were dead and buried. Once again, this clever woman finds herself out on the edge, playing the odds in a desperate game of roulette. But this time, she's got everything to lose—including the man she cannot forget. Tomorrow has come at last. But it isn't the future Tracy bargained for . . .
If Tomorrow Comes
ISBN: 0688042171 OCLC: 11134466 William Morrow New York : 1985 Relying on her intelligence and beauty as her only weapons, Tracy Whitney embarks on a personal vendetta against the untouchable crime lords who framed her into a fifteen-year sentence in an escape-proof prison.
Master of the Game
ISBN: 1478948426 OCLC: 995876124 Grand Central Publishing 2017 WHO IS KATE BLACKWELL? She is the symbol of success, the beautiful woman who parlayed her inheritance into an international conglomerate. Winner of a unique position among the wealthy and world-renowned. And she's a survivor, indomitable as her father, the man who returned from the edge of death to wrench a fortune in diamonds from the bleak South African earth. Now, celebrating her ninetieth birthday, Kate surveys the family she has manipulated, dominated, and loved: the fair and the grotesque, the mad and the mild, the good and the evil -- her winnings in life. Is she the...MASTER OF THE GAME?
Memories of Midnight
ISBN: 0688084885 OCLC: 21336519 William Morrow New York : 1990 Set in London and Greece, this is the sequel to Sidney Sheldon's The Other Side of Midnight.
Morning Noon & Night
ISBN: 0688084923 OCLC: 32392036 William Morrow New York : 1995 A beautiful woman attends a family gathering following the mysterious death of Harry Stanford, claiming to be his long-lost child and stating her rights to a share of the tycoon's estate, in a hypnotic, roller-coaster novel.
Rage of Angels
ISBN: 078581406X OCLC: 50308468 William Morrow Edison, N.J. : 1980 Rage of Angels is the one of the most compelling novels Sidney Sheldon has ever written, and Jennifer Parker, his heroine, his most extraordinary creation. Jennifer, the daughter of a small-town lawyer, joined the staff of the District Attorney of Manhattan, to fight for justice as her father had done. But less than twenty-four hours after being sworn in, Jennifers hopes, her dreams, her career, were smashed, and she found herself facing disbarment and a possible prison sentence. So begins the story of a brilliant and beautiful young woman who becomes one of Americas most successful defense attorneys. It is also the story of the two powerful men in her life: Adam Warner, a man of honor and integrity, born to lead his country; and Michael Moretti, compelling, strange and vengeful, a dark angel who spreads wide his wings of terror. In Rage of Angels, a master storyteller takes us behind the closed doors of the courtroom and into the hearts of characters you will never forget.
Reckless: A Tracy Whitney Novel
ISBN: 0062304054 OCLC: 927398024 William Morrow 2015 Once upon a time, Tracy Whitney was one of the best thieves in the business. Then she settled down, had a baby, and planned to spend the rest of her days quietly, living anonymously, devoted to her son. But tragic news has forced Tracy to face her greatest nightmare. Now, with nothing left to protect, she returns to the hunt—and she's more dangerous than ever. Tracy is not the only woman with a dark and dangerous past. The world faces a new terror threat from a group of global hackers intent on the collapse of capitalism and private wealth and the creation of a new world order. When this group turn to violence, with deadly effect, the mysterious woman pulling their strings becomes the CIA's public enemy number one. Only one clever and ruthless woman is capable of tracking down the terrorist: Tracy. But as Tracy discovers, the truth proves as elusive as her target. Hampered by corruption and enemies masked as allies, Tracy will be pushed to the brink, where she must face her darkest demons. But just how reckless will a person become when she have nothing left to lose?
Tell Me Your Dreams
ISBN: 0688162827 OCLC: 38966103 William Morrow New York : 1998 She had read about stalkers, but they belonged in a different, faraway world. She had no idea who it could be, who would want to harm her. She was trying desperately not to panic, but lately her sleep had been filled with nightmares, and she had awakened each morning with a feeling of impending doom. Thus begins Sidney Sheldon's chilling new novel, Tell Me Your Dreams. Three beautiful young women are suspected of committing a series of brutal murders. The police make an arrest that leads to one of the most bizarre murder trials of the century. Based on actual events, Sheldon's novel races from London to Rome to the city of Quebec to San Francisco, with a climax that will leave the reader stunned.
The Best Laid Plans
ISBN: 0688149111 OCLC: 36556116 William Morrow New York : 1997 The Best Laid Plans tells the explosive story of the beautiful and ambitious Leslie Stewart, who learns that for some men power is the greatest aphrodisiac, and of Oliver Russell, the handsome governor of a small southern state, who finds out why hell has no fury like a woman scorned. With the unexpected twists and turns that are the hallmarks of his mega-bestselling novels, Sidney Sheldon spins a tale of two equally determined people headed on a collision course. Oliver has a strategy to win the White House; Leslie has a scheme to make him wish he'd never been born. They both should have known that even the best-laid plans can go dangerously astray... in a dangerous way.
The Doomsday Conspiracy
ISBN: 0688084893 OCLC: 23383325 William Morrow New York : 1991 Handpicked by the NSA to track down and identify the ten known witnesses to the recent crash of a weather balloon, Robert Bellamy searches for clues in Rome, Budapest, and Texas.
The Naked Face
ISBN: 0688021506 OCLC: 95738 William Morrow 1976 A prominent psychoanalyst discovers he is the prime suspect when his receptionist and one of his patients are murdered.
The Other Side of Me
ISBN: 0446532673 OCLC: 60605191 Grand Central Publishing 2008 Memoir of entertainment legend Sidney Sheldon, now 88 years old, an Academy Award-winning screenwriter and creator of many television hits.
The Other Side of Midnight
ISBN: 068800220X OCLC: 700952 Willaim Morrow New York : 1974 Four people caught up in their personal obsessions and dreams are drawn into the twin worlds of romance and revenge.
The Sands of Time
ISBN: 0688065716 OCLC: 18415040 William Morrow New York : 1988 The Sands of Time is the tale of four nuns who are abruptly forced to flee the secure environment of their Spanish convent and face a hostile world they long ago abandoned. Suddenly these four women find themselves pawns in a violent struggle between the outlawed Basque underground movement, led by the charismatic Jaime Miró, and the Spanish army, under the command of the vengeful Colonel Ramón Acoca, who is bent on destroying all of them. Megan, the orphan, would give anything to learn the identity of her parents. She fights against her overpowering attraction to the legendary and idealistic Jaime Miró. Lucia, the fiery Sicilian beauty, is wanted by the police, but risks her future and a fortune to save a dying revolutionary. Even the serenity of the convent cannot wipe out Gracielas nightmares of the past. How can she again face a world of carnal love? It is Teresa whose confused conscience finally drives her to seek help from Colonel Ramón Acoca, a terrible mistake that will betray her friends. The Sands of Time is an unforgettable adventure, told against the backdrop of the fascinating countryside of Spain. It combines history, romance, and suspense with the unexpected.
The Silent Widow
ISBN: 1643850938 OCLC: 1097568855 Crooked Lane Books 2019 In a crime spanning generations, it seems L.A. psychologist Nikki Roberts knows all too much—and a ruthless killer knows the price of her silence. A young American au pair, Charlotte Clancy, vanishes without a trace in Mexico City. The case is left cold, but its legacy will be devastating. A decade later, L.A. is shaken by a spate of violent murders. Psychologist Nikki Roberts is the common link between the victims, her patients at the heart of this treacherous web. When someone makes an attempt on Nikki's life, it's clear she is a marked woman. Nikki makes a living out of reading people, drawing out their secrets—but the key to this shocking pattern eludes her. With the police at a dead-end, Nikki drafts Derek Williams, a PI who isn't afraid to put his hand into the hornet's nest. Williams was thwarted in the notorious Charlotte Clancy case all those years ago, but what he unearths in L.A.—and the mention of one name in particular—leaves him cold, taking him on a dangerous path into the past. In this crooked city, where enemies and friends are one and the same, Nikki must be the master of her own escape...
The Tides of Memory
ISBN: B00NPBGGX6 OCLC: William Morrow Edison, N.J. : 2013 New York Times bestselling author Tilly Bagshawe, who delivered the late beloved author's brilliance in Sidney Sheldon's After the Darkness, is back with a stunning tale of duplicity and vengeance in Sidney Sheldon's The Tides of Memory. The members of the formidable and captivating De Vere family of London live enviable lives in the world's most powerful and desirable places, from London's poshest neighborhoods to influential boardrooms. But when old secrets begin to unravel and threaten everything the De Veres have worked for, the ramifications are deadly. Bagshawe upholds Sheldon's legacy with a blistering story of revenge, passion, and betrayal in a book that is quintessential Sheldon.
Windmills of the Gods
ISBN: 0688065708 OCLC: 14273555 William Morrow New York : 1987 Americas best-selling novelist has created the breathtaking story of a woman trapped by a diabolical international conspiracy. The action races from the Presidents Oval Office to the hot Latino beat of Buenos Aires to the romance of Paris and Rome to the shadowy dangers of Bucharest. Caught in the web of this chilling tale is Mary Ashley, a bright young professor of Eastern European studies at Kansas State University and mother of two, who is appointed the United States ambassador to an Iron Curtain country. Even before she takes up her post she is marked for destruction by unseen and powerful enemies, including Angel, an accomplished assassin who has never failed to carry out a murder contract. Alone and a stranger in a foreign country, Mary Ashley finds herself involved with two dynamic men: Mike Slade, a tough career diplomat who is her deputy chief of mission; and Louis Desforges, a doctor attached to the French embassy. But soon she comes to believe that one of them is out to kill her. In Windmills of the Gods Sidney Sheldon has written a gripping drama with compelling characters that remain forever etched in the reader's mind. It is a tale of a woman's heroism against an unknown terror spanning the whole arena of international intrigue.