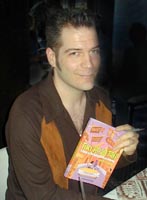 James Teitelbaum
Born:
in Cleveland, Ohio
Pen Name:
None
Connection to Illinois
: Teitelbaum lives in Chicago and teaches at Chicago College.
Biography
: James Teitelbaum travels the world, researches 1920s to 1960s pop culture, takes pictures, watches films, studies art history and architecture, creates award-winning cocktails, writes music (as Left Orbit Temple), works in the music industry as a recording engineer, teaches sound engineering at a Chicago college, and writes extensively on all of these topics. His books are Tiki Road Trip (Santa Monica Press, 2003; 2nd ed., 2007), Big Stone Head (Tydirium Multimedia, 2009), plus a forthcoming book on the cocktail revival, and a forthcoming collection of his travel writings. James has also written for Playboy, American Heritage, Film Threat, Tiki Magazine, Road Trip America, Beverage World, Alternative Press, and many other publications.James lives in Chicago with two tortoises, but is usually somewhere else - such as Easter Island, which he has visited twice.
---
Awards
:
Email:
jt@tydirium.net
Website:
http://www.tydirium.net
James Teitelbaum on WorldCat :
http://www.worldcat.org/search?q=james+teitelbaum
---
Selected Titles
Tiki road trip :
ISBN: 1891661302 OCLC: 51613902 Santa Monica Press, Santa Monica, CA : ©2003.