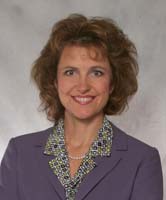 Mary Byers
Born:
1962 in Fort Wayne, Indiana
Pen Name:
Mary M. Byers
Connection to Illinois
: Mary currently lives in Chatham, Illinois.
Biography
: Mary M. Byers is a professional speaker and freelance writer. She's the author of ''The Mother Load'' and is a frequent media guest on women's topics. Mary is a former advertising director, senior–level association manager, and entrepreneur.
---
Awards
:
Email:
mbyers@marybyers.com
Website:
http://www.marybyers.com
Mary Byers on WorldCat :
http://www.worldcat.org/search?q=mary+byers
---
Selected Titles
Extraordinary women
ISBN: 0736921109 OCLC: 124031812 Harvest House Publishers, Eugene, Or. : ©2007.
How to say no-- and live to tell about it
ISBN: 9780736916875 OCLC: 61151493 Harvest House Publishers, Eugene, Or. : ©2006.
The Governor's Road :
ISBN: 0802065333 OCLC: 20523441 University of Toronto Press, Toronto : [1989], c1982.
The mother load /
ISBN: 0736915028 OCLC: 56096770 Harvest House, Eugene, Or. : ©2005. The Mother Load is packed with down-to-earth suggestions, spiritual truths, and real-life advice to help you survive and thrive in your active family. You'll also discover special insights into achieving balance and creating a more intimate relationship with the Lord.
The S.O.S. for PMS /
ISBN: 0736921702 OCLC: 191258525 Harvest House, Eugene, Or. : ©2008.