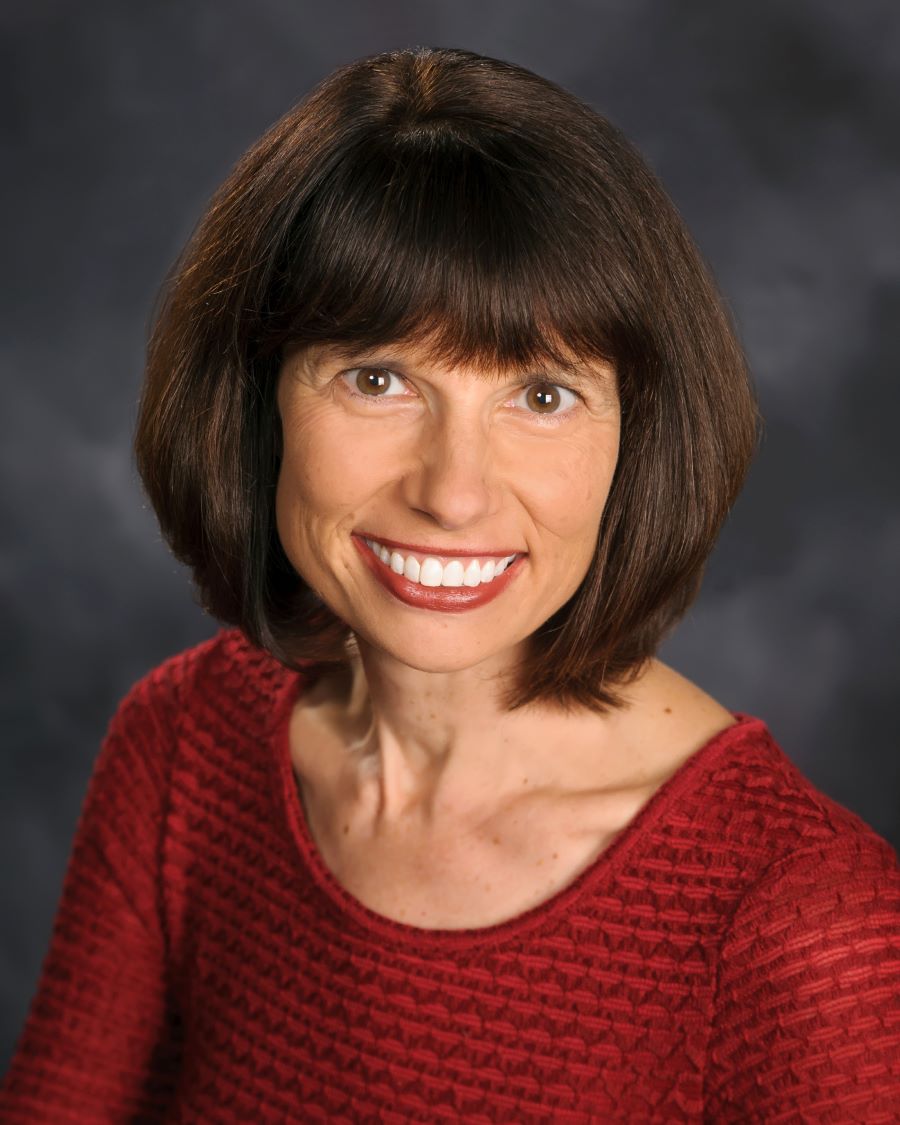 Margaret Peterson Haddix
Born:
1964 in Washington Court, Ohio
Pen Name:
None
Connection to Illinois
: Haddix lived in Danville from 1991-93. While there she was a part-time instructor at the Danville Area Community College and a freelance writer. During that time, she wrote Running Out of Time; Don't You Dare Read This, Mrs. Dunphrey.
Biography
: Haddix is the author of many critically and popularly acclaimed teen and middle-grade novels. A graduate of Miami University in Ohio, she worked for several years as a reporter for The Indianapolis News and taught at the Danville Area Community College in Illinois. She currently resides in Columbus, Ohio.
---
Awards
:
Don't You Dare Read This, Mrs. Dunphry Children's Book Award, International Reading Association in 1997 Quick Pick for Reluctant Young Adult Readers Best Book for Young Adults, YALSA, 1997
Running Out of Time Notable Children's Trade Books in the Field of Social Studies, National Council for Social Studies and the Children's Book Council, 1996 Quick Pick for Reluctant Young Adult Readers, YALSA, 1997Best Book for Young Adults, YALSA, 1997 Children's Book Award, International Reading Association's American Library Association Best Book
Primary Literary Genre(s):
Fiction
Primary Audience(s):
Children; Young adult readers
Web:
http://www.haddixbooks.com/
---
Selected Titles
Among the Barons /
ISBN: 0689839065 OCLC: 49681456 Simon & Schuster Books for Young Readers, New York : 2003. In a future world of false identities, government lies, and death threats, Luke feels drawn to the younger brother of the boy whose name Luke has taken.
Among the betrayed /
ISBN: 0786282797 OCLC: 62281731 Thorndike Press, Waterville, Me. : 2006. Thirteen-year-old Nina is imprisoned by the Population Police, who give her the option of helping them identify illegal
Among the brave /
ISBN: 0689857950 OCLC: 52335122 Simon & Schuster Books for Young Readers, New York : ©2004. In a society that allows families to have only two children, a group of third-borns tries to save itself and others like them.
Among the enemy
ISBN: 0689857969 OCLC: 55138543 In a society that allows families to have only two children, third child Matthias joins the Population Police to infiltrate their system.
Among the free
ISBN: 9780689857997 OCLC: 60515368 Simon & Schuster Books for Young Readers, New York : 2006. When thirteen-year-old Luke Garner unwittingly sets off a rebellion which sweeps the country and ousts the Population Police from power, he quickly realizes that the new regime is corrupt and he may hold the only key to true freedom.
Among the hidden /
ISBN: 1416924981 OCLC: 663074390 Aladdin ; [New York] : [2006], ©1998. In a future where the Population Police enforce the law limiting a family to only two children, Luke has lived all his twelve years in isolation and fear on his family's farm, until another
Among the imposters
ISBN: 0099413469 OCLC: 47356207 Red Fox, London : 2001.
Because of Anya
ISBN: 9781442457782 OCLC: 1008896108 While ten-year-old Anya faces the difficulties of losing her hair to alopecia, her classmate Keely learns how to stand up for what she knows is right.
Caught /
ISBN: 1416989838 OCLC: 740250628 When Jonah and Katherine travel to early 1900s Switzerland and Serbia to return Albert Einstein's daughter, Lieserl, to history, her mother Mileva grasps entirely too much about time travel and has no intention of letting her daughter go.
Children of exile /
ISBN: 1442450045 OCLC: 934705561 A twelve-year-old girl raised in a foster village is returned to her biological parents, and discovers home is not what she expected it to be.
Children of Jubilee /
ISBN: 144245010X OCLC: 1001251107 Kiandra Watanaboneset reluctantly takes charge when she, her brothers Enu and Edwy, and some young friends are captured by Enforcers and sent to a prison on the planet Zacadi.
Children of refuge /
ISBN: 144245007X OCLC: 965445401
Claim to fame
ISBN: 1416939180 OCLC: 679993461 Simon & Schuster BFYR, New York : 2010, ©2009. Sixteen-year-old Lindsay, a former child star whose career ended when she developed the ability to hear what anyone, anywhere says about her and apparently suffered a nervous breakdown, comes to see this as an asset when, after her father's death, she learns that she is not alone.
Dexter the tough /
ISBN: 1416911707 OCLC: 180756335 Aladdin Paperbacks, New York : 2008, ©2007. A sympathetic teacher and her writing assignment help fourth-grader Dexter deal with being the new kid in school after he punches a kid on the first day.
Don't you dare read this, Mrs. Dunphrey /
ISBN: 0689871023 OCLC: 55488568 Simon Pulse, New York : 2004. In the journal she is keeping for English class, sixteen-year-old Tish chronicles the changes in her life when her abusive father returns home after a two-year absence.
Double identity /
ISBN: 0689873794 OCLC: 55672121 Simon & Schuster Books for Young Readers, New York : ©2005. Thirteen-year-old Bethany's parents have always been overprotective, but when they suddenly drop out of sight with no explanation, leaving her with an aunt she never knew existed, Bethany uncovers shocking secrets that make her question everything she thought she knew about herself and her family.
Escape from memory /
ISBN: 1416903380 OCLC: 60693280 Simon Pulse, New York : 2005, ©2003. Allowing herself to be hypnotized, fifteen-year-old Kira reveals memories of another time and place that may eventually cost her and her mother their lives.
Found /
ISBN: 141695421X OCLC: 156891904 When thirteen-year-olds Jonah and Chip, who are both adopted, learn they were discovered on a plane that appeared out of nowhere, full of babies with no adults on board, they realize that they have uncovered a mystery involving time travel and two opposing forces, each trying to repair the fabric of time.
Full ride /
ISBN: 1442442794 OCLC: 812614373 After her father is convicted of embezzlement, Becca Jones, fourteen, and her mother flee Georgia for small-town Ohio but three years later she learns that his misdeeds may have jeopardized not just her future but also her life.
Game changer /
ISBN: 0689873816 OCLC: 759084152 While playing in the championship softball game, star pitcher KT Sutton blacks out and awakes to a changed world where the roles of academics and sports at her middle school have flipped, making talented athletes, such as KT, outcasts and brainy nerds popular.
In over their heads /
ISBN: 1481417622 OCLC: 947268525 Twelve-year-old twins Nick and Eryn and their robot stepsiblings, Jackson and Ava, try to save humanity from killer robots.
Into the gauntlet /
ISBN: 0545060508 OCLC: 657648807 Throughout the hunt for the 39 Clues, Amy and Dan Cahill have uncovered history's greatest mysteries and their family's deadliest secrets. But are they ready to face the truth about the Cahills and the key to their unmatched power? After a whirlwind race that's taken them across five continents, Amy and Dan face the most the difficult challenge yet -- a task no Cahill dared to imagine. When faced with a choice that could change the future of the world, can two kids succeed where 500 years worth of famous ancestors failed?
Just Ella /
ISBN: 1416936491 OCLC: 39335853 Simon & Schuster Books for Young Readers, New York : 1999. In this continuation of the Cinderella story, fifteen-year-old Ella finds that accepting Prince Charming's proposal ensnares her in a suffocating tangle of palace rules and royal etiquette, so she plots to escape.
Leaving Fishers /
ISBN: 068986793X OCLC: 55480402 Simon Pulse, New York : 2004. After joining her new friends in the religious group called Fishers of Men, Dorry finds herself immersed in a cult from which she must struggle to extricate herself. Dorry is unbearably lonely at her new high school until she meets Angela and her circle of friends. She soon discovers they all belong to a religious group, the Fishers of Men. At first, as Dorry becomes involved with the Fishers, she is eager to fit in and flattered by her new friends' attention. But the Fishers make harsh demands of their members, and Dorry must make greater and greater sacrifices. In demonstrating her devotion, Dorry finds herself compromising her grades, her job, and even her family's love. How much is too much? And where will the cult's demands end?
Palace of lies /
ISBN: 1442442824 OCLC: 905657959 "After a terrible fire destroys her home and kills her twelve sister-princesses, Desmia must rise above those who intend to manipulate her and sieze power for themselves--and find out the truth"--
Palace of Mirrors /
ISBN: 1416939156 OCLC: 370810781 Simon & Schuster Books for Young Readers, New York : 2008. Fourteen-year-old Cecilia has always known she is the true princess of Suala, but when she and her best friend, Harper, decide to speed up her ascendancy to the throne, they find danger and many imposters who challenge her claim.
Redeemed /
ISBN: 1442497580 OCLC: 879119411 Jonah was able to save all of time from collapsing but in doing so gained a twin brother, Jordan, who must learn what has happened and do his own part to save time--and his parents.
Remarkables /
ISBN: 0062838466 OCLC: 1080426064 Eleven-year-old Marin and her neighbor Charley hope that by preventing a disaster that occurred twenty years ago, they can save Charley's dad from a future of guilt and self-destructive behavior.
Revealed /
ISBN: 1416989870 OCLC: 903510787 After returning the missing children from history to their original time periods, thirteen-year-old Jonah must save time itself when aviator Charles Lindbergh mysteriously appears and kidnaps Jonah's sister.
Risked /
ISBN: 1416989854 OCLC: 782251796 Jonah, thirteen, and Katherine, eleven, travel through time to 1918 Russia just as Alexei, Anastasia, and the rest of Tsar Nicholas II's family is about to be executed. Author's note includes facts about the Romanov's and the mystery surrounding their deaths.
Running out of time /
ISBN: 0689812361 OCLC: 32313823 Simon & Schuster Books for Young Readers, New York : 1995. When a diphtheria epidemic hits her 1840 village, thirteen-year-old Jessie discovers it is actually a 1996 tourist site under unseen observation by heartless scientists, and it's up to Jessie to escape the village and save the lives of the dying children.
Sabotaged /
ISBN: 1416954252 OCLC: 391339459 Time-travelers Jonah and Katherine are summoned to help another missing child from history, this time Virginia Dare from the Roanoke Colony, but their journey is sabotaged and goes dangerously awry, leaving them in the wrong time period. Includes author's note about the history of Roanoke Colony and Virginia Dare.
Say what?
ISBN: 9781439106754 OCLC: 871039781 Simon & Schuster Books for Young Readers, New York : ©2004. When their parents begin saying the wrong thing every time six-year-old Sukey and her older brothers misbehave, the children discover that it is a plot and fight back with their own wrong phrases.
Sent /
ISBN: 1416954228 OCLC: 227569445 Simon & Schuster Books for Young Readers, New York : ©2009. Jonah, Katherine, Chip, and Alex suddenly find themselves in 1483 at the Tower of London, where they discover that Chip and Alex are Prince Edward V and Richard of Shrewsbury, imprisoned by their uncle, King Richard III, but trying to repair history without knowing what is supposed to happen proves challenging. Author's note includes historical facts about the princes and king.
Takeoffs and landings /
ISBN: 0689832990 OCLC: 45486811 Simon & Schuster Books for Young Readers, New York : 2001. An overweight, timid fifteen-year-old boy and his popular fourteen-year-old sister begin to overcome their guilt over their father's death and reconnect with each other and their emotionally-distant mother when they accompany her on a two-week speaking tour.
The always war /
ISBN: 1416995277 OCLC: 816815155 In a war-torn future United States, fifteen-year-old Tessa, her childhood friend Gideon, now a traumatized military hero, and Dek, a streetwise orphan, enter enemy territory and discover the shocking truth about a war that began more than seventy-five years earlier.
The deceivers /
ISBN: 0062838407 OCLC: 1108437073 Told from separate viewpoints, as Finn, Emma, and Chess Greystone and Natalie Mayhew, ages eight to thirteen, continue their quest to rescue their mothers they must return to the alternate dimension where truth is illegal.
The girl with 500 middle names /
ISBN: 0689841353 OCLC: 44860782 Simon & Schuster Books for Young Readers, New York : 2001. Janie's parents move to the suburbs so she can go to a better school, but when she discovers that all the other students are richer than she is, she feels out of place--until she realizes that there are more important things than money.
The house on the gulf /
ISBN: 1416914064 OCLC: 53355715 Simon & Schuster Books for Young Readers, New York : ©2004. A sixteen-year-old boy arranges a housesitting job for the summer, but he starts acting strangely after his family moves in, and his sister begins to suspect they are not supposed to be there.
The strangers /
ISBN: 0062838377 OCLC: 1032292523 Told from separate viewpoints, Chess, Emma, and Finn Greystone, ages twelve, ten, and eight, investigate why their mother went missing and uncover their ties to an alternate world.
The summer of broken things /
ISBN: 1481417649 OCLC: 974911116 Fourteen-year-old Avery Armisted and sixteen-year-old Kayla Butts, once good friends, begrudgingly travel to Spain together for a summer vacation where they uncover a secret their families kept hidden from them their entire lives.
Torn /
ISBN: 1416989811 OCLC: 795594992 Time travelers Jonah and Katherine arrive in 1611 to rescue missing child John Hudson, son of the explorer Henry Hudson, but just as the mutiny on the Discovery is supposed to start, Jonah and Katherine's knowledge of history is tested once again, and they fear that more is at stake than just one boy's life. Author's note includes facts about Henry Hudson's explorations.
Turnabout /
ISBN: 141693653x OCLC: 85824656 Simon Pulse, New York : 2007. After secretly receiving injections at the age of 100 that are meant to reverse the aging process, Melly and Anny Beth grow younger until, as teenagers, they try to find a guardian to take care of them as they return to infancy.
Under their skin /
ISBN: 1481417592 OCLC: 891565645 Twelve-year-old twins Nick and Eryn investigate why their mother and new stepfather are keeping secrets, why they are forbidden to meet their stepsiblings, and, most important, why their lives are in danger.
Uprising /
ISBN: 1416911715 OCLC: 77333469 Simon & Schuster Books for Young Readers, New York : ©2007. In 1927, at the urging of twenty-one-year-old Harriet, Mrs. Livingston reluctantly recalls her experiences at the Triangle Shirtwaist factory, including miserable working conditions that led to a strike, then the fire that took the lives of her two best friends, when Harriet, the boss's daughter, was only five years old. Includes historical notes.