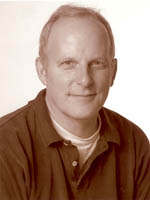 Dave Hoekstra
Born:
Pen Name:
None
Connection to Illinois
: Hoekstra grew up in Naperville and now resides in Chicago.
Biography
: Dave Hoekstra is the host of the radio program Nocturnal Journal with Dave Hoekstra on WGN-720 AM. A Chicago Sun-Times columnist from 1985 to 2014, he is also the author of The People's Place, The Supper Club Book, Ticket to Everywhere and the coauthor of Disco Demolition.
---
Awards
:
-- Chicago Newspaper Guild Stick-O-Type Award for Column Writing, 1987
-- Dave was honored at the 2005 Illinois Authors Book Fair sponsored by the Illinois Center for the Book and the Illinois State Library in Springfield, Illinois.
Primary Literary Genre(s):
Non-Fiction
Primary Audience(s):
Adult readers
E-Mail:
contact@davehoekstra.com
Facebook:
https://www.facebook.com/dave.hoekstra.94
Twitter:
https://twitter.com/davehoekstra66
Website:
http://www.davehoekstra.com
Website:
https://wgnradio.com/nocturnal-journal-with-dave-hoekstra/
Website:
https://wgnradio.com/tag/dave-hoekstra/
Website:
https://muckrack.com/dave-hoekstra
---
Selected Titles
Country music stars :
ISBN: 156173697X OCLC: 27020663 Publications International, Lincolnville, Ill. : ©1992. Profiles of 79 important country singers whose careers account for eight decades of recordings and performances.
Disco Demolition :
ISBN: 1940430755 OCLC: 920019029 A illustrated collection of essays and interviews about the "anti-disco rally," Disco Demolition, held on July 12, 1979 at Comiskey Park and organized by Bill Veeck and DJ Steve Dahl.
Farm Aid :
ISBN: 1594862850 OCLC: 60705512 Rodale, [Emmaus, Pa.] : ©2005. A celebration of Farm Aid's 20th anniversary-a beautifully designed treasure documenting the struggles and contributions of family farmers in America and the more than 200 American artists who have played on the Farm Aid stage. When Willie Nelson organized the first Farm Aid concert in 1985, he hoped it would be a one-time event that would ensure the continued survival of the national treasure upon which our country was founded: the independent family farmer. But two decades later, the nation is still losing an average of 330 family farms per week. And the annual Farm Aid concert, which has helped to raise more than $26 million to keep family farmers on their land, is now the longest running benefit concert in history. To commemorate this landmark and to call renewed attention to the importance of where, how, and by whom our food is produced, Farm Aid has put together this volume. Essays, interviews, poems, song lyrics, and fictional excerpts mix with more than 200 color and black-and-white photographs, including shots of farmland and farmers, as well as never-before-seen pictures of Farm Aid performers, from the late Johnny Cash and Roy Orbison to Bob Dylan and Bonnie Raitt. Among the many contributors are writers Eric Schlosser and Howard Zinn; performers Steve Earle and Emmylou Harris; photographers Paul Natkin and Ebet Roberts; and Farm Aid board members Neil Young, Dave Matthews, John Mellencamp, and Willie Nelson. [from publisher description].
The camper book :
ISBN: 161373820X OCLC: 1005192619 "In The Camper Book, celebrated journalist Dave Hoekstra and photographer Jon Sall hit the road to celebrate camper life--its history, culture, subcultures, and its future."--Provided by publisher.
The people's place :
ISBN: 1613730594 OCLC: 904800969 Dave Hoekstra travels, tastes, and talks his way through twenty of America's best, liveliest, and most historically significant soul food restauƯrants. Following the "soul food corridor" from the South through northern industrial cities, The People's Place gives voice to the remarkable chefs, workers, and small business owners (often women) who provided sustenance and a safe haven for civil rights pioneers, not to mention presidents and politicians; music, film, and sports legends; and countless everyday, working-class people.
The supper club book :
ISBN: 1613743688 OCLC: 843202505 The phenomenon of the supper club--as unique to the Upper Midwest as great lakes, cheese curds, and Curly Lambeau--is explored for the first time in this attractive and engaging book. Revealing the rich history behind these time-honored establishments, it defines the experience for the uninitiated and reacquaints those in the know with a cherished institution. Painstakingly researched, the book documents modern supper clubs in Wisconsin, Minnesota, Iowa, Michigan, and Illinois, bringing to life the memorable people who created the tradition and keep it alive. It goes on to explain how combining contemporary ideas such as locavore menus and craft beer with staples like Friday night fish fries and Saturday prime rib has allowed the clubs to evolve over time and thrive. With numerous photographs, this combination social history and travel guide celebrates not only the past and present but the future of the supper clubs.
The unofficial guide to Chicago /
ISBN: 0470042079 OCLC: 123086071 John Wiley, Chichester : 2007. Five Great Features and Benefits offered ONLY by The Unofficial Guide: Information that's candid, critical, and totally objective ; Hotels reviewed and ranked for value and quality--plus secrets for getting the lowest possible rate ; More than 70 restaurants reviewed and profiled, with listings for dozens more ; A complete guide to Chicago's sights--museums, architecture, ethnic neighborhoods, and more ; The inside story on shopping--where to get the best for less, on and off the Magnificent Mile.
Ticket to everywhere :
ISBN: 1893121119 OCLC: 45769062 Lake Claremont Press, Chicago : 2000.