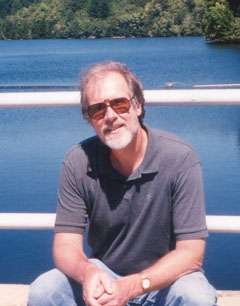 Paul Hoover
Born:
1946 in Harrisonburg, Virginia
Pen Name:
None
Connection to Illinois
: Paul Hoover taught at Columbia College in Chicago, Illinois
Biography
: Hoover is best known for his poetry. He was a poet in residence at Columbia College in Chicago. More recently he was a Professor of Creative Writing at San Francisco State Universiey. He now lives in Mill Valley, California.
---
Awards
:
Jerome J. Shestack Award, 2002; Contemporary Poetry Series Award, 1996; Carl Sandburg Award, 1987; General Electric Award for Younger Writers, 1984; NEO Fellowship, 1980
Primary Audience(s):
Adult readers
Email:
viridian@hotmail.com
Paul Hoover on WorldCat :
http://www.worldcat.org/search?q=paul+hoover
---
Selected Titles
American hybrid :
ISBN: 9780393333756 OCLC: 227016082 This anthology of contemporary American poetry focuses on the new poem, the hybrid, a synthesis of traditional and experimental styles. As one of the editors argues in the introduction to this anthology, the long-acknowledged fundamental division between experimental and traditional is disappearing in American poetry in favor of hybrid approaches that blend trends from accessible lyricism to linguistic exploration. The focus of this work is on the blend; the more than seventy poets featured here, including Jorie Graham, Albert Goldbarth, and Lyn Hejinian, have found new and often unique ways to reconfigure the innumerable and sometimes conflicting voices of the past thirty years. The editors have crafted short introductory essays on each of the poets in the anthology, providing biographical backgrounds and positioning them within the current of contemporary poetry. This anthology is essential reading for those who care about the present moment and the future, of American verse.
Black dog, black night :
ISBN: 157131430X OCLC: 174134205 Milkweed Editions, Minneapolis, Minn. : 2008. "Vietnam - the very word raises many associations for Westerners. Yet while the country has been ravaged by a modern history of colonialism and war, its ancient culture is rich and multilayered, and within it poetry has long had a special place." "In this groundbreaking anthology, co-editors and translators Nguyen Do and Paul Hoover present a revelatory portrait of contemporary Vietnamese poetry. What emerges from this conversation of outsiders and insiders, Vietnamese and American voices, is a worldly sensibility descended from the geographical and historical crossroads of Vietnam in the modern era. Reflecting influences as diverse as traditional folk stories and American Modernism, the twenty-one poets included in Black Dog, Black Night, many of whom have never before been published in English, introduce readers to a fresh, uncensored, and utterly unique poetic vision." "Contributors: Huu Loan Te Hanh, Van Cao, Hoǹg Cam, Tran Dan, Dang Dinh Hung, Nguyen Khoa Diem, Xuan Quynh, Hoǹg Hung, Tran Vu Mai, Y Nhi, Thanh Thao, Nguyen Duy, Nguyen Quang Thieu, Nguyen Do, Linh Dinh, Hoa Nguyen, Nhat Le, Truong Tran, M?ng-Lan, Vi Thuy Linh."--Jacket.
Black dog, black night :
ISBN: 9781571318671 OCLC: 651908882 Milkweed Editions, Minneapolis, Minn. : 2008.
Classroom guide to accompany Postmodern American poetry: a Norton anthology edited by Paul Hoover.
ISBN: 0393964507 OCLC: 31077995 Norton, New York ; ©1994.
Edge and fold :
ISBN: 097446872X OCLC: 71818097 Apogee Press, Berkeley, Calif. : 2006.
Fables of representation :
ISBN: 0472068563 OCLC: 655250024 University of Michigan Press, Ann Arbor : ©2004.
Letter to Einstein beginning Dear Albert :
ISBN: 0916328120 OCLC: 4857947 Yellow Press, Chicago : ©1979.
Nervous songs :
ISBN: 0934332460 OCLC: 13215740 [L'Epervier Press] ; [Seattle, WA] : [©1986]
Poems in Spanish /
ISBN: 1890650250 OCLC: 60500303 Omnidawn, Richmond, Calif. : 2005.
Postmodern American poetry :
ISBN: 9780393341867 OCLC: 816499006 This anthology generated great interest on its publication in 1994, bringing together experimental poets and movements from 1950 to the present in one groundbreaking volume. Now, two decades later, Paul Hoover has revised and updated it for twenty-first-century readers. His revised introduction argues that new technologies have given postmodern poets a fresh field of play for longstanding practices such as harvesting and playing with found text. The updated contents feature 114 poets, 583 poems, and selections from 19 poetics essays. Representing the full historical sweep--from the Beat movement, the New York School, and the language movements to 21st-century developments like cyberpoetry and Flarf, this anthology makes the avant-garde accessible (Chicago Tribune) for a new generation of readers.--From publisher description.
Rehearsal in black /
ISBN: 1876857315 OCLC: 49278943 Salt, Applecross, W.A. : 2001.
Saigon, Illinois :
ISBN: 9781480456938 OCLC: 892801976 Open Road Media, Newburyport : 2013. The story of how one man wound up fighting the Vietnam War from a Chicago hospitalYoung slacker Jim Holder wants no part of the draft, the army, or Vietnam. So he registers as a conscientious objector and gets ready for alternative service. He's assigned to work as a unit manager at a downtown Chicago medical center, worlds apart from his rural roots. A wild assortment of patients and colleagues awaits him at Metropolitan Hospital. As Jim's life swings from the chaos of his job to the fervor of a revolutionary moment, he balances his beliefs with the everyday business of life and death. In this.
Sonnet 56 /
ISBN: 1934254126 OCLC: 437819267 Les Figues Press ; Los Angeles : ©2009.
Totem and shadow :
ISBN: 1883689872 OCLC: 43098888 Talisman House, Jersey City, N.J. : ©1999. As an anthologist and editor, Paul Hoover has championed both language writers and poets such as Alice Notley who are expanding the great traditions of the lyric and the epic. Hoover has a place in both camps, his work synthesizing various strains in contemporary writing to form his own very distinctive (and celebrated) poetry. As critics point out, he is forever moving into wondrous, unexplored terrain. As Marjorie Perloff said of his book Nervous Songs, "the most ordinary of experiences are transmuted into something rich and strange". Hoover is the author of six previously published books of poetry, the most recent of which, Viridian (1996), won the Contemporary Poetry Series competition of the University of Georgia Press. Idea (The Figures) won the Carl Sandburg Award in 1987. He is also the author of the book-length work, The Novel: A Poem (New Directions) and edited the major anthology, Postmodern American Poetry (Norton). A novel, Saigon, Illinois (Random House), appeared in 1988. With novelist and poet Maxine Chernoff, he edits the well known literary journal, New American Writing.
Totem and shadow :
ISBN: 1883689880 OCLC: 248623100 Talisman House Jersey City, NJ c 1999
Viridian :
ISBN: 0820318957 OCLC: 35008273 University of Georgia Press, Athens : ©1997. "Viridian is Paul Hoover's sixth collection of poetry and the first since his book-length work The Novel: A Poem was published in 1990. While The Novel: A Poem dealt with the dilemma of postmodern authorship, the poems in Viridian are conceptual pieces varied in style and subject matter."--BOOK JACKET. "The poems in the first of three sections comment on the world through language and simultaneously explore how subject matter, from baseball to death to highway signs, is transformed by language. The middle section consists of longer poems in which meaning emerges through a filter of language. In the final and most lyrical section, several poems are based on Hoover's screenplay for Joseph Ramirez's 1994 independent film, Viridian. Many of these poems were used as voice-overs for the film's main character, a single mother searching for permanence. Their language is incantatory, as if poetry could fix a place for her in the world."--BOOK JACKET.
Winter (mirror) /
ISBN: 0971005958 OCLC: 50079349 Flood Editions, Chicago : 2002.