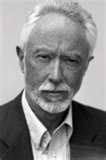 John Maxwell Coetzee
Born:
1940 in Cape Town, South Africa
Pen Name:
J.M. Coetzee
Connection to Illinois
: Coetzee was a member of the Committee on Social Thought, at the University of Chicago, for six years. His tenure ended in 2003.
Biography
: Coetzee entered the University of Cape Town in 1957, and in 1960 and 1961 graduated successively with honours degrees in English and mathematics. He spent the years 1962–65 in England, working as a computer programmer while doing research for a thesis on the English novelist Ford Madox Ford. In 1968 he graduated from the University of Texas with a PhD in English, linguistics, and Germanic Languages. Coetzee's published work consists of fiction, fictionalised autobiographies (which he terms 'autrebiography'), and non-fiction.In 2003 he won the Nobel Prize in Literature.
---
Awards
:
-- Booker Prize, ''Life and Times of Michael K''
-- Booker Prize, ''Disgrace''
Primary Literary Genre(s):
Fiction; Non-Fiction
Primary Audience(s):
Adult readers
John Maxwell Coetzee on WorldCat :
http://www.worldcat.org/search?q=john+maxwell+coetzee
---
Selected Titles
Age of iron
ISBN: 9780241951019 OCLC: 682552447 Penguin Books, London : 2010. In Cape Town, South Africa, an elderly classics professor writes a letter to her distant daughter, recounting the strange and disturbing events of her dying days.
Age of iron /
ISBN: 0140275657 OCLC: 41354850 Penguin Books, New York : 1998, ©1990. As an elderly woman's health deteriorates, so does the condition of her country, South Africa.
Disgrace /
ISBN: 0143115286 OCLC: 262832725 Penguin Books, New York : 2008, ©1999. At fifty-two Professor David Lurie is divorced, filled with desire but lacking in passion. An affair with one of his students leaves him jobless and friendless. Except for his daughter, Lucy, who works her smallholding with her neighbor, Petrus, an African farmer now on the way to a modest prosperity. David's attempts to relate to Lucy, and to a society with new racial complexities, are disrupted by an afternoon of violence that changes him and his daughter in ways he could never have foreseen. In this wry, visceral, yet strangely tender novel, Coetzee once again tells "truths [that] cut to the bone." (The New York Times Book Review).
Elizabeth Costello /
ISBN: 0142004812 OCLC: 52853016 Viking, New York : ©2003. Elizabeth Costello is a distinguished and aging Australian novelist whose life is revealed through a series of eight formal addresses. From an award-acceptance speech at a New England liberal arts college to a lecture on evil in Amsterdam and a sexually charged reading by the poet Robert Duncan, the author draws the reader toward its astonishing conclusion. The novel is, on its surface, the story of a woman's life as mother, sister, lover, and writer. Yet it is also a profound and haunting meditation on the nature of storytelling.
Foe
ISBN: 9780241973691 OCLC: 915155156 In the early eighteenth century, Susan Barton finds herself adrift from a mutinous ship and cast ashore on a remote desert island. There she finds shelter with its only other inhabitants: a man named Cruso and his tongueless slave, Friday. In time, she builds a life for herself as Cruso's companion and, eventually, his lover. At last they are rescued by a passing ship, but only she and Friday survive the journey back to London. Determined to have her story told, she pursues the eminent man of letters Daniel Foe in the hope that he will relate truthfully her memories to the world. But with Cruso dead, Friday incapable of speech and Foe himself intent on reshaping her narrative, Barton struggles to maintain her grip on the past, only to fall victim to the seduction of storytelling itself.
Foe /
ISBN: 014009623X OCLC: 14098832 Viking, New York, N.Y., U.S.A. : 1987, ©1986. While marooned on an island in the Atlantic, Sue Barton finds herself a character in a fiction novel. She spends a year with two other castaways, a mute Negro called Friday and Robinson Cruso.
In the heart of the country /
ISBN: 0140062289 OCLC: 8387186 Penguin Books, New York, N.Y. : 1982, ©1977. A young woman living on a remote South African farm describes her loneliness and bitter anger.
In the heart of the country :
ISBN: 0869750771 OCLC: 10754251 Ravan Press, Johannesburg : 1978
Stranger shores :
ISBN: 0142001376 OCLC: 50984375 Penguin Books, New York : 2002. Compiles essays written about such literary topics as Daniel Defoe's "Robinson Crusoe," Dostoevsky, A.S. Byatt, Turgenev, and Salman Rushdie's "The Moor's Last Sigh."
Summertime :
ISBN: 0143118455 OCLC: 567155130 Penguin Books, New York, N.Y. : 2010. In this autobiographical novel, a young English biographer is researching a book about the late South African writer John Coetzee, focusing on Coetzee in his thirties, at a time when he was living in a rundown cottage in the Cape Town suburbs with his widowed father--a time, the biographer is convinced, when Coetzee was finding himself as a writer.
The lives of animals
ISBN: 9780691173900 OCLC: 956953667
The lives of animals /
ISBN: 069107089X OCLC: 39655281 Princeton University Press, Princeton, N.J. : ©1999. The idea of human cruelty to animals so consumes novelist Elizabeth Costello in her later years that she can no longer look another person in the eye: humans, especially meat-eating ones, seem to her to be conspirators in a crime of stupefying magnitude taking place on farms and in slaughterhouses, factories, and laboratories across the world. Here the internationally renowned writer J.M. Coetzee uses fiction to present a powerfully moving discussion of animal rights in all their complexity. He draws us into Elizabeth Costello's own sense of mortality, her compassion for animals, and her alienation from humans, even from her own family. In his fable, presented as a Tanner Lecture sponsored by the University Center for Human Values at Princeton University, Coetzee immerses us in a drama reflecting the real-life situation at hand: a writer delivering a lecture on an emotionally charged issue at a prestigious university. As in the story of Elizabeth Costello, the Tanner Lecture is followed by responses treating the reader to a variety of perspectives, delivered by leading thinkers in different fields.
Waiting for the barbarians /
ISBN: 0143116924 OCLC: 7946942 Penguin Books, Harmondsworth, Middlesex, England ; 1982, ©1980. Allegory of the war between oppressor and oppressed.
Youth /
ISBN: 0142002003 OCLC: 49320413 Viking, New York, N.Y. : 2002. Hoping to escape his South African home, dysfunctional family, and what he believes to be an impending revolution, a young man becomes disappointed with his monotonous new life in London and begins a dark pilgrimage.