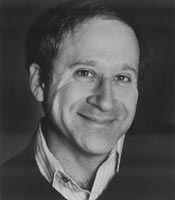 Leslie Morris Golden
Born:
in Chicago, Illinois
Pen Name:
Les Golden, Leslie M. Golden, Leslie Golden
Connection to Illinois
: Les Golden was born in Illinois on December 4, an identical twin. He attended Horace Mann elementary school and Oak Park and River Forest High School in Oak Park. He earned the B. S. , with Distinction, and the M. Engineering Physics from Cornell University, and the M. A. and the Ph. D in astronomy from the University of California, Berkeley. He returned to permanent residency in Illinois in 1980. His academic appointments in Illinois include the graduate school of business at Roosevelt University and as a member of Physics Department and Honors College of the University of Illinois at Chicago.
Biography
: Les Golden is a Renaissance Man, a writer, performer, academic, and animal welfare and environmental activist. He is stand-up comedian, jazz trumpet player and vocalist, bandleader, developer of music notation software, jazz disc jockey, basketball play-by-play announcer, and professional actor with over 100 stage, film, television, radio, and commercial credits. He was one of the founders of the prestigious University of California Jazz Ensembles and the play-by-play voice of California Golden Bears basketball. and performed research at the Jet Propulsion Laboratory before becoming a professor in the Physics Department and Honors College at the University of Illinois at Chicago He has appeared numerous times as an actor on the live-broadcast productions of Unshackled! He was a featured regular on the Eddie Hubbard Show radio program as the character Jeffrey Clayton Maxwell from Bhutan. He is a member of both the Screen Actors Guild (SAG) and the American Federation of Television and Radio Artists (AFTRA). He was a charter member of Chicago's Porchlight Theatre Ensemble. He has appeared in featured roles with Broderick Crawford, Tippi Hedren, Troy Donahue, Charlotte Ross, Susan Hart, Robert Petkoff, David Darlow, Bruce Jarchow, Paula Scrofano, and others.As Flash Golden, he was the play-by-play announcer for the California Golden Bears basketball radio broadcasts and hosted Flash's Jazz Patio on KALX-FM. As a stand-up comedian, he has performed at San Francisco's Holy City Zoo, the Comedy Store in Los Angeles, the Comedy Cottage in Chicago, as well as on the college circuit, Playboy Club, and other clubs. He appears both as himself, Les Golden, and as Subrahmanyan Berkowitz from Bhutan. He is a published editorial cartoonist and jazz critic.As a writer, Les Golden has published in various genre including screenplays, theatrical plays, a political candidate guide, and astronomy textbooks. He is a published jazz critic and editorial cartoonist. He has published numerous technical articles as an astronomer and numerous articles on the history of science. He is a prolific letter writer, having had nearly 200 letters published in the local press as well as the Chicago Sun-Times and the Chicago Tribune. He is internationally known as a gambling writer, having written over 100 columns on blackjack, craps, and roulette for four British gambling magazines. His research into the gambling game of 21 has been published in a peer-reviewed scholarly journal. His most recent monograph is 'Laboratory Experiments in Physics for Modern Astronomy,' published by Springer Science + Business.Les Golden has won numerous awards for his writing. These include the prestigious Eric Hoffer and Lili Fabilli Laconic Essay Prize, the International Compuserve Magazine Essay Contest, several awards from the Engineering College Magazines Association (ECMA), the First Place Prize in the Nicolaus Copernicus International Essay Competition (American Council of Polish Cultural Clubs), and an award in the Griffith Observatory Science Writing Competition. Gambling.com's website refers to Golden as 'gambling.com magazine's resident blackjack genius.' Les Golden addresses adult and student audiences on the possibility of extraterrestrial life and the hypothetical shapes of their bodies. A frequent cruise ship lecturer, he was selected by Royal Cruise Lines to be their shipboard lecturer on the high seas during the 1986 apparition of Halley's Comet, and was the first University of Illinois professor selected to be a professor on the Institute of Shipboard Education's (ISE) Semester at Sea program, teaching courses on astronomy and the possibility of extraterrestrial life in the fall semester of 1996. Among his popular writings on astronomy and public presentations, he has been the featured speaker at the meeting of the Great Lakes Planetarium Association and was the keynote speaker for Chicago's Adler Planetarium on the occasion of the dedication of their new wing.
---
Awards
:
Primary Literary Genre(s):
Fiction; Mystery; Non-Fiction
Primary Audience(s):
Adult readers
Email:
drlesgo@aol.com
Website:
http://geocities.ws/les_golden
Leslie Morris Golden on WorldCat :
http://www.worldcat.org/search?q=leslie+morris+golden
---
Selected Titles
Laboratory experiments in physics for modern astronomy :
ISBN: 146143310X OCLC: 820469889 Springer, New York, NY : ©2013. This book presents experiments which will teach physics relevant to astronomy. The astronomer, as instructor, frequently faces this need when his college or university has no astronomy department and any astronomy course is taught in the physics department. The physicist, as instructor, will find this intellectually appealing when faced with teaching an introductory astronomy course. From these experiments, the student will acquire important analytical tools, learn physics appropriate to astronomy, and experience instrument calibration and the direct gathering and analysis of data. Experiments that can be performed in one laboratory session as well as semester-long observation projects are included. This textbook is aimed at undergraduate astronomy students.