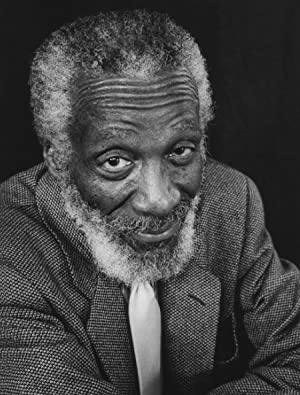 Richard Claxton Gregory
Born:
October 12, 1932 in St. Louis, Missouri
Died:
August 19, 2017 in Washington, DC
Pen Name:
Dick Gregory
Connection to Illinois
: Gregory attended Southern Illinois University at Carbondale on a track scholarship. He also lived in Chicago.
Biography
: Gregory was an author, comedian, and social activist. After returning from the Southern Illinois University after the draft, he decided to move to Chicago to perform comedy professionally. There, he became part of a new generation of black comedians that included Nipsey Russell, Bill Cosby, and Godfrey Cambridge. Gregory also ran for mayor of Chicago in 1965 and was the ''Freedom and Peace Party's'' canidate for President in 1968.
---
Awards
:
Primary Literary Genre(s):
Non-Fiction
Primary Audience(s):
Adult readers
Website:
http://www.dickgregory.com/
Wikipedia:
http://en.wikipedia.org/wiki/Dick_Gregory
Richard Claxton Gregory on WorldCat :
http://www.worldcat.org/search?q=richard+claxton+gregory
---
Selected Titles
Callus on my soul :
ISBN: 1563525542 OCLC: 45036811 Longstreet Press, Atlanta, Ga. : ©2000.
Defining moments in Black history :
ISBN: 0062448692 OCLC: 967501166 The activist and comedian examines key events in black history, from the beginnings of the slave trade in Africa and the Middle Passage to the Harlem Renaissance and the Black Lives Matter movement.
Dick Gregory's Bible tales, with commentary /
ISBN: 081281682X OCLC: 1107323 Stein and Day, New York : [1974]
Dick Gregory's natural diet for folks who eat;
ISBN: 0060116048 OCLC: 590713 Harper & Row New York, [1973]
Dick Gregory's political primer.
ISBN: 0060116013 OCLC: 277322 Harper & Row New York, [1972]
Nigger :
ISBN: 0671735608 OCLC: 14643039 African-American comedian and political activist Dick Gregory tells his life story up to 1963, describing his poor childhood in St. Louis, Missouri; his rise to fame as a comedian; and his participation in the fight for racial equality, including his arrests.
No more lies;
ISBN: 0060802367 OCLC: 1671742 Harper & Row New York, [1972, ©1971]
Up from Nigger
ISBN: 0812818326 OCLC: 1341416 Stein and Day, New York : 1976. Dick Gregory's real-life story is far more exciting than a TV drama; he makes his own headlines. [This book] spans the decade from the mid-Sixties to the [mid-Seventies], from popular comic to campus prophet. Taking up where his million-copy seller Nigger left off, it is a hazardous, harried, and hilarious adventure. The cast of characters is varied and colorful--from Malcolm X to Mayor Daley; Martin Luther King, Jr. to Sheriff Jim Clark; Gladys Knight to Red Buttons; Bob Hope and Ed Sullivan to Bertrand Russell and Adlai Stevenson; Walter Cronkite, Tallulah Bankhead, John and Bobby Kennedy, and Barbra Streisand. The scenes span the continent and the world--Gregory in night clubs and at civil rights rallies; driving through a blizzard while being chased by armed rednecks; felled by a bullet while trying to restore order during the Watts riot; delivering 20,000 turkeys to Mississippi at Christmas; playing hide-and-seek with the CIA; fishing with the Indians; running for Mayor of Chicago and President of the United States; fasting in a jail cell; 'freeing' the Army with Jane Fonda; circling the globe in a futile effort to gain admission into Australia; collapsing during the Boston Marathon but running the 800-mile distance from Chicago to Washington, D.C., two years later. Dick Gregory tells it all with zest and unfailing spirit. The comedian-crusader has kept and burnished his wit--his most powerful weapon in his unending battle for human rights and personal evolution 'Up From Nigger.' James R. Mcgraw, who collaborated with Dick Gregory on Up From Nigger, shared many of these adventures.--Dust jacket.