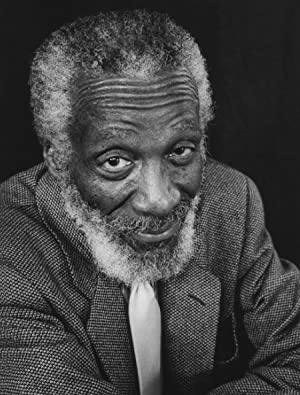 Richard Claxton Gregory
Born:
October 12, 1932 in St. Louis, Missouri
Died:
August 19, 2017 in Washington, DC
Pen Name:
Dick Gregory
Connection to Illinois
: Gregory attended Southern Illinois University at Carbondale on a track scholarship. He also lived in Chicago.
Biography
: Richard "Dick" Claxton Gregory was an African American comedian, civil rights activist, and cultural icon who first performed in public in the 1950s. He was on Comedy Central's list of "100 Greatest Stand-Ups" and was the author of fourteen books, most notably the bestselling classic Nigger: An Autobiography. A hilariously authentic wisecracker and passionate fighter for justice, Gregory is considered one of the most prized comedians of our time. After the draft and returning from the Southern Illinois University, Gregory decided to move to Chicago to perform comedy professionally. There, he became part of a new generation of black comedians that included Nipsey Russell, Bill Cosby, and Godfrey Cambridge. Gregory also ran for mayor of Chicago in 1965 and was the ''Freedom and Peace Party's'' candidate for President in 1968.
---
Awards
:
Primary Literary Genre(s):
Non-Fiction
Primary Audience(s):
Adult readers
Web:
http://www.dickgregory.com/
Wikipedia:
http://en.wikipedia.org/wiki/Dick_Gregory
---
Selected Titles
Callus on My Soul: A Memoir
ISBN: 1563525542 OCLC: 45036811 Longstreet Press, Atlanta, Ga. : ©2000. Comedian and human rights activist Dick Gregory reflects on his life and modern American history in a conversational memoir.
Defining Moments in Black History: Reading Between the Lies
ISBN: 0062448692 OCLC: 967501166 The activist and comedian examines key events in black history, from the beginnings of the slave trade in Africa and the Middle Passage to the Harlem Renaissance and the Black Lives Matter movement.
Dick Gregory's Bible tales, with commentary /
ISBN: 081281682X OCLC: 1107323 Stein and Day, New York : [1974]
Dick Gregory's natural diet for folks who eat;
ISBN: 0060116048 OCLC: 590713 Harper & Row New York, [1973] Written with Dick Gregory's irreverent wit and informed by his deep intelligence, Dick Gregory's Natural Diet for Folks Who Eat is for real people who are concerned about their health and wellness. Gregory offers an enlightening introduction to natural foods, and offers a wickedly amusing and informative assessment of how our modern diet damages the human digestive tract, and raises our consciousness about the political power of food. Gregory argues that how you treat yourself and your body reflects how you treat others. He discusses various fasts and the ones he's done for both political and health reasons, hunger in America, navy beans, and how Americans are changing the way they eat—the beginning of a movement in the 1970s that is still felt today. He offers suggestions on diets to help you gain or lose pounds and offers advice on natural substitutes for favorite alcoholic drinks. You are what you eat—with Dick Gregory's Natural Diet for Folks Who Eat you can laugh your way to better health.
Dick Gregory's political primer.
ISBN: 0060116013 OCLC: 277322 Harper & Row New York, [1972] A unique and timeless guide to American government and its electoral process - as relevant today as when it was first published in 1972 - from the voice of Black consciousness, cultural icon Dick Gregory, the incomparable satirist, human rights and environmental activist, health advocate, social justice champion, and author of the NAACP Image Award-winning Defining Moments in Black History: Reading Between the Lies and the classic best seller Nigger: An Autobiography. For most of his life, Richard Claxton "Dick" Gregory worked to educate Americans about the issues - and the forces of power - shaping their lives. A brilliant and informed student of the American experiment, he viewed and understood politics with an acuity few possess. Nearly 50 years ago, on the eve of Richard M. Nixon's reelection, he wrote a classic guide to the American political system for ordinary folks. Today, when American democracy is threatened, his primer is more necessary than ever before. In Dick Gregory's Political Primer, Gregory presents a series of lessons accompanied by review questions to educate and empower every citizen. He provides amusing, concise, and clear information and commentary on the nature of political parties, the three branches of government and how they operate, how the campaign process works and the costs, and more. Gregory offers imaginative comparisons such as the Hueys - Long, the populist Louisiana governor and Newton, the cofounder of the Black Panthers - and numerological parallels between Abraham Lincoln and John F. Kennedy. He also includes a trenchant glossary that offers insights into some of the major players, terms, and institutions integral to our democracy and government. An essential guide to American history unlike any other, Dick Gregory's Political Primer joins the ranks of classics such as Howard Zinn's A People's History of the United States, and is essential reading for every American.
Murder in Memphis: The FBI and the Assassination of Martin Luther King
ISBN: 194052217X OCLC: Lane Group, LLC 2015 Bestselling author Mark Lane, the first to question the investigation into the murder of President John F. Kennedy, and activist and author Dick Gregory combine their unique perspectives in a look at the assassination of Martin Luther King. James Earl Ray's guilty plea allowed the government to sidestep a trial, and yet his hearing, conducted without any challenge by a defense attorney, raised many questions. In Murder in Memphis, Lane and Gregory examine these questions and more: Dr. King's police protection was removed on the day of the assassination. Why? And by whom? Why was the same FBI squad that J. Edgar Hoover directed to destroy Dr. King responsible for the investigation into the murder? How and why was the most reliable witness prevented from testifying in court? Through exclusive documents and interviews with former FBI agents, security guards, eyewitnesses and James Earl Ray himself, Lane and Gregory present the case to the American people, so they can decide for themselves.
Nigger :
ISBN: 0671735608 OCLC: 14643039 African-American comedian and political activist Dick Gregory tells his life story up to 1963, describing his poor childhood in St. Louis, Missouri; his rise to fame as a comedian; and his participation in the fight for racial equality, including his arrests.
No more lies;
ISBN: 0060802367 OCLC: 1671742 Harper & Row New York, [1972, ©1971] In 1972, during the Black Power Movement, iconoclast Dick Gregory challenged one of the foundations of America itself - its history, which had been written almost exclusively from the white male perspective. In No More Lies, this true trailblazer gave voice to African Americans, speaking their truth about the past and race relations in the United States. No More Lies offers this incomparable satirist's intellectual, conspiratorial, and humorous spin on the facts. No subject is off limits from his critical eye - Gregory examines numerous aspects of culture and history, from the slave trade, police brutality, the wretchedness of working-class life and labor unions to the 1968 Civil Rights Act, the Founding Fathers, "happy slaves", and entrepreneurs. Although this absorbing book is more than 40 years old, its provocative truths continue to reverberate in our lives today. With No More Lies, Gregory inspire a new generation to connect what is happening today with what has happened in the past.
The Essential Dick Gregory
ISBN: 0062879200 OCLC: Amistad 2022 A soulful, generation-defining collection of thought-provoking, agitating, and liberating works from Dick Gregory, the activist and author of sixteen books, including the classic bestseller Nigger: An Autobiography and the 2017 NAACP Image Award Winner, Defining Moments in Black History: Reading Between the Lies.A true renaissance man, Richard Claxton "Dick" Gregory was one of the pioneering satirists of his generation, a reformer and brilliant spokesperson for the downtrodden and forgotten who dedicated his life to speaking unadulterated truth—and to improving ordinary lives. A revered human rights and environmental activist, fearsome and uncompromising social critic, lauded bestselling author, and beloved nutrition guru, Gregory aimed not only to educate souls, but to liberate them. His words shaped a generation and remained vital for our own turbulent times, offering wisdom to enlighten and inspire a new activist age.This carefully curated anthology of selected writings reflects and celebrates Dick Gregory's wisdom and his vision. Divided into three sections—Body, Mind, and Spirit—it includes previously unavailable transcriptions and excerpts taken from his sixteen books, fifteen albums and audio compilations, and more than 1,200 hours of archival video, including lectures, interviews, and comedic performances. It is a breathtaking tour through the life of one of America's most prophetic and relevant cultural icons. The Essential Dick Gregory is a pointillistic portrait of a man who gave up a lucrative entertainment career to fight injustice on the front line of battle—leading protests and hunger strikes to end the Vietnam War and apartheid in South Africa, supporting civil rights, feminism, and Native Americans, and addressing hunger, poverty, and police brutality.This compelling volume will challenge your beliefs, allow you to see life in unexpected ways, and dare you to make the world a better place.
The Shadow That Scares Me
ISBN: B000X46XJA OCLC: Pocket Book 1968 This important book on social revolution in America in the late 60s has been recommended reading for anyone who is puzzled by increasing evidences of unrest in urban ghettos, threats implied in Black Power slogans, the sense of futility and failure . . . arising from the black . . . population (Chicago Sun Times). Here is the Dick Gregory (1932 –2017) of the devastating wit and pointed humor known to millions. Here, too, is the impassioned social reformer, speaking out on such subjects as respect for law, order and justice; violence and police brutality; the breakdown of Negro families, civil disobedience and other vital issues. "There is a great social revolution going on in America today," Dick Gregory declares. "And the wonderful thing about this revolution is that it is not black against white. It is simply right against wrong." I never learned hate at home, or shame. I had to go to school for that. (Dick Gregory)
Up from Nigger
ISBN: 0812818326 OCLC: 1341416 Stein and Day, New York : 1976. Dick Gregory's real-life story is far more exciting than a TV drama; he makes his own headlines. [This book] spans the decade from the mid-Sixties to the [mid-Seventies], from popular comic to campus prophet. Taking up where his million-copy seller Nigger left off, it is a hazardous, harried, and hilarious adventure. The cast of characters is varied and colorful--from Malcolm X to Mayor Daley; Martin Luther King, Jr. to Sheriff Jim Clark; Gladys Knight to Red Buttons; Bob Hope and Ed Sullivan to Bertrand Russell and Adlai Stevenson; Walter Cronkite, Tallulah Bankhead, John and Bobby Kennedy, and Barbra Streisand. The scenes span the continent and the world--Gregory in night clubs and at civil rights rallies; driving through a blizzard while being chased by armed rednecks; felled by a bullet while trying to restore order during the Watts riot; delivering 20,000 turkeys to Mississippi at Christmas; playing hide-and-seek with the CIA; fishing with the Indians; running for Mayor of Chicago and President of the United States; fasting in a jail cell; 'freeing' the Army with Jane Fonda; circling the globe in a futile effort to gain admission into Australia; collapsing during the Boston Marathon but running the 800-mile distance from Chicago to Washington, D.C., two years later. Dick Gregory tells it all with zest and unfailing spirit. The comedian-crusader has kept and burnished his wit--his most powerful weapon in his unending battle for human rights and personal evolution 'Up From Nigger.' James R. Mcgraw, who collaborated with Dick Gregory on Up From Nigger, shared many of these adventures.--Dust jacket.