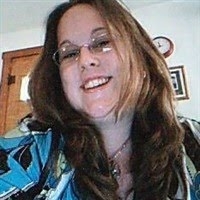 Ariana Rochelle Cherry-Shearer
Born:
1981 in Mattoon, Illinois
Pen Name:
Ariana R. Cherry
Connection to Illinois
: I was born at Sarah Bush Hospital in Mattoon, Illinois and raised in Arcola, Illinois. I graduated from Arcola High School in 1999 and then graduated from Lake Land Community College in 2002. I am a certified Computer Applications Specialist, published poet and web content writer. Presently, I am employed with CEFS Economic Opportunity and reside in Arthur, Illinois with my husband, daughter, kitty cat, a sugar glider and 6 birds. Most of my poetry takes place in Illinois and also is inspired by my everyday life. My poetry collection, ''Through Her Eyes'', contains photos from areas in Illinois.
Biography
: Ariana has published 2 collections of poetry and is working on her 3rd collection, ''Poems from Home''. She also has a blog, ''The Rural Freelance Writer'' and a web content producing company, ''Your Web Content''. Ariana has provided content for Demand Media, Yahoo! Associated Content, NeedanArticle.com and EggnChips.com. She has submitted poetry online to Associated Content and has it on her website as well.
---
Awards
:
Primary Literary Genre(s):
Poetry
Primary Audience(s):
Adult readers; Children; Young adult readers
Email:
lilair_the_poet@yahoo.com
Website:
http://www.arianacherry.biz
Ariana Rochelle Cherry-Shearer on WorldCat :
http://www.worldcat.org/search?q=ariana+rochelle+cherry-shearer
---
Selected Titles
The real me "xtended" :
ISBN: 1411606973 OCLC: 71260053 Www.lulu.com, [Arthur, Ill.] : ©2004.