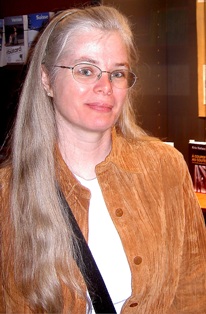 Kristine Kathryn Rusch
Born:
1960 in Oneonta, New York
Pen Name:
Kris Nelscott, Sandy Schofield, Edward Heyer, Kris Rusch, Kristine K. Thompson
Connection to Illinois
: Writes novels set in Chicago under the name Kris Nelscott
Biography
: Kristine Kathryn Rusch is an award-winning mystery, romance, science fiction, and fantasy writer whose novels have been published in 14 countries in 13 different languages.Kristine is the former editor of ''The Magazine of Fantasy and Science Fiction''. She lives and works on the Oregon Coast.
---
Awards
:
Herodotus Award, Best U.S. Historical Mystery for ''A Dangerous Road'' in 2000 Hugo Award, Best Novelette in 2001 Ellery Queen Readers Choice Award John W. Campbell Award
Primary Audience(s):
Adult readers
Email:
krisrusch@sff.net
Website:
http://www.kristinekathrynrusch.com
Kristine Kathryn Rusch on WorldCat :
http://www.worldcat.org/search?q=kristine+kathryn+rusch
---
Selected Titles
A dangerous road /
ISBN: 0312262647 OCLC: 43552604 St. Martin's Minotaur, New York : 2000. In early 1968, Memphis private detective Smokey Dalton investigates why a white woman has left him so much money in her will. As tension mounts in the city, Smokey awaits a visit from his estranged friend, Dr. Martin Luther King.
Civil War fantastic
ISBN: 0886779030 OCLC: 44579828 A collection of short stories about the Civil War by writers of science fiction.
Days of rage /
ISBN: 0312325290 OCLC: 62089982 St. Martin's Minotaur, New York : 2006. In 1969, African-American private investigator Smokey Dalton and his adopted son, Jimmy, who witnessed the assassination of Martin Luther King, Jr., try to keep a low profile in Chicago as the city is thrown into chaos by the trial of the Chicago Eight, but they soon realize someone has tracked them down and is out to kill Jimmy.
Diving into the wreck
ISBN: 9780615867113 OCLC: 1055213118 Boss dives derelict space vessels, for money, yes, but more for their historical value. So, when Boss uncovers the find of a lifetime, she enlists the best divers she can convince to help her pursue it - off the grid and under the Empire's radar. Boss' discovery leads her and some of her team to the Room of Lost Souls. Boss remembers the Room. It haunts her. Her mother died there. Now, a client wants her to go back. She wants Boss to help her uncover the Room's mysteries. But the truths she discovers might destroy everything Boss holds sacred. Because the more they discover, the less they realize they know - and the more it will cost them all.
Diving into the wreck /
ISBN: 1591027861 OCLC: 318872882 Pyr, Amherst, NY : 2009. Boss loves to dive derelict spacecraft found adrift in the blackness between the stars. Then one day, she finds the claim of a lifetime. But some secrets are best kept hidden, and the past wont give up its treasures without exacting a price in blood.
Duplicate effort :
ISBN: 0451462602 OCLC: 233548922 ROC/New American Library, New York : 2009. Retrieval Artist Miles Flint is on a mission to bring down a corrupt law firm. Then a journalist working with him is murdered, and Miles may be next. But before he can investigate, his daughter Talia--one of six clones of Miles' long-dead child--leaves to find the other five.
Duplicate Effort.
ISBN: 9781522688914 OCLC: 947805620 Audible Studios on Brilliance audio 2016.
Smoke-filled rooms /
ISBN: 0312262655 OCLC: 45963110 St. Martin's Minotaur, New York : ©2001. "Smokey Dalton has fled Memphis with Jimmy, 10-year-old witness of the Martin Luther King assassination. The man Jimmy saw kill King was not the man the police arrested and Smokey knows that Jimmy's life is in danger. Unfortunately for both, Smokey chooses Chicago as his hiding place. The 1968 Democratic National Convention in Chicago makes that city a dangerous place for a man on the run."--Amazon.com.
Stone cribs /
ISBN: 0312287844 OCLC: 52178313 St. Martin's Minotaur, New York : 2004. "A Smokey Dalton novel"--Cover.
Thin walls /
ISBN: 0312287836 OCLC: 49647932 St. Martin's Minotaur, New York : 2002. In 1969 Chicago, Smokey Dalton is hired to investigate the brutal murders of three African American men.
War at home /
ISBN: 0312325274 OCLC: 57281726 St. Martin's Minotaur, New York : 2005. Searching for a missing Yale student who never arrived for his 1969 spring semester, African American private investigator Smokey Dalton pursues leads between the New Haven slums and New York City.