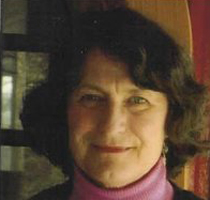 Bonnie Geisert
Born:
1942 in Hartley, Iowa
Pen Name:
None
Connection to Illinois
: Geisert lives in Galena, Illinois, where she taught for over 20 years.
Biography
: Geisert is a writer and photographer. She has worked as a teacher and a feature writer and columnist for the ''Freeport Journal-Standard'', Freeport, Illinois. Her photographs have appeared in group shows at Dubuque Museum of Art, Eagle Ridge Inn and Resort, Freeport Art Museum, Galena City Hall, Galena Art Festival in 1995, and Group Photography Show-Galena in 1996 and 1997.She has also been a contributor of poetry and articles to ''Lutheran, Cobblestone, Galenian, and Julien's Journal''. Her poetry has been featured in annual poetry anthology, Gallery, Dubuque, Iowa.
---
Awards
:
''Prairie Summer'', Honor Book for Young People, Nebraska Center for the Book ''Haystack'' Honor Award for Children's Nonfiction, Boston Globe/Hornbook
Primary Audience(s):
Adult readers; Children; Children; Young adult readers
Email:
geisert@galenalink.net
Website:
http://www.scbwi-illinois.org/speakersdirectory
Bonnie Geisert on WorldCat :
http://www.worldcat.org/search?q=bonnie+geisert
---
Selected Titles
Desert town /
ISBN: 0395953871 OCLC: 44573234 Houghton Mifflin Co., Boston : 2001. An overview of daily life in a small town in the middle of the hot, dry desert. For grades 3-6.
Haystack
ISBN: 061360766X OCLC: 30157685 Houghton Mifflin/Walter Lorraine Books 1995
Lessons /
ISBN: 061847899X OCLC: 56086673 Houghton Mifflin, Boston : 2005. Following their infant son's sudden death, a farm couple is denied a Christian burial for him, and this secret continues to haunt the father after his second son is born.
Prairie winter
ISBN: 9780547398617 OCLC: 751824487 Houghton Mifflin Harcourt ; Boston, Mass. : 2011.
Prairie winter /
ISBN: 061868588X OCLC: 458310592 Houghton Mifflin Books for Children/Houghton Mifflin Harcourt, Boston : 2009. 6th-grader Rachel Johnson lives on a remote prairie farm with no phone. So Cresbard school to her means connection to the other students and the town. But a winter storm strands Rachel on the farm. She is surprised when her dad agrees to fly his three eldest daughters to town so they can continue the school year. But the 3 must board in a hotel with no parents, no rules and no chores. Will Rachel ever be able to return to farm life after this?