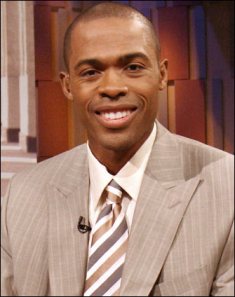 Ian K. Smith
Born:
1969 in Danbury, Connecticut
Pen Name:
None
Connection to Illinois
: Dr. Smith completed the last two years of his medical education and graduated from the University of Chicago Pritzker School of Medicine.
Biography
: Ian K. Smith, M.D. is the #1 New York Times bestselling author of Fast Burn!, The Clean 20, SHRED, The Fat Smash Diet, and many other books. He has created two national health initiatives?the 50 Million Pound Challenge and the Makeover Mile?and served two terms on the Presidentís Council on Fitness, Sports, and Nutrition. A graduate of Harvard, Columbia, and the University of Chicagoís Pritzker School of Medicine, Smith is an avid fitness enthusiast and sportsman.
---
Awards
:
Primary Literary Genre(s):
Fiction; Mystery; Non-Fiction
Primary Audience(s):
Adult readers
Website:
http://www.doctoriansmith.com/
---
Selected Titles
Blast the sugar out! :
ISBN: 1250130131 OCLC: 974035825 "IAN K. SMITH, M.D., is the bestselling author of Shred, The Fat Smash Diet, Extreme Fat Smash Diet, and The 4 Day Diet. He was the diet expert for six seasons on VH1's Celebrity Fit Club, and has created two national health initiatives: the 50 Million Pound Challenge and the Makeover Mile. A graduate of Harvard, Columbia, and the University of Chicago's Pritzker School of Medicine, Smith was appointed by President Obama in 2010 to the President's Council on Fitness, Sports, and Nutrition"--
Clean & lean :
ISBN: 1250114942 OCLC: 1085577324 Losing weight can be simple: get back to basics on your plate, save time and money, and train your body to move, and excess pounds will slip away. In the modern world, we've lost touch with what real food is -- and how good it tastes -- and what our bodies are designed to do. Dr. Ian Smith wrote Clean & Lean to put what he knows about nutrition and physiology in one place, and to motivate you to: use the power of intermittent fasting to discover your optimal eating times each day; explore clean eating with 30 (!) fresh, real foods that you can combine endlessly for meals and snacks; try his day-by-day 30-day diet plan that tells you just what to eat, while still giving you loads of options; and get up and move with customized exercise plans for all fitness levels won't wear you out, but will energize you and accelerate your results.
Eat :
ISBN: 0312548435 OCLC: 698360530 St. Martin's Press, New York : ©2011. "With EAT, Dr. Ian Smith has created a diet book in the flexible spirit of Mireille Guiliano's French Women Don't Get Fat or Michael Pollan's The Food Rules: it doesn't dictate quantities, portion sizes or verboten foods. Instead, it intelligently and persuasively lays out the ten simple rules anyone can internalize and follow in any situation for stress-free weight loss and lifetime maintenance. Dr. Ian's rules are straight-forward and simple: once a reader understands why whole wheat bread is almost nutrition-free, but whole grain bread is a magic food; why soda--both regular and diet--can sabotage any diet; why "diet" food may be having a distinctly non-dietetic effect, EAT will become their bible. Fans everywhere will ask each other: "You look thinner--are you doing EAT?" Dr. Ian's Ten Simple Rules for Good Eating: - Choose Color - Go Organic Only Selectively - What's the Natural State? - Size Matters - Gorge at the Protein Bonanza - Tap the Power of Awesome Carbs - Taste Matters - Sharpen Your X-Ray Eye for Hidden Calories - Whole Grains All the Time - Drink Smart (Don't Let Liquids Wash Out Your Good Eating)"--
Extreme fat smash diet /
ISBN: 0312371209 OCLC: 77271145 St. Martin's Griffin, New York : 2007. Explains how to lose up to twelve pounds in as little as three weeks, with three cycles of dieting for different weight loss goals, real-world exercise guidelines, lists of permitted foods, recipes, and a host of tips and tricks to keep dieters motivated.
Fast burn! :
ISBN: 1250271584 OCLC: 1202730771 "A motivational diet plan to blast fat--and keep it off--by Ian K. Smith, M.D., the #1 New York Times bestselling author of Clean Lean. New York Times bestselling author--and new anchor host of the syndicated television show The Doctors--Ian K. Smith, M.D.'s unique new plan takes intermittent fasting to the next level, combining the power of time-restricted eating with a detailed program that flips the body into a negative energy state, scorching fat on the way to weight loss and physical transformation. Many IF books leave readers to figure out what and how much they should eat during their feeding window, and even how long to fast each day. Smith knows that even readers highly motivated to change their weight and their health need marching orders, and they're all here in Fast Burn!'s nine-week program. Dr. Ian believes in cleaner eating--forget perfect--and the two positively disruptive Jigsaw Weeks he works into his Fast Burn! program not only mix things up so Fast Burners stay on track, but introduce refreshing and less structured plant-based weeks to the program. Fast Burn! goes beyond the daily meal plan, but also includes simple and achievable exercises--with both gym and out-of-gym options--for every week as well as thirty-three recipes focusing on improved calorie quality, including the plan's signature Burner Smoothie, to use throughout the three stages of the program"--
Happy :
ISBN: 0312672772 OCLC: 642846011 St. Martin's Griffin, New York : 2011, ©2010. A practical guide to understanding the importance of family and learning how to be more optimistic and enjoy life's simple pleasures.
Mind over weight :
ISBN: 1250244803 OCLC: 1147962308 "A motivational guide to losing weight and mantaining success by the #1 New York Times bestselling author of Clean Lean Every day of every year, thousands of people start some type of weight loss/transformation journey. Mind over Weight is an important weapon to add to their arsenals. While eating the right food and exercising is critical to weight loss success, Mind over Weight helps readers win the battle by getting everything in order above the neck. It will guide readers to find their motivation, stick to a plan, and set the right goals. There are a million diet plans out there, but few address issues equally critical to weight loss success: they're all in the six inches between your ears! Written by Ian K. Smith, MD, bestselling author of SHRED and The Clean 20, Mind over Weight is an easy read with concrete steps dieters will be able to follow. Each chapter ends with a takeaway action item for readers to complete to help create an overall strategy for body and life transformation"--
SHRED :
ISBN: 1250035864 OCLC: 810120698 St. Martin's Press, New York, N.Y. : ©2012. Offers a weight loss plan that incorporates a low glycemic index diet, meal spacing, and meal replacements to help dieters lose as much as four inches, two sizes, or twenty pounds within six weeks.
Super shred :
ISBN: 9781250118219 OCLC: 946693498
The 4 day diet /
ISBN: 0312605595 OCLC: 244702019 St. Martin's Press, New York : 2009. America has lost millions of pounds following Dr. Ian Smith's Fat Smash diets. Now, Smith has developed a program that allows readers to avoid the normal pitfalls of dieting: boredom, no treats allowed, too much repetition, plateauing. The 4 Day Diet is a program of four-day modules: Induction (detox/cleansing); Transition (to reintroduce all food groups); Protein Stretch (to avoid plateaus); Smooth (allowing some formerly forbidden foods like pizza and French fries); Push (the sprint just before the final stretch, back to a stricter eating plan); Pace (a comfortable module to catch your breath); and Vigorous (to lose those last few pounds). You can follow it straight through, or you can customize your own program. After the first two modules, you can do the remaining five in whichever order suits your schedule or preferences or you can repeat modules. Includes over sixty recipes and a snack list.--From publisher description.
The ancient nine /
ISBN: 1250182395 OCLC: 1016945998 "Collins thinks his life at Harvard will be all about basketball and pre-med; hard workouts and grinding work in class. The friends he's made when he hits the storied ivy-clad campus from a very different life in urban Chicago are a happy bonus. But Spencer is about to be introduced to the most mysterious inner sanctum of the inner sanctum: to his surprise, he's in the running to be "punched" for one of Harvard's elite final clubs. The Delphic Club is known as "the Gas" for its crest of three gas-lit flames, and as Spencer is considered for membership, he's plunged not only into the secret world of male privilege that the Gas represents, but also into a century-old club mystery. Because at the heart of the Delphic, secured deep inside its guarded mansion club, is another secret society: a shadowy group of powerful men known as The Ancient Nine."--
The blackbird papers /
ISBN: 0767920449 OCLC: 53896748 Doubleday, New York : ©2004. After a Nobel prize-winning professor is found murdered, FBI agent Bledsoe is accused of the crime when he investigates a suspicion that the killing is related to his brother's research on the deaths of hundreds of local blackbirds.
The clean 20 :
ISBN: 1250182077 OCLC: 1020293776 A guide to clean eating outlines a diet and exercise program for minimizing unhealthy processed foods as part of a lifestyle practice for weight loss, disease prevention, and overall better health, citing the importance of not eliminating food groups and meeting nutritional needs.
The fat smash diet :
ISBN: 9781429906685 OCLC: 865092793 St. Martin's Press, New York : 2013. Dr. Smith's diet has been featured on VH1's number-one rated show, Celebrity Fit Club, where Hollywood celebrities follow his customized diet plan and compete to lose weight. Now, with The Fat Smash Diet, everyone will have access to the revolutionary eating plan that leads to lifestyle changes and permanent weight loss forever. The Fat Smash Diet is not a gimmick or short-term fix. It is a four-phase diet that starts out with a natural detox phase to clean impurities out of the system. Once this nine-day phase is completed, the next three phases encourage the addition of everyday foods that promote significant weight loss. In just thirty days, most dieters will complete all four phases and be on their way to a thinner lifetime of good health. Best of all, there is no calorie counting, and Dr. Smith guarantees there never will be. As an added bonus, there are over fifty easy-to-cook, tasty recipes that make it easier to stick with Dr. Smith's plan. The Fat Smash Diet is unlike any other program on the market. In fact, it's the LAST DIET YOU'LL EVER NEED!
The shred diet cookbook /
ISBN: 1250061210 OCLC: 892804160 "Thousands have lost extraordinary amounts of weight on Ian Smith's diets, and though we've included 40-50 recipes in each of his books, his dieters have asked for more. Since the SHRED programs include meals and meal replacements (smoothies or soups), there are over 200 recipes in THE SHRED DIET COOKBOOK, and lists of great snack ideas (smashed goat cheese and dates on crackers, avocado and mayo on pumpernickel, chicken and shredded carrot with yogurt dressing). THE SHRED DIET COOKBOOK is a complete answer to the question Dr. Ian is asked most often: "Can I eat that on SHRED?" Dr. Ian knows his audience: what they want to know and how much they are willing to work in the kitchen. He's including nutritionally dense food to match up with the core tenets of meal spacing, meal replacement and snacking that have made the SHRED diets work so well for so many. In THE SHRED DIET COOKBOOK, readers get: --more ideas for snacks than they'll know what to do with --over 75 all-new recipes for meal replacing smoothies and soups, including savory smoothies, warm smoothies, stews, and cold soups --protein-rich dinners that are quick to make and satisfying to eat --side-dishes --carb recipes that really count: including breakfast, potatoes, and pastas --some reader-sourced recipes, Southern specialties and recipes from Ian's family --what to buy; how to work a supermarket; a spice and seasoning primer; alternates for frying, breading asnd saucing; and much more"--
The SHRED Power Cleanse :
ISBN: 1250061229 OCLC: 907965774 "Dr. Ian is answering Shredder Nation's call for a short-term, fast-acting cleanse that will help you reset and power through to your new weight loss goal! The SHRED Power Cleanse takes the classic detox plan to a new level. You won't find any fiberless, anemic juices on this regimen! Dr. Ian lays out each day of the two-week program, giving you everything you need to jump-start BIG change: - More than 50 smoothie recipes built to boost your immunity and maintain your protein and fiber intake, including Dr. Ian's signature Purple Power Cleanse smoothie - Fresh salads and other clean foods to fill you up and keep your energy level high - Detoxifying exercise regiments for beginner, intermediate, and advanced levels - A Weekend Power Tune-up bonus, designed to keep you on track long after the two weeks of the cleanse are up and all some Shred Cleansers will need. The SHRED Power Cleanse will keep you satisfied, clear your mind, and leave you several pounds lighter"--
The take-control diet :
ISBN: 0345487141 OCLC: 61170072 Ballantine Books, New York : 2005, ©2001.
The truth about men :
ISBN: 1250004276 OCLC: 757474669 St. Martin's Press, New York : 2012. Debunks popular beliefs to reveal what today's men think about such topics as commitment, beauty, sex, and relationships, counseling women on how to understand a man's needs and motivations in order to promote more fulfilling relationships.
The unspoken /
ISBN: 1542025273 OCLC: 1196097988 "Former Chicago detective Ashe Cayne is desperate for redemption. After refusing to participate in a police department cover-up involving the death of a young black man, Cayne is pushed out of the force. But he won't sit quietly on the sidelines: he's compelled to fight for justice as a private investigator...even if it means putting himself in jeopardy. When a young woman, Tinsley Gerrigan, goes missing, her wealthy parents from the North Shore hire Cayne to find her. As Cayne looks into her life and past, he uncovers secrets Tinsley's been hiding from her family. Cayne fears he may never find Tinsley alive. His worries spike when Tinsley's boyfriend is found dead - another black man murdered on the tough Chicago streets. Cayne must navigate his complicated relationships within the Chicago PD, leveraging his contacts and police skills to find the missing young woman, see justice done, and earn his redemption."--Publisher.
Wolf Point /
ISBN: 1542027861 OCLC: 1198973837 "A Cadillac, a pistol, and a corpse make for another morning in Chicago. The body belongs to Walter Griffin, a prominent Black Chicagoan insider hailing from the city's West Side. He ascended to the upper echelons of the mayor's office only to meet his end in a watery grave at Wolf Point. Forensics finds his prints on the gun; it's ruled a suicide. But grizzled private investigator Ashe Cayne knows better. Griffin's children plead with a reluctant Ashe to hunt their father's killer. They know their dad wouldn't have taken his own life without a goodbye. And Ashe knows this town's dark secrets often mean murder is not too far away. Ashe decides to take on the case and navigate a city rotting with corruption, racial tensions, and sketchy backroom deals. On the bleak streets of Chicago, it's every man for himself--and that makes everyone a suspect."-- Amazon.