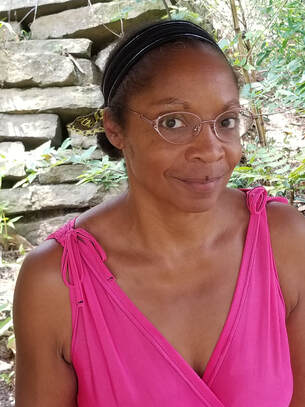 Allison Joseph
Born:
London, England 1967
Connection to Illinois
: Joseph lives, teaches and writes in Carbondale, where she's on the faculty at Southern Illinois University Carbondale.
Biography
: Joseph is an acclaimed poet and the director of Southern Illinois University Carbondale's Master of Fine Arts program in creative writing. Growing up in Toronto and the Bronx, she graduated from Kenyon College with a B.A., and from Indiana University with an M.F.A. Her teaching career began at the University of Arkansas at Little Rock in 1992. In 1994, she then moved to Southern Illinois University Carbondale, where she eventually founded and became the Director of the Young Writers Workshop at SIUC in 1999. In 1995, she was one of the founding editors of Crab Orchard Review as the magazine's poetry editor and has also worked as editor-in-chief since August 2001. Along with her own published works, Joseph's work has been published in numerous anthologies.
---
Awards
:
Confessions of a Barefaced Woman FINALIST, NAACP IMAGE AWARD IN POETRY, FEATHERED QUILL BOOK AWARD, SHORT-LISTED, PATERSON POETRY PRIZE, SHORT-LISTED, MILT KESSLER POETRY BOOK AWARD, COMMENDATION, HOFFER AWARDS
Lexicon Winner, 2022 Poetry by the Sea book contest
Other Awards 2022 Illinois Author of the Year by the Illinois Association of Teachers of English
Primary Literary Genre(s):
Poetry
Primary Audience(s):
Adult readers
E-Mail:
aljoseph@siu.edu
Web:
http://www.allisonjosephpoetry.com/
Web:
http://www.nochairpress.com/
Wikipedia:
https://en.wikipedia.org/wiki/Allison_Joseph
---
Selected Titles
Any Proper Weave
ISBN: 1954353987 OCLC: Kelsay Books 2022 Joseph is one of our most circumspect poets, even as she takes up our most nettlesome issues. Her work is profoundly humanistic — but she seems wary of the impulse to assume a position of moral superiority . . . but her tonal poise and patience evoke a person who lives among and close by the hurts and blunders even as she critiques them. An articulate participant within the court of public opinion, she does not stand to the side and carp. —Ron Slate, On the Seawall The author offers readers a window into the Black experience. Her free form poetry is replete with paradox and her descriptions of personal experiences and observations about life are often graphic and can be uncomfortable to read. Her writing style serves a purpose, though, to shed light on the ugly reality of life. Very thought-provoking and eye-opening! —Judges' Comment, Feathered Quill Book Awards
Confessions of a Barefaced Woman
ISBN: 1597096091 OCLC: Red Hen Press 2018 The poems in Allison Joseph's latest collection are smart, shameless, and empowered confessions of the best kind. In semi-autobiographical verse highlighting in turns light-hearted and harsh realities of modern black womanhood, these poems take the reader down A History of African-American Hair, visit with both Grace Jones and the Venus de Milo, send Janis Joplin to cheerleading camp, bemoan a treacherous first pair of high heels, and discuss vagina business. Funny, but never flippant, and always forthcoming about the author's own flaws and foibles, Confessions of a Barefaced Woman is sure to keep readers entranced, entertained, and enlightened.
Corporal Muse
ISBN: 194397750X OCLC: Sibling Rivalry Press, LLC 2018 In Corporal Muse, poet Allison E. Joseph pulls back the curtain on her writing process, searching for (and finding) The Muse in unexpected places. These are poems of love and praise. They are time machine and magic spell. Corporal Muse is a cross-section of poetic technique so strong it conjures The Muse to wherever the reader holds this book.
Imitation of Life (Carnegie Mellon Poetry Series)
ISBN: 0887483860 OCLC: Pittsburgh : Carnegie Mellon University Press, Pittsburgh : 2003. A collection of poetry by Allison Joseph.
In Every Seam (Pitt Poetry Series)
ISBN: 0822939940 OCLC: Pittsburgh : University of Pittsburgh Press, Pittsburgh : ©1997. A collection of poetry by Allison Joseph.
Lexicon
ISBN: 1597097179 OCLC: Red Hen Press 2021 Lexicon is a worthy successor to Allison Joseph's award-winning breakthrough, Confessions of a Barefaced Woman. This time around, this self-professed "barefaced woman" is setting her sighs/sights on language and what it does for and with and to her. Joseph loves language, making it her slippery passion in poems about childhood griefs and fashion faux pas, movie musicals and empty airports, "rules" for writing and rules for reading. Though Joseph loves language, it doesn't always love her back—but in her wise, readable, and imaginative way, she persists while documenting the minefields of racism and sexism. Joseph finds joy in the most unlikely of places, and in Lexicon, her adoration for the written word lets us see those places in sharp and evocative relief. All hail this bounty, this Lexicon!
My Father's Kites
ISBN: 098241692X OCLC: Steel Toe Books, ©2010. The centerpiece of Allison Joseph's sixth full-length poetry collection is a sequence of thirty-four sonnets about losing her father.
Soul Train (Carnegie Mellon Poetry Series)
ISBN: 0887482473 OCLC: Pittsburgh, PA : Carnegie Mellon University Press, Pittsburgh, PA : 1997. A collection of poetry by Allison Joseph.
Voice: Poems
ISBN: 0932412750 OCLC: Bay City, MI : Mayapple Press, Bay City, MI : 2009. Poetry. African American Studies.
What Keeps Us Here: Poems
ISBN: 0935331115 OCLC: Bristol, RI : Ampersand Press, Bristol, RI : ©1992. A collection of poetry by Allison Joseph.
Worldly Pleasures
ISBN: 1932339124 OCLC: Cincinnati, OH : Word Press, Cincinnati, OH : 2004. Worldly Pleasures is a book about pushing past tribulations to seek joy: in play, in friendship, in relationship. Ranging from a memorable series of character portraits to sensual love poems, Allison Joseph's fifth full-length collection finds, in its clear, smooth lines, a way to celebrate the world despite its difficulties. Worldly Pleasures further establishes Joseph as one of the leading poets of her young generation.