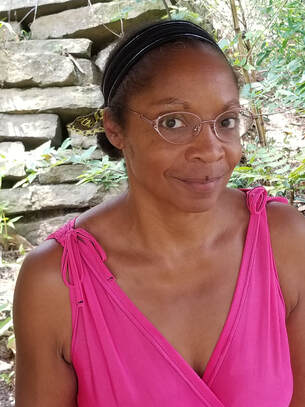 Allison Joseph
Born:
in London, England
Connection to Illinois
: Allison Joseph lives, teaches and writes in Carbondale, Illinois, where she's on the faculty at Southern Illinois University Carbondale.
Biography
: Joseph is a poet, editor and professor. She grew up in Toronto and the Bronx. She graduated from Kenyon College with a B.A., and from Indiana University with an M.F.A. Allison began her teaching career at the University of Arkansas at Little Rock, teaching there from 1992 until 1994. She then moved to Southern Illinois University Carbondale, where she founded and became the Director of the Young Writers Workshop at SIUC in 1999. In 1995, she was one of the founding editors of Crab Orchard Review as the magazine's poetry editor and has also worked as editor-in-chief since August 2001.Along with her seven published books, Joseph's work has been published in numerous anthologies.
---
Awards
:
-- 1992 John C. Zacharis First Book Award
-- 1997 Illinois Arts Council Literary Award
-- 2009 Aquarius Press Legacy Award
-- Breadloaf Writers' Conference Fellowship
-- Sewanee Writers' Conference Fellowship
-- Academy of American Poets prize
-- Ruth Lilly Fellowship
-- Associated Writing Programs Prize
Primary Literary Genre(s):
Poetry
Primary Audience(s):
Adult readers
Email:
aljoseph@siu.edu
Website:
http://www.allisonjoseph.net
Allison Joseph on WorldCat :
http://www.worldcat.org/search?q=allison+joseph
---
Selected Titles
Imitation of life
ISBN: 0783276702 OCLC: 51341590 The story of two widows and their troubled daughters. In the search for success as an actress, Lora neglects her daughter. Lora's black housekeeper's daughter repudiates her mother by trying to pass for white. As the years pass, each of the four women realizes that she has been living an emotionally fruitless existence.
Imitation of life :
ISBN: 0887483860 OCLC: 51656555 Carnegie Mellon University Press, Pittsburgh : 2003.
In every seam /
ISBN: 0822939940 OCLC: 35814836 University of Pittsburgh Press, Pittsburgh, Pa. : ©1997.
Love rise up :
ISBN: 9780984462964 OCLC: 809909107
My father's kites :
ISBN: 098241692X OCLC: 575692413 Steel Toe Books, Bowling Green, KY : ©2010.
Soul train :
ISBN: 0887482473 OCLC: 36725621 Carnegie Mellon University Press, Pittsburgh, PA : 1997.
Soul train.
ISBN: 0887485588 OCLC: 936217863 Carnegie Mellon Univ Pr, Pittsburgh : 2012.
Voice :
ISBN: 0932412750 OCLC: 326860766 Mayapple Press, Bay City, MI : 2009.
What keeps us here :
ISBN: 0935331115 OCLC: 27103819 Ampersand Press, Bristol, RI : ©1992.
Worldly pleasures :
ISBN: 1932339124 OCLC: 54489256 Word Press, Cincinnati, OH : 2004.