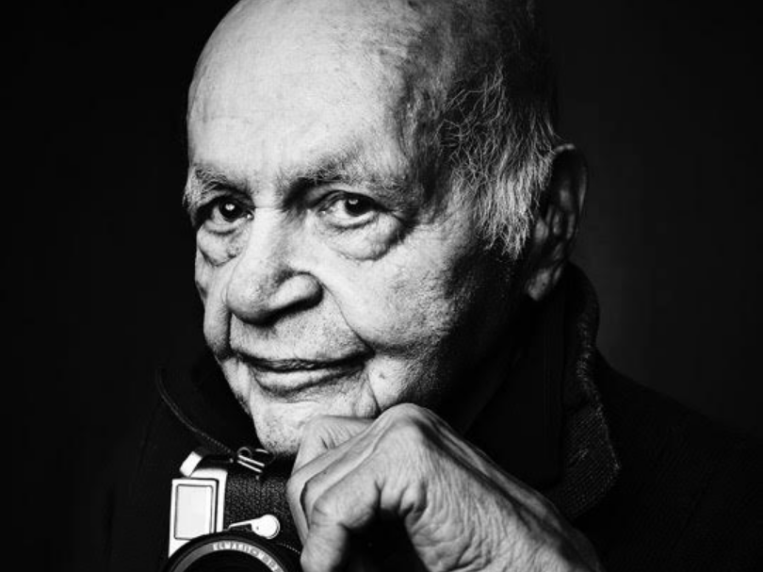 Art Shay
Born:
Bronx, New York March 31, 1922
Died:
Deerfield, Illinois April 28, 2018
Pen Name:
None
Connection to Illinois
: Art lived in Chicago.
Biography
: Art Shay grew up in the Bronx and then served as a navigator in the U.S. Army Air Forces in World War II. He joined the staff of Life magazine as a writer, and quickly became a Chicago-based freelance photographer for Life, Time, Sports Illustrated, and other national publications. He photographed seven US Presidents and many major figures of the 20th century. Shay also wrote weekly columns for various newspapers, several plays, children's books, sports instruction books and several photo essay books. A long friendship with the writer Nelson Algren led to the publication of Shay's Nelson Algren's Chicago. Shay published more than 75 books on various subjects. In the late 1960s and early 1970s, he wrote two series of photography illustrated children's books published by Reilly & Lee. Shay's What It's Like to Be A ... series of books explained various occupations including a doctor, fireman, pilot, policeman, nurse, teacher, dentist, musician, and a TV producer. Shay's What Happens ... series of books explained concepts such as what happens when you build a house, spend money, turn on a light, and turn on the gas. Other books in Shay's "What Happens ..." series included what happens at the zoo, at a gas station, at a newspaper, at an animal hospital, at the circus, in a skyscraper, at the state fair, and at a weather station.
---
Awards
:
Primary Literary Genre(s):
Non-Fiction
Primary Audience(s):
Adult readers; Children; Young adult readers
Blog:
http://chicagoist.com/tags/fromthevaultofartshay
E-Mail:
artshay2@aol.com
Facebook:
http://www.facebook.com/#!/pages/Art-Shay/109422585743181?ref=ts
Web:
http://www.artshay.com/bio.html
Wikipedia:
https://en.wikipedia.org/wiki/Art_Shay
---
Selected Titles
40 Common Errors in Golf and How to Correct Them
ISBN: 0809278278 OCLC: Chicago : Contemporary Books Chicago : 1978 Photographs and describes corrections for the most common errors of beginning and intermediate golfers
40 Common Errors in Racquetball and How to Correct Them
ISBN: 0809277034 OCLC: Chicago : Contemporary Books Chicago : 1978
40 Common Errors in Running and How to Correct Them
ISBN: 0809273705 OCLC: Chicago : Contemporary Books Chicago : 1979 The first book specifically designed for the runners who know they could be doing better but aren't even sure what they're doing wrong!
40 Common Errors in Soccer and How to Correct Them
ISBN: 0809273225 OCLC: Chicago : Contemporary Books Chicago : 1979
40 Common Errors in Tennis and How to Correct Them
ISBN: 0809278251 OCLC: Chicago : Contemporary Books Chicago :
Album for an Age: Unconventional Words and Pictures From the Twentieth Century
ISBN: 1566633273 OCLC: Chicago : Ivan R. Dee Chicago : 2000 In forty-five years as one of America's liveliest photographers for Life, Time, and other assignments, Art Shay has established a world-wide reputation for capturing the oddities of the moment. His photographs of Khrushchev, Liberace, Harry Truman, Judy Garland, Frank Sinatra, Nelson Algren, George Solti, and hundreds of other luminaries are not the usual portraits; they are people off-guard, memorable for their humanity rather than their celebrity. But, unlike other great photographers of his time, Art Shay has a way with words. His prose is sharp, vivid, and evocative, the product of a well-nurtured mind and a cultivated intellect. In Album for an Age he puts both his words and his pictures to work, and the result is a delightful, entertaining, thoughtful, and sometimes wacky sightseeing tour of many of the major personalities and events of the last fifty years. "Daumier," Mr. Shay writes, "taught me to aim my predatory camera at the contumely, at snobbery, pretensions, cruelty, and the machinery of petty power." Some of it, though, he can't help liking; all of it he writes about with wit and insight. Here is a marvelously unconventional book by an unconventional photographer—not a picture book but a book with pictures.
Animals
ISBN: 0252027426 OCLC: Urbana : University of Illinois Press Urbana : 2002 A collection drawn from five decades of the photographer's work celebrates animals with humans in natural and domestic settings, from the image of a man passing a peanut to a monkey to a pig drinking a can of beer, in a volume that also seeks to reveal the animal within human beings.
Chicago's Nelson Algren /
ISBN: 1583227644 OCLC: 87759195 Seven Stories Press, New York : ©2007. They met in 1949 when Art was a reporter for Life. Shay followed Algren around with a camera, gathering pictures for a photo-essay piece he was pitching to the magazine. Life didn't pick up the article, but Shay and Algren became fast friends. Algren gave Shay's camera entrance into the back-alley world of Division Street, and Shay captured Algren's poetry on film. They were masters chronicling the same patch of ground with different tools. Chicago's Nelson Algren is the compilation of hundreds of photos—many recently discovered and published here for the first time—of Nelson Algren over the course of a decade and a deeply moving homage to the writer and his city. Read Algren and you'll see Shay's pictures; look at Shay's photos and you'll hear Nelson's words.
Couples: PHOTOGRAPHS
ISBN: 0252028368 OCLC: Urbana : University of Illinois Press Urbana : 2003 In the 120 photographs in Couples, Shay shows us couples in love - walking, talking, kissing, embracing, dining, arguing - as well as many other pairings, human and non-human, whose relationship he has skillfully crystallized in a single instant of interaction. Inanimate air vents and grain silos, as well as parents and children, siblings, friends, neighbors, famous actors and athletes, unknown passersby, dogs, and livestock. All these rub shoulders - so to speak - in the pages of Couples, sought out by Shay's keen eye and coupled forever by his impertinent camera.
My Florence: A 70-Year Love Story
ISBN: 1609806247 OCLC: Seven Stories Press 2015 My Florence is a collection of striking moments drawn from the shared life of renowned Chicago photojournalist ART SHAY and his beloved wife, Florence. By turns casual and glamorous, pensive and humorous, the photographs start the day Art and Florence met in 1942, as 20-year-old camp counselors in the Catskill Mountains, and continue for seven decades.
Nelson Algren's Chicago /
ISBN: 025201586X OCLC: 18019144 University of Illinois Press, Urbana : ©1988. This is a photo essay of Chicago's underside. From 1949 to the mid-1960s, the collaborators frequented their favorite bars, poolrooms, missions, and courtrooms, mixing freely with hustlers addicts, pimps and ordinary hard-working people.
Sports Photography: How to Take Great Action Shots
ISBN: 0809259621 OCLC: Chicago : Contemporary Books Chicago : 1981 Discusses the techniques, equipment, and artistic styles of sports photography and offers tips on dealing with the media and marketing one's photographs.
Troublemakers: Chicago Freedom Struggles through the Lens of Art Shay
ISBN: 022660392X OCLC: University of Chicago Press 2020 What does democracy look like? And when should we cause trouble to pursue it? Troublemakers fuses photography and history to demonstrate how racial and economic inequality gave rise to a decades-long struggle for justice in one American city. In dialogue with 275 of Art Shay's photographs, Erik S. Gellman takes a new look at major developments in postwar US history: the Second Great Migration, "white flight," and neighborhood and street conflicts, as well as shifting party politics and the growth of the carceral state. The result is a visual and written history that complicates—and even upends—the morality tales and popular memory of postwar freedom struggles. Shay himself was a "troublemaker," seeking to unsettle society by illuminating truths that many middle-class, white, media, political, and businesspeople pretended did not exist. Shay served as a navigator in the US Army Air Forces during World War II, then took a position as a writer for Life Magazine. But soon after his 1948 move to Chicago, he decided to become a freelance photographer. Shay wandered the city photographing whatever caught his eye—and much did. His lens captured everything from private moments of rebellion to era-defining public movements, as he sought to understand the creative and destructive energies that propelled freedom struggles in the Windy City. Shay illuminated the pain and ecstasy that sprung up from the streets of Chicago, while Gellman reveals their collective impact on the urban fabric and on our national narrative. This collaboration offers a fresh and timely look at how social conflict can shape a city—and may even inspire us to make trouble today.