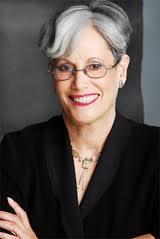 Esther Hershenhorn
Born:
1945, in Philadelphia, Pennsylania
Pen Name:
None
Connection to Illinois
: Esther teaches at an artists residency program, at Chicago's Newberry Library, and at the University of Chicago's Writer's Studio. Before she taught writers, she was an elementary school teacher in Chicago.
Biography
: Esther Hershenhorn specializes in picture books and middle grade fiction. She coaches writers and teaches courses on writing for children at the University of Chicago's Writers's Studio and Chicago's Newberry Library. Hershenhorn also serves on the board of advisers of the Society of Children's Book Wirters and Illustrators. Her book ''The Confe$$ion$ and $ecret$ of Howard J. Fingerhut'' was a 2004-2005 Crown Award Nominee.
---
Awards
:
''Chicken Soup by Heart'' won the 2003 Sidney Taylor Book Award for Young Readers Esther was honored at the 2004 Illinois Authors Book Fair sponsored by the Illinois Center for the Book and the Illinois State Library in Springfield, Illinois. ''Little Ill
Primary Audience(s):
Children; Children; Young adult readers
Email:
esthersh@aol.com
Website:
http://www.estherhershenhorn.com
Esther Hershenhorn on WorldCat :
http://www.worldcat.org/search?q=esther+hershenhorn
---
Selected Titles
'I' is for Illinois
ISBN: 1892920417 OCLC: 123106042 GHB Publishers 2001
Chicken soup by heart /
ISBN: 0689826656 OCLC: 45263871 Simon & Schuster Books for Young Readers, New York : ©2002. When Rudie's sitter gets the flu, he uses her recipe to make her a batch of special chicken soup, including the secret recipe of stories from the heart.
Fancy that /
ISBN: 0823416054 OCLC: 47201472 Holiday House, New York : ©2003. In 1841 in Pennsylvania, Pippin Biddle, determined to get his three orphaned sisters out of the poorhouse, tries to earn a living as an itinerant painter.
Illinois fun facts & games /
ISBN: 189292045X OCLC: 46636460 GHB Publishers, St. Charles, MO : ©2001. "Scrambled words, word searches, secret codes, connect the dots, mazes."
Little Illinois :
ISBN: 1585365378 OCLC: 657270823 Sleeping Bear Press, Ann Arbor, MI : ©2011. Presents ten riddles related to the state of Illinois.
S is for story :
ISBN: 1585364398 OCLC: 310096937 Sleeping Bear Press, Chelsea, MI : ©2009. Through rhyme and imaginative illustrations, the reader is introduced to all facets of becoming a writer. Side panels in easy-to-understand language, include writers' tips and inspiring quotes from award-winning authors.
The confe$$ion$ and $ecret$ of Howard J. Fingerhut /
ISBN: 0823416429 OCLC: 47270655 Holiday House, New York : 2002. Fourth grade entrepreneur Howard J. Fingerhut competes with his classmates to win the H. Marion Muckley Junior Businessperson of the Year Contest and writes a book about the experience.
There goes Lowell's party! /
ISBN: 0823413136 OCLC: 36112037 Holiday House, New York : ©1998. Lowell refuses to believe that a brewing storm will keep his resourceful Ozark relatives from celebrating his birthday.
Txtng mama txtng baby
ISBN: 9781585368877 OCLC: 843025764 Emoticons and abbreviations commonly used in text messages convey an exchange of love between mother and baby.