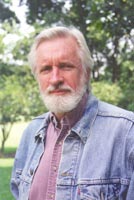 Ray Elliott
Born:
N/A
Pen Name:
None
Connection to Illinois
: Elliott resides in Urbana.
Biography
: Ray Elliott is a novelist, editor and publisher of historical fiction and memoir-primarily dealing with life in the Midwest, and World War II and its aftermath. He is best known for his historical fiction about the World War II-era American home front (''Wild Hands Toward the Sky'') and an aging Iwo Jima combat veteranís final days (''Iwo Blasted Again''), in addition to his periodic columns published in Champaign-Urbanaís News-Gazette and his online blog. An English and journalism teacher at the high school and college levels for many years, Elliott also worked as a counselor for a time at the maximum-security Menard Correctional Center in southern Illinois. Elliott is an advocate and volunteer for civic, literary and veterans support organizations. He has traveled to numerous World War II sites in the Pacific and in Europe, and is a board member and editor of The Spearhead News for the Fifth Marine Division Association, which includes Iwo Jima among its campaigns. He is a board member of The James Jones Literary Society, a member of the the Illinois Center for the Book advisary committee, and the Richard L. Pittman Marine Corps League in Urbana-Champaign. He has also served as a past-president of the James Jones Literary Society and a Road Scholar for the Illinois Humanities Council. In the recent Tim Rice-produced musical, ''From Here To Eternity'', Elliott served as military adviser.
---
Awards
:
Ray was honored at the 2004 Illinois Authors Book Fair sponsored by the Illinois Center for the Book and the Illinois State Library in Springfield, Illinois.
Primary Audience(s):
Adult readers
Blog:
http://rayelliott23.blogspot.com/
Email:
talespress@talespress.com
Website:
http://www.talespress.com
Ray Elliott on WorldCat :
http://www.worldcat.org/search?q=ray+elliott
---
Selected Titles
Iwo blasted again /
ISBN: 0964142384 OCLC: 70259005 Tales Press, Urbana, Ill. : ©2006. "Story of an elderly Iwo Jima veteran dealing with memories of combat and personal loss as he experiences a psychological phenomenon known as sundown syndrome in the last hours of his life"--Provided by publisher.
Wild hands toward the sky :
ISBN: 0964142376 OCLC: 50204120 "A coming-of-age story of the time during and after World War II, WILD HANDS TOWARD THE SKY introduces young, fatherless John Walter McElligott as he grows up -- lonesome and longing -- in a rural Illinois farm community. He and his mother now live with his aunt and uncle, but he is inescapably drawn to the other men of the area who served in the war and returned -- especially his older cousin, Sam, who was injured during the D-Day invasion and fought on through Europe until the end of the war. Out of their own respect for John Walters father, who was killed on Guadalcanal, these veterans treat the boy with a calculated deference and are compelled to teach him their hard-earned lessons about life, responsibility, duty and honor"--Amazon.com.
With the silent knowledge /
ISBN: 0996767207 OCLC: 936118224 Michael Callahan was serving his third stint in prison, but he wasn't a bad man, really. In fact, he was smart and talented and came from a rather privileged upbringing. But he also happened to be an alcoholic with sociopathic tendencies - meaning he didn't particularly care whether he did something wrong if it served his purpose-like getting more money to extend his drinking binges. So he forged checks among unsuspecting and unthinking victims, and this time, he wound up with a one-to-five sentence in a maximum-security prison in southern Illinois.