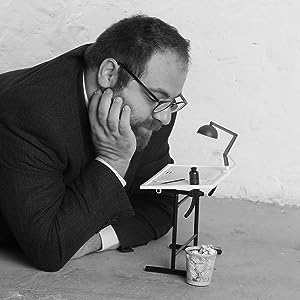 Ivan Brunetti
Born:
1967 in Mondavio, Italy
Pen Name:
None
Connection to Illinois
: Brunetti lives in Chicago.
Biography
: Ivan Brunetti has published several graphic novels and taught courses on editorial illustration and comics at the University of Chicago and Columbia College Chicago. His drawings have appeared in the ''New Yorker'', the ''New York Times Magazine'', and ''McSweeney's'', among other publications, and he served as editor for Yale University Press's two-volume Anthology of ''Graphic Fiction'', ''Cartoons'', and ''True Stories''.
---
Awards
:
Primary Literary Genre(s):
Fiction; Other
Primary Audience(s):
Adult readers; Young adult readers
Ivan Brunetti on WorldCat :
http://www.worldcat.org/search?q=ivan+brunetti
---
Selected Titles
An anthology of graphic fiction, cartoons, & true stories /
ISBN: 0300126719 OCLC: 68133094 Yale University Press, New Haven : <©2006-> "Comic artist Ivan Brunetti, the creator of Schizo, offers a best-of anthology of contemporary art comics, along with some classic comic strips and other historical materials that have retained a "modern" sensibility. As with Chris Ware's selections for his best-selling McSweeney's anthology, Brunetti's choices make for a highly personal book ("my criteria were simple: these are comics that I savor and often revisit") that serves as a broad historical overview of the medium and a round-up of some of today's best and most interesting North American comic artists. Included here are works from such well-known artists as Robert Crumb, Kim Deitch, Art Spiegelman, Chris Ware, Ben Katchor, Charles Burns, Gary Panter, Seth, Phoebe Gloeckner, Daniel Clowes, Lynda Barry, Joe Sacco, and Jaime and Gilbert Hernandez, as well as many other pioneers whose names may be less familiar. Brunetti offers selections from the works of more than seventy-five avant-garde comic artists. His selections are arranged by genre and grouped thematically. Luxuriously produced and printed in four-color throughout, the book is a must-have for collectors, aficionados, readers of comics, and those generally interested in cutting-edge art and literature."--Publisher's website.
Cartooning :
ISBN: 0300170998 OCLC: 719377486 Yale University Press, New Haven [Conn.] : 2011. Provides lessons on the art of cartooning along with information on terminology, tools, techniques, and theory.
Charlie and the chocolate factory /
ISBN: 0143106333 OCLC: 753468435 Each of five children lucky enough to discover an entry ticket for a tour of Mr. Willy Wonka's mysterious chocolate factory takes advantage of the situation in his or her own way.
Haw! :
ISBN: 1560974354 OCLC: 48172632 Fantagraphics Books, Seattle, WA : ©2001.
Ho! :
ISBN: 9781606991428 OCLC: 277205500 Fantagraphics ; Seattle, Wash. : ©2009. A collection of cartoons by Ivan Brunetti in which he comments on issues of murder, sex, and perversion. Contains adult content.
Misery loves comedy
ISBN: 9781560977926 OCLC: 72868665 Fantagraphics, Seattle, Wash. : 2007. Collects three issues of the author's comic book series Schizo and a variety of other strips spanning a fifteen year period. Includes adult content.