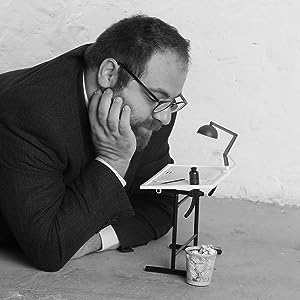 Ivan Brunetti
Born:
1967 in Mondavio, Italy
Pen Name:
None
Connection to Illinois
: Brunetti lives in Chicago.
Biography
: Ivan Brunetti has published several graphic novels and taught courses on editorial illustration and comics at the University of Chicago and Columbia College Chicago. His drawings have appeared in the ''New Yorker'', the ''New York Times Magazine'', and ''McSweeney's'', among other publications, and he served as editor for Yale University Press's two-volume Anthology of ''Graphic Fiction'', ''Cartoons'', and ''True Stories''.
---
Awards
:
3X4: TOON Level 1 Illinois READS Book Selection, Illinois Reading Council, 2024
Primary Literary Genre(s):
Fiction
Primary Audience(s):
Adult readers; Young adult readers
:
---
Selected Titles
3x4: TOON Level 1 (TOON Books)
ISBN: 1943145342 OCLC: TOON Books 2018 Fun by the dozen! Annemarie and her clever classmates must draw sets of twelve and use their imagination to come up with creative and innovative solutions. Young readers will delight in the counting game while learning the basics of multiplication. Star cartoonist IVAN BRUNETTI, author of spectacular books like Comics: Easy as ABC! and Wordplay makes an ingenious and fun-to-read comic that turns everyone, young and old alike, into a math whiz!
Aesthetics: A Memoir
ISBN: 0300184409 OCLC: Yale University Press 2013 A glimpse inside the mind and artistic process of a fascinating contemporary cartoonist Born to working-class parents in a small town in Italy, and reared in Chicago, Ivan Brunetti (b. 1967) was drawn to cartoons and comic strips from an early age. Finding inspiration in Spider-Man and Peanuts, he began crafting his own stories and gradually developed a unique style that he applied to imaginative, sometimes shocking subjects. The dark humor of his graphic novels earned him a cult following, yet his illustrations have had broad appeal. Now recognized as an award-winning cartoonist and illustrator, Brunetti has published his work in the New Yorker, the New York Times Magazine, and McSweeney's, among others.This eye-popping illustrated autobiography by Brunetti traces his artistic trajectory and output, from youthful doodles to his latest cover illustrations and comic strips. Aesthetics: A Memoir unearths a trove of previously unpublished materials, including working drawings, sketches for cartoons, book covers, personal photographs, and items from the artist's collection of toys and handmade objects. In an introductory essay and captions, Brunetti explains—in a voice that is as quirky, smart, and clear as his drawings—his creative process and aesthetic sensibility. This overarching retrospective conveys Brunetti's philosophy of life and cartooning through his keen words and unforgettable images.
An anthology of graphic fiction, cartoons, & true stories /
ISBN: 0300126719 OCLC: 68133094 Yale University Press, New Haven : <©2006->
An Anthology of Graphic Fiction, Cartoons, and True Stories (Anthology of Graphic Fiction, Cartoons, & True Stories, Volume 1)
ISBN: 0300111703 OCLC: Yale University Press 2006 Comic artist Ivan Brunetti, the creator of Schizo, offers a best-of anthology of contemporary art comics, along with some classic comic strips and other historical materials that have retained a "modern" sensibility. As with Chris Ware's selections for his best-selling McSweeney's anthology, Brunetti's choices make for a highly personal book ("my criteria were simple: these are comics that I savor and often revisit") that serves as a broad historical overview of the medium and a round-up of some of today's best and most interesting North American comic artists. Included here are works from such well-known artists as Robert Crumb, Kim Deitch, Art Spiegelman, Chris Ware, Ben Katchor, Charles Burns, Gary Panter, Seth, Phoebe Gloeckner, Daniel Clowes, Lynda Barry, Joe Sacco, and Jaime and Gilbert Hernandez, as well as many other pioneers whose names may be less familiar.Brunetti offers selections from the works of more than seventy-five avant-garde comic artists. His selections are arranged by genre and grouped thematically. Luxuriously produced and printed in four-color throughout, the book is a must-have for collectors, aficionados, readers of comics, and those generally interested in cutting-edge art and literature.
Cartooning :
ISBN: 0300170998 OCLC: 719377486 Yale University Press, New Haven [Conn.] : 2011. Provides lessons on the art of cartooning along with information on terminology, tools, techniques, and theory.
Charlie and the chocolate factory /
ISBN: 0143106333 OCLC: 753468435 Each of five children lucky enough to discover an entry ticket for a tour of Mr. Willy Wonka's mysterious chocolate factory takes advantage of the situation in his or her own way.
Comics: Easy as ABC: The Essential Guide to Comics for Kids
ISBN: 6976535144 OCLC: TOON Books 2019 Filled with activities, Comics: Easy as ABC is a fun way for young readers to effortlessly and playfully start thinking like writers and artists. This simple guide is also aimed at parents, teachers, and librarians: all will enjoy learning the ABCs of this popular and rapidly growing medium.Children kindergarten-age and up are shown how to use basic shapes to make faces, eyes, noses, and design their own characters. Ivan Brunetti's funny and incisive advice on the language of comics (panels, lettering, balloons, and so much more) naturally leads budding artists and writers into thinking about their characters, settings, and prompts. A section with essential tips on how to read comics with young children rounds out the package. Featuring advice from master cartoonists and star authors—including Geoffrey Hayes, Eleanor Davis, Art Spiegelman, and many others.
Haw! :
ISBN: 1560974354 OCLC: 48172632 Fantagraphics Books, Seattle, WA : ©2001.
Ho! :
ISBN: 9781606991428 OCLC: 277205500 Fantagraphics ; Seattle, Wash. : ©2009. A collection of cartoons by Ivan Brunetti in which he comments on issues of murder, sex, and perversion. Contains adult content.
Misery loves comedy
ISBN: 9781560977926 OCLC: 72868665 Fantagraphics, Seattle, Wash. : 2007. Collects three issues of the author's comic book series Schizo and a variety of other strips spanning a fifteen year period. Includes adult content.
Wordplay: TOON Level 1 (Toon Books)
ISBN: 1943145172 OCLC: TOON Books 2017 Go "outside," "elsewhere," and down the "rabbit hole" with this hilarious introduction to compound words. Young readers will fall in love with the English language as they watch star cartoonist Ivan Brunetti put his sly spin on vocabulary. The lesson here? Even "homework" is fun when you let yourself play with the words.