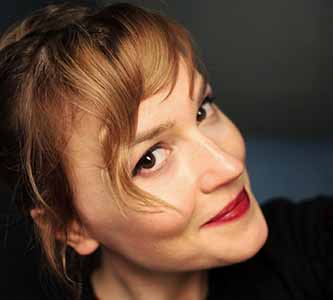 Veronica Roth
Born:
1988 in Mt. Kisco, New York
Pen Name:
None
Connection to Illinois
: Roth was raised primarily in Barrington. She is a graduate of Northwestern University's Creative Writing program and currently resides in the Chicago area.
Biography
: Veronica Roth is the #1 New York Times best-selling author of the Divergent series (Divergent, Insurgent, Allegiant, and Four: A Divergent Collection) and the Carve the Mark duology (Carve the Mark, The Fates Divide). The trilogy was adapted into a blockbuster movie series starring Shailene Woodley and Theo James. Though she was born in Mount Kisco, New York, Veronica's family moved to Hong Kong and Germany before settling in Barrington, Illinois. In elementary school, Veronica read constantly, but it wasn't until she got a "make your own book!" kit from her mother as a gift that she thought to write anything of her own. From that time on, she knew she would write for the rest of her life, whether she was published or not. She wrote the manuscript that would become Divergent in her free time while attending Northwestern University, where she graduated magna cum laude with a degree in English Literature with Creative Writing in 2010. She is a board member of YALLFest, the biggest YA book festival in the country, and YALLWEST, its sister festival.
---
Awards
:
"""Divergent"""
-- New York Times #1 Bestseller
-- Goodreads Choice Award for Favorite Book, 2011
-- Best Book of the Year, Publishers Weekly, 2011
-- Teens' Top Ten, YALSA, 2012
-- ILLINOIS READS Book Selection, Illinois Reading Council, 2013
"""Insurgent"""
-- Teens' Top Ten list at #3, YALSA, 2013
-- New York Times #1 Bestseller
"""Allegiant"""
-- New York Times #1 Bestseller
-- Goodreads Choice Award for Best Sci-fi/Fantasy, 2013
-- Children's Choice Book Award for Teen Book of the Year, 2014
"""Four"""
-- Best Book of the Year, Barnes and Noble, 2014
"""Carve the Mark"""
-- Debuted at #1 on the New York Times bestseller list, and remained on the list for 18 weeks.
-- Starred Review, VOYA
"""The Fates Divide"""
-- Debuted at #1 on the New York Times bestseller list
Primary Literary Genre(s):
Fiction
Primary Audience(s):
Adult readers; Young adult readers
E-Mail:
veronicarothbooks@gmail.com
Facebook:
https://www.facebook.com/VeronicaRothBooks/
IMDB:
https://www.imdb.com/name/nm4316121/
Instagram:
https://www.instagram.com/vrothbooks/
Twitter:
http://www.twitter.com/veronicaroth
Website:
http://veronicarothbooks.blogspot.com/
Wikipedia:
https://en.wikipedia.org/wiki/Veronica_Roth
---
Selected Titles
Allegiant /
ISBN: 006202406X OCLC: 855550266 "The faction-based society that Tris Prior once believed in is shattered--fractured by violence and power struggles and scarred by loss and betrayal. So when offered a chance to explore the world past the limits she's known, Tris is ready. Perhaps beyond the fence, she and Tobias will find a simple new life together, free from complicated lies, tangled loyalties, and painful memories. But Tris's new reality is even more alarming than the one she left behind. Old discoveries are quickly rendered meaningless. Explosive new truths change the hearts of those she loves. And once again, Tris must battle to comprehend the complexities of human nature--and of herself--while facing impossible choices about courage, allegiance, sacrifice and love."--Publisher's description.
Carve the mark /
ISBN: 0062348639 OCLC: 953166752 On a planet where violence and vengeance rule, in a galaxy where some are favored by fate, everyone develops a currentgift, a unique power meant to shape the future. While most benefit from their currentgifts, Akos and Cyra do not -- their gifts make them vulnerable to others control. Can they reclaim their gifts, their fates, and their lives, and reset the balance of power in this world? Cyra is the sister of the brutal tyrant who rules the Shotet people. Cyra's currentgift gives her pain and power -- something her brother exploits, using her to torture his enemies. But Cyra is much more than just a blade in her brothers hand: she is resilient, quick on her feet, and smarter than he knows. Akos is from the peace-loving nation of Thuvhe, and his loyalty to his family is limitless. Though protected by his unusual currentgift, once Akos and his brother are captured by enemy Shotet soldiers, Akos is desperate to get his brother out alive -- no matter what the cost. When Akos is thrust into Cyra's world, the enmity between their countries and families seems insurmountable. They must decide to help each other to survive -- or to destroy one another.
Chosen ones /
ISBN: 0358164087 OCLC: 1111652722 "The first novel written for an adult audience by the mega-selling author of the Divergent franchise: five twenty-something heroes famous for saving the world when they were teenagers must face even greater demons-and reconsider what it means to be a hero . . . by destiny or by choice"--
Divergent /
ISBN: 0062024027 OCLC: 670476176 In Beatrice Prior's dystopian Chicago, society is divided into five factions, each dedicated to the cultivation of a particular virtue -- Candor (the honest), Abnegation (the selfless), Dauntless (the brave), Amity (the peaceful), and Erudite (the intelligent). On an appointed day of every year, all sixteen-year-olds must select the faction to which they will devote the rest of their lives. For Beatrice, the decision is between staying with her family and being who she really is -- she can't have both. So she makes a choice that surprises everyone, including herself. During the highly competitive initiation that follows, Beatrice renames herself Tris and struggles to determine who her friends really are -- and where, exactly, a romance with a sometimes fascinating, sometimes infuriating boy fits into the life she's chosen. But Tris also has a secret, one she's kept hidden from everyone because she's been warned it can mean death. And as she discovers a growing conflict that threatens to unravel her seemingly perfect society, she also learns that her secret might help her save those she loves, or it might destroy her. Debut author Veronica Roth bursts onto the literary scene with the first book in the Divergent series -- dystopian thrillers filled with electrifying decisions, heartbreaking betrayals, stunning consequences, and unexpected romance. - Jacket flap.
Four :
ISBN: 0062421360 OCLC: 875191743 A collection of four pre-Divergent stories plus three additional scenes from Divergent, all told from Tobias's point of view, that follow Tobias's transfer from Abnegation to Dauntless, his Dauntless initiation, the first clues that a foul plan is brewing in the leadership of two factions, and the weeks after he meets Tris Prior.
Insurgent /
ISBN: 0062024043 OCLC: 774601034 One choice can transform you -- or it can destroy you. But every choice has consequences, and as unrest surges in the factions all around her, Tris Prior must continue trying to save those she loves -- and herself -- while grappling with haunting questions of grief and forgiveness, identity and loyalty, politics and love. Tris's initiation day should have been marked by celebration and victory with her chosen faction; instead, the day ended with unspeakable horrors. War now looms as conflict between the factions and their ideologies grows. And in times of war, sides must be chosen, secrets will emerge, and choices will become even more irrevocable -- and even more powerful. Transformed by her own decisions but also by haunting grief and guilt, radical new discoveries, and shifting relationships, Tris must fully embrace her Divergence, even if she does not know what she may lose by doing so. - Jacket flap.
The end and other beginnings :
ISBN: 0062796526 OCLC: 1080587418 "A collection of six short stories imagines future lands with new technologies and beings, where in spite of advanced capabilities, people still must confront deeply human problems." --
The fates divide
ISBN: 9780062642271 OCLC: 1030161117 As Lazmet ignites a barbaric war, Cyra and Akos are desperate to stop him at any cost. For Cyra, that could mean taking the life of the man who may--or may not--be her father. For Akos, it could mean giving his own.