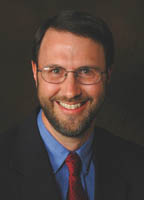 Scott Johnson
Born:
St. Charles, Illinois in 1956
Pen Name:
None
Connection to Illinois
: Johnson was born in St. Charles. He is a graduate of Elgin High School and the University of Illinois at Urbana-Champaign. He lives in Bloomington.
Biography
: Scott Johnson served as an Assistant Executive Director at the Illinois High School Association from 1994 to 2019 and, among other administrative duties, served as editor of IHSA souvenir programs and other publications and as chairman of the Records Committee of the National Federation of State High School Associations. He also directed the IHSA Archives project, a large collection of films and videotapes of IHSA state final events that is now available on YouTube. The link to his interview in the Oral History Project is listed as a website address below.
---
Awards
:
Primary Literary Genre(s):
Non-Fiction
Primary Audience(s):
Adult readers
Web:
https://presidentlincoln.illinois.gov/oral-history/collections/johnson-scott/interview-detail/
---
Selected Titles
100 Years of Madness: The Illinois High School Association Boys' Basketball Tournament
ISBN: 0960116672 OCLC: 79677540 IHSA, [Bloomington, Ill.] : ©2006. To capture 100 years of "a pageant of basketball unsurpassed in the world," it takes five authors, over 600 photos and illustrations, and more than 300 action-packed pages. Year-by-year, you'll find stories of controversy and intrigue, sweet revenge and even sweeter victory, dynasties and Cinderellas, joy and heartbreak in the smallest towns and the biggest cities — it's all here, along with names and numbers, box scores, statistics, clippings, pearls of wit and wisdom from the coaches who led the way, and profiles and pictures of the "100 Legends of the IHSA Basketball Tournament.
Association Work: Whitten, Porter, and the Course of Interscholastics
ISBN: 0960116605 OCLC: IHSA and the National Federation of State High School Associations 2018 Two men, mostly forgotten by history, paved the way for countless schoolboys and schoolgirls to race past the finish line, hit one over the fence, and step up to the podium in dozens of sports and activities in high schools across the United States.C. W. Whitten was the first person to head an athletic association when he took charge of the Illinois High School Association in 1922, while H. V. Porter, his second-in-command at the IHSA, rose to become the first director of the National Federation, the umbrella organization for all state high school associations. Together, they shaped the landscape of interscholastic competition for generations of students and provided a template for the role of state association administrator that survives to this day.
Once There Were Giants: How Tiny Hebron Won the Illinois State Basketball Championship and the Hearts of Fans Forever
ISBN: 0960116656 OCLC: Bloomington, Ill. : Illinois High School Association Bloomington, Ill. : 2002 Everyone loves a story about a little guy overcoming the odds and winning it big. Maybe that's why Hebron High School's rise to the state championship in 1952 struck a chord with so many fans across the state and the nation. But no victory comes without sacrifice, without hard work, without a little drama. The Hebron story mixes talented twins, spurred on by a pro-athlete older brother; a reed-thin, 6-10½ center, coming late to basketball but getting better with every game; two hot-handed outside shooters overcoming challenges of their own; and a "Little Napoleon" of a coach, utterly focused on putting together just the right ingredients to win a state championship. Desire, devotion, dedication - it all came together for the Green Giants in 1952. They did what it took. They won it all.