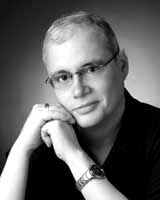 Rane Arroyo
Born:
November 15, 1954 in Chicago, Illinois
Died:
May 7, 2010 in Toledo, Ohio
Pen Name:
None
Connection to Illinois
: Arroyo was born in Chicago.
Biography
: Rane Arroyo was a Puerto Rican performance artist, poet, author, playwright and scholar. He began his career as a performance artist in the Chicago art galleries of the 1980s and eventually expanded into poetry, for which he has become best known. He earned his Ph.D. in English/Cultural Studies from the University of Pittsburgh where he wrote his dissertation on issues surrounding the Chicago Renaissance that parallel the building of a contemporary Latino literary canon. He wrote numerous books and received many literary awards. His work dealt extensively with issues of immigration, Latino culture, and homosexuality. Arroyo was openly gay and frequently wrote self-reflexive, autobiographical texts. A professor of English and Creative Writing at the University of Toledo in Ohio, Arroyo was also the co-Vice President of the Board of Directors for the Association of Writers and Writing Programs.
---
Awards
:
"Le Mal de Siam"
-- 1st Prize, Hart Crane Memorial Award, Kent State University, 1991
"The Carlos Poems #1"
-- 2nd place, Allen Ginsberg Poetry Award, 1992
"The Singing Shark"
-- Carl Sandburg Poetry Award, 1997
"Breathing Lessons,"
-- Pushcart Prize, 1997
"The Immigrants"
-- Gwendolyn Brooks Poetry Prize, 2004
"The Portable Famine"
-- John Ciardi Poetry Prize for the poetry collection, 2004-05
"The Portable Famine"
-- Finalist, Book of the Year, Foreword Poetry, 2006
"The Buried Sea: New and Selected Poems"
-- Honorable Mention in Poetry, The International Latino Literary Prize, 2009
"""Other Awards and Honors"""
-- Chicago Literary Hall of Fame, 2015
Primary Literary Genre(s):
Poetry
Primary Audience(s):
Adult readers
Wikipedia:
https://en.wikipedia.org/wiki/Rane_Arroyo
---
Selected Titles
Camino del sol :
ISBN: 9780816528134 OCLC: 434613298 University of Arizona Press, Tucson : ©2010. From the Publisher: Celebrates fifteen years of Latina literature by bringing together some of the series' best work, including selections from award-winning books by Richard Blanco, Diana Garcia, Luis Alberto Urrea, Pat Mora, Kathleen Alcala, Sergio Troncoso, and Kathleen de Azevedo-plus other prominent writers such as Ray Gonzalez, Francisco Alarcon, and Juan Felipe Herrera. Includes poetry, fiction and nonfiction.
Columbus's orphan :
ISBN: 1878116177 OCLC: 28833240 JVC Books, Arcadia, Fl. : ©1993.
Home movies of Narcissus :
ISBN: 0816521956 OCLC: 50180270
How to name a hurricane /
ISBN: 0816524602 OCLC: 57357473 University of Arizona Press, Tucson : ©2005. "There's no denying it, media culture has ushered in a new era of visibility for gays in America. Yet somehow the gay Latino doesn't fit into this sound-bite identity and usually isn't included in national media images. Rane Arroyo offers a corrective." "How to Name a Hurricane collects short stories and other fictions depicting Latino drag queens and leather men, religious sinners and happy atheists, working class heroes and cyberspace vaqueros - a parade of characters that invites readers to consider whether one is more authentic a gay Latino than another. Whereas actual hurricanes are given names, the gays given voice in this collection must name themselves - and these narratives in turn reveal something of the "I" of Hurricane Rane. Here are monologues, a story in verse, and other experimental forms appropriate to experimental lives - all affirming the basic human rights to dignity, equality, love, and even silliness."--Jacket.
Pale Ramón /
ISBN: 0944072941 OCLC: 39078060 Zoland Books, Cambridge, Mass. : 1998.
Same-sex seances :
ISBN: 0979695619 OCLC: 310357231 [New Sins Press], [Toledo, Ohio] : [©2008]
Sky's weight :
ISBN: 1934999733 OCLC: 643567982 Turning Point, Cincinnati, OH : ©2009.
The buried sea :
ISBN: 9780816527168 OCLC: 227015845
The portable famine /
ISBN: 1886157537 OCLC: 61131836 "The portable famine offers poems from Rane Arroyo's years of being an 'interior exile' as a gay, Puerto Rican, and Midwestern writer whose travels have taken him throughout American cities such as Chicago, Miami, New York, New Orleans, Pittsburgh, and Toledo; the European cities of Florence, London, and Reykjavik; and locations across the Carribean, including Puerto Rico"--Provided by publisher.
The Roswell poems /
ISBN: 160226001x OCLC: 184906242 WordFarm, La Porte, Ind. : ©2008.
The singing shark /
ISBN: 0927534614 OCLC: 34548848
White as silver :
ISBN: 098447322X OCLC: 779995334 Červená Barva Press, West Somerville, MA : ©2010.