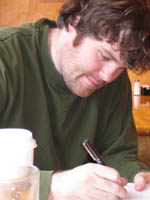 Jeffrey Brown
Born:
1975 in Grand Rapids, Michigan
Pen Name:
None
Connection to Illinois
: Brown moved to Chicago in 2000 and currently lives in Deerfield. He earned his MFA at the School of the Art Institute in Chicago.
Biography
: Jeffrey Brown is the New York Times bestselling author of numerous Star Wars children's books, including Darth Vader and Son and the Jedi Academy series. He has written and illustrated numerous graphic novels and comics. He has also made many anthology contributions including but not limited to: ''MOME'' Vol. 1-6, ''Drawn and Quarterly Showcase'' Vol. 2, ''Kramers Ergot'' Vol. 4, ''The Escapist'' Vol. 3, ''McSweeney's'' #13, ''Best American Comics 2007'', ''Yale Anthology of Graphic Fiction'' Vol. 1-2, ''POPGUN'' volume 4, ''Bart Simpson's Treehouse of Horror'' #15, ''Strange Tales'' #3, and ''Side B'' from Poseur Ink.
---
Awards
:
"""I am going to be small"""
-- Ignatz Award for best minicomic for the original self-publication
"""Star Wars Jedi Academy"""
-- New York Times Bestseller
-- ILLINOIS READS Book Selection, Illinois Reading Council, 2015
"""Lucy & Andy Neanderthal"""
-- Best Book for Kids, New York Public Library, 2016
"""My Teacher is a Robot"""
-- ILLINOIS READ Book Selection, Illinois Reading Council, 2020
Primary Literary Genre(s):
Fiction; Illustrator
Primary Audience(s):
Children; Young adult readers
E-Mail:
jeffreybrownrq@hotmail.com
Facebook:
https://www.facebook.com/VadersLittlePrincess/
Instagram:
https://www.instagram.com/jeffreybrownrq/?hl=en
Twitter:
https://twitter.com/jeffreybrownrq
Website:
https://jeffreybrowncomics.com/
Wikipedia:
https://en.wikipedia.org/wiki/Jeffrey_Brown_(cartoonist)
---
Selected Titles
A total waste of space-time /
ISBN: 0553534394 OCLC: 1202297654 During their latest mission. traveling to their classmates' home planets, Jide, Petra, and the other students prank each other, perform at an open mic night, and play a game of brgbllbll.
Any easy intimacy
ISBN: 9781891830716 OCLC: 225399396 The final chapter of Jeffrey Brown's so-called Girlfriend Trilogy. AEIOU continues to explore the subtleties of relationships examined in Clumsy and Unlikely, concentrating this time on the differences between knowing and loving someone, invoking the reader's relationship with the book as a parallel to being involved with someone. The story is told with Brown's trademark expressive drawings and juxtaposition of humor and heartache.
Batman and Robin and Howard /
ISBN: 1401297684 OCLC: 1238192063 "Sidelined by Batman after a crimefighting excursion goes wrong, Damian Wayne must learn how to live as an average kid. But life in his new school becomes more challenging than Damian expected when he meets his match in a rival named Howard."--
Bighead /
ISBN: 1891830562 OCLC: 56910614 Top Shelf Productions, Marietta, GA : ©2004. Jeffrey Brown is back - and with a Bighead, no less! An irreverent and clever super-hero parody, featuring the most amazing hero of all time: Bighead. Witness inept villains clash with an all-too-emotional hero, in the epic graphic novel that will leap all cliches in a single bound.
Cat companion journal.
ISBN: 0811868605 OCLC: 1023167351
Cat getting out of a bag and other observations /
ISBN: 0811858227 OCLC: 226397510 A collection of comics based on the author's cat, depicting its antics as it eats, plays, purrs, and engages in other distinctively feline behaviors.
Cats are weird and more observations
ISBN: 9780811879972 OCLC: 829050924 Chronicle ; San Francisco, Calif. : 2010. Cartoonist Jeffrey Brown's drawings perfectly capture the humor and quirkiness of cats in all their strange and charming glory. Following the success of Cat Getting Out of a Bag, this collection of color and black-and-white comic strips loosely follows the adventures of a pair of cats as they explore the world around them, indoors and out. Adventures include taking a nap, licking a shoe, attacking dust particles, hiding in cabinets, pouncing on fallen leaves, confronting the vacuum cleaner, patrolling the yard, and purring up a stormall adorably rendered in Brown's immediate and irresistible style. Sure to delight anyone who lives with cats and appreciates their sweet and batty behavior, this beautifully packaged gift book is the cat's meow.
Clumsy :
ISBN: 0971359768 OCLC: 53054926 Top Shelf Productions, Marietta, GA : ©2002, 2015. A collection of autobiographical comics that document the author's long-distance relationship with a woman named Theresa over the course of a year.
Darth Vader and son
ISBN: 9781452106557 OCLC: 754389864 Chronicle Books, San Francisco : ©2012. What if Darth Vader took an active role in raising his son? What if 'Luke, I am your father' was just a stern admonishment from an annoyed dad? In this hilarious and sweet comic reimagining, Darth Vader is a dad like any other-- except with all the baggage of being the Dark Lord of the Sith. Celebrated artist Jeffrey Brown's delightful illustrations give classic Star Wars moments a fresh twist, presenting the trials and joys of parenting through the lens of a galaxy far, far away. Life lessons include lightsaber batting practice, using the Force to raid the cookie jar, Take Your Child to Work Day on the Death Star ('Er, he looks just like you, Lord Vader!'), and the special bond shared between any father and son--Publisher's web site.
Every girl is the end of the world for me :
ISBN: 1891830775 OCLC: 70264188 Top Shelf, Marietta, Ga. : ©2005. The cartoonist details the day-by-day events of his three week run-in with five different girls, including the ex who comes back into the picture and a growing, but poorly chosen crush.
Funny misshapen body
ISBN: 9781439159293 OCLC: 500817275 The story of Jeffrey Brown's evolution as a cartoonist, from his youthful obsession with superhero comics to his disillusionment with fine art at the School of the Art Institute of Chicago ... [revealing] his most embarrassing personal moments in raw, intimate detail-- including how he survived high school, binge drinking, mild drug experimentation, doomed friendships, and being diagnosed with Crohn's disease.--Publisher description.
Goodnight Darth Vader /
ISBN: 1452128308 OCLC: 870200126 In this Episode, the Sith Lord must soothe his rambunctious twins, Luke and Leia, who are not ready to sleep and who insist on a story. As Vader reads, the book looks in on favorite creatures, droids, and characters, such as Yoda, R2-D2, Han Solo, Chewbacca, Darth Maul, Admiral Ackbar, Boba Fett, and many others as they tuck in, yawn, and settle down to dream.
I am going to be small /
ISBN: 1891830864 OCLC: 76799104 Top Shelf, Marietta, Ga. : ©2006.
Incredible change-bots
ISBN: 9781891830914 OCLC: 180171029 Top Shelf, Marietta, GA : ©2007. Earth is invaded by a collection of robots who are able to change into vehicles, in a graphic novel parody and tribute to the shape-changing robot genre.
Incredible change-bots.
ISBN: 9781603093484 OCLC: 876001968 Collecting previously published and rarely seen material, Change-Bots Two Point Something Something includes short stories, gallery art show pieces, game and toy designs, artwork created for fan club members, interviews with almost every Change-Bot, and more --
Jedi Academy /
ISBN: 0545505178 OCLC: 825736771 "My whole life I planned on going to pilot school like the rest of my friends--then I got rejected! Along came a little green guy named Yoda who invited me to Jedi Academy. Now I'm at a school with aliens, robots, and lightsaber-wielding bullies who can lift things with their minds! How am I supposed to compete with that? As if starting middle school wasn't hard enough ..." The story of Roan Novachez, Jedi Academy student, is told through comics, journal entries, letters, doodles, and newspaper clippings. This incredible, original story from author/illustrator Jeffrey Brown captures all of the humor, awkwardness, fun, and frustrations of middle school ... in a galaxy far, far away.
Jedi Academy :
ISBN: 0545852781 OCLC: 900624231 In this activity book, Jeffrey Brown introduces children to the idea of journaling and gets them started with creative ideas and activities.
Kids are weird :
ISBN: 9781452118703 OCLC: 855905571 Jeffrey Brown wryly illustrates his five-year- old son's take on the world around him, from watching TV (Elton John looks pretty in that shirt) to playing with toys (This truck can survive on very little water) to odd requests (Don't feel happy at me), capturing the sweetly weird times that mothers and fathers everywhere experience with their own curious, pure-minded kids.
Little things :
ISBN: 1416549463 OCLC: 166373235 Simon & Schuster, New York : 2008. A collection of funny, poignant, and autobiographical short stories, Little Things looks at the aspects of daily life -- friendship, illness, death, work, crushes, love, jealousy, and fatherhood -- we take for granted. As each story loops into others, Jeffrey Brown shows how the smallest andseemingly most insignificant parts of everyday life can end up becoming the most meaningful. Brown's first full-length autobiographical book in several years, Little Things is also his most impressive, touching, and true.
Lucy & Andy Neanderthal /
ISBN: 0385388357 OCLC: 932001445 "Lucy and her goofball brother Andy, two Neanderthal siblings living 40,000 years ago, take on a wandering baby sibling, bossy teens, cave paintings, and a mammoth hunt. But what will happen when they encounter a group of humans? Includes a special paleontologist section that helps to dispel common Neanderthal myths"--
Minisulk :
ISBN: 9781891830662 OCLC: 84900386 Top Shelf, Marietta, Ga. : ©2005.
My teacher is a robot /
ISBN: 0553534513 OCLC: 1057305171 From the author of the "New York Times"-bestselling Jedi Academy books comes an imaginative picture book about a kid whose creative outlook has everyone at school seeing the world through new eyes. Fred does not want to go to school because it's boring. Especially since he thinks his teacher is a robot. If only Fred could imagine a way for his day to be more exciting...
Once upon a space-time! /
ISBN: 9780553534351 OCLC: 1148440075 Jide and Petra are just two normal kids until they are selected to leave Earth and join their new alien classmates on an intergalactic research mission to Mars. Too bad Jide has no idea how she ended up in the program, seeing as the closest she wants to get to space is being a sci-fi writer. Petra, on the other hand, is the brains of the mission, but his helicopter parents make it clear he hasn't left their gravitational pull behind quite yet.
Rey and pals /
ISBN: 1452180431 OCLC: 1085226169 What if Rey had not grown up alone on the dusty planet of Jakku, but instead had a galaxy of friends to share her adventures, all under the watchful eyes of Luke, Leia, Han and Chewie?
Star Wars Darth Vader.
ISBN: 9780785192558 OCLC: 902831846 Ever since Darth Vader's first on-screen appearance, he has become one of pop-culture's most popular villains. Now, follow Vader straight from the ending of A NEW HOPE (and the pages of the new STAR WARS comic book) into his own solo adventures - showing the Empire's war with the Rebel Alliance from the other side! But when a Dark Lord needs help, who can he turn to? As Vader pursues a very personal vengeance against the Rebels and investigates the Emperor's secret machinations, he clashes with weapons scavenger Aphra and deadly Battle Droids, and returns to Geonosis to build an army. But some very powerful people don't want him to learn the truths he seeks! Guest-starring Jabba the Hutt, Boba Fett and more!--
Sulk.
ISBN: 9781603092128 OCLC: 807585046 Top Shelf Productions, Marietta : 2008. In Deadly Awesome, Jeffrey Brown explores the world of mixed martial arts and the nature of violence in this tribute to no-holds-barred cage fighting! Featuring (yes, it's true) an incredible 80-page fight scene, aging veteran fighter Haruki Rabasaku faces off against young powerhouse Eldark Garprub. With furious strikes and technical submission holds, this story will thrill newbies as well as hardcore fans of ultimate fighting!
The phantom bully
ISBN: 9780545621267 OCLC: 898911427 It's hard to believe this is Roan's last year at Jedi Academy. He's been busier than ever learning to fly (and wash) starships, swimming in the Lake Country on Naboo, studying for the Jedi obstacle course exam, and tracking down dozens of vorpak clones--don't ask. But now, someone is setting him up to get in trouble with everyone at school, including Yoda. If he doesn't find out who it is, and fast, he may get kicked out of school! Why can't middle school just be easy.
Undeleted scenes
ISBN: 9781603090582 OCLC: 528411137 Top Shelf, Marietta, Ga. : ©2010. Undeleted Scenes presents a decade's worth of shorter works from indie comics legend Jeffrey Brown. This huge compendium contains stories from the previous collections Minisulk, Every Girl Is the End of the World for Me, and Feeble Attempts, as well as Jeffrey's work from anthologies such as Kramers Ergot and McSweeney's, plus rare material from minicomics and elsewhere, including dozens of pages of never-before-seen material. Spanning humor, autobiography, and beyond, some of Jeffrey's most beloved comics are in here - including the fan-favorite self-parody collection Be A Man.
Unlikely :
ISBN: 1891830414 OCLC: 52940468 Top Shelf Productions, Marietta, GA : [2003] The cartoonist uses a full-length graphic novel format to tell the bittersweet story of how he lost his virginity at age 24 and presents vignettes from his relationship with Allisyn that take place before and after the event.
Vader's little princess /
ISBN: 1452118698 OCLC: 809032525 In this comic reimagining, Darth Vader is a dad like any other--except with all the baggage of being the Dark Lord of the Sith.