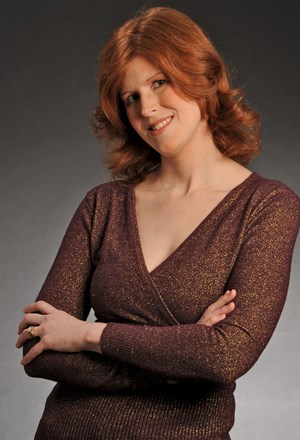 Joelle Charbonneau
Born:
Pen Name:
None
Connection to Illinois
: Charbonneau graduated from Millikin University with a Bachelors Degree in Vocal Performance and then continued on to DePaul University for her Masters Degree in Opera Performance.
Biography
: Joelle Charbonneau has performed in opera and musical-theater productions across the Chicago area. She is the author of the New York Times and USA Today bestselling Testing trilogy and the bestselling Dividing Eden series, as well as two adult mystery series and several other books for young adult readers. Her YA books have appeared on the Indie Next List, YALSA's Top Ten Quick Picks for Reluctant Young Adult Readers, and state reading lists across the country.
---
Awards
:
"""The Testing"""
-- New York Times Best Seller
-- Number 1 Indie Next Pick
-- Top 10 YALSA Nomination
-- VOYA Top Shelf for Middle School Readers 2013 list
-- Starred Review, Publishers Weekly
-- ILLINOIS READS Book Selection, Illinois Reading Council, 2014
"""Independent Study"""
-- New York Times Best Seller
"""Graduation Day"""
-- Indie Next List, 2014
-- New York Times Best Seller
-- USA Today Best Seller
"""Dividing Eden"""
-- Starred Review, Publishers Weekly
-- ILLINOIS READS Book Selection, Illinois Reading Council, 2018
"""NEED"""
-- ILLINOIS READS Book Selection, Illinois Reading Council, 2016
"""Verify"""
-- ILLINOIS READS Book Selection, Illinois Reading Council, 2020
Primary Literary Genre(s):
Fiction
Primary Audience(s):
Young adult readers
E-Mail:
talktojoelle@aol.com
Facebook:
https://www.facebook.com/AuthorJoelleCharbonneau
Instagram:
https://www.instagram.com/joellejcharbonneau/
Twitter:
https://twitter.com/jcharbonneau
Website:
http://www.joellecharbonneau.com/
---
Selected Titles
A chorus lineup
ISBN: 9781101637548 OCLC: 865099930 Paige Marshall is back in the spotlight in Joelle Charbonneau's newest Glee Club Mystery. This time the high school show choir coach is fighting to keep her singers in a national competition despite charges of sabotage -- With their competitors clamoring for them to be disqualified, the group may soon be singing a different tune. If there's anyone who can restore harmony to the competition, it's Paige. But this time she'll needs to stick her neck out to discover who's behind the sabotage, or she may end up singing her own swan song.
Disclose /
ISBN: 0062803654 OCLC: 1136964006 "Meri Buckley has lost everything. She lost her mother to a fight much bigger than herself. Her father to grief, fear, and denial. And the truth--to an overbearing government that insists that censorship and secrecy is the only path to peace. But though Meri and her band of truth-seeking Stewards did lose the first battle in their quest to enlighten the public, they have not yet lost the war. Meri can start the revolution she seeks, if the powerful figures who profit from the status quo don't find her--and kill her first."
Dividing Eden
ISBN: 9781538416556 OCLC: 969975457 A sweeping fantasy about two royal siblings forced to compete for the crown. Twins Carys and Andreus were never destined to rule Eden. With their older brother next in line to inherit the throne, the future of the kingdom was secure. But appearances-- and rivals-- can be deceiving. When Eden's king and crown prince are killed by assassins, Eden desperately needs a monarch, but the line of succession is no longer clear. With a ruling council scheming to gain power, Carys and Andreus are faced with only one option: to take part in a Trial of Succession that will determine which one of them is worthy of ruling the kingdom. As sister and brother, Carys and Andreus have always kept each other safe-- from their secrets, from the court, and from the monsters lurking in the mountains beyond the kingdom's wall. But the Trial of Succession will test the bonds of trust and family. With their country and their hearts divided, Carys and Andreus will discover exactly what each will do to win the crown. How long before suspicion takes hold and the thirst for power leads to the ultimate betrayal?
Eden conquered /
ISBN: 0062453874 OCLC: 1038189824 The Trials of Virtuous Succession have ended. Prince Andreus is king, and Princess Carys is dead. But even as he's haunted by what he did to win the throne, Andreus discovers that his dream of ruling only brings new problems. The people love his twin even more in death than they did when she was alive. The Elders treat him as a figurehead. And worst of all, the winds of Eden are faltering. But despite what everyone believes, Carys is alive: exiled to the wilderness and struggling to control the powers that have broken free inside her. She is convinced she must return to the Palace of Winds, face her twin and root out the treachery that began long before the first Trials started.
End me a tenor
ISBN: 9780425252161 OCLC: 795758264 Singing in a production of the Messiah and rehearsing her show choir for a holiday concert may be more than Paige can Handel. Not only does she have to contend with the overblown ego of world-renowned tenor David Richard, she now has to quickly revamp the show choir's number, since not one but two other high schools are performing the same song for the quickly approaching competition season. The tempestuous tenor may have a voice to die for, but when he drops dead during rehearsal after drinking poisoned water, Paige has to compose herself and once again solo as a sleuth to find a killer who's no choirboy ...--Page 4 of cover.
Graduation day /
ISBN: 0547959214 OCLC: 854944778 "The United Commonwealth wants to eliminate the rebel alliance fighting to destroy The Testing for good. Cia is ready to lead the charge, but will her lethal classmates follow her into battle?"--
Independent study /
ISBN: 0547959206 OCLC: 823011142 Now a freshman at the University in Tosu City with her hometown sweetheart, Tomas, Cia Vale's attempts to expose the ugly truth behind the government's grueling and deadly Testing put her and her loved ones in great danger.
Murder for choir
ISBN: 9780425251379 OCLC: 761845905 Berkley Prime Crime, New York : 2012. Even as a struggling opera singer, Paige Marshall has never seen anything like the cutthroat competition of the Prospect Glen High School show choir. As their new coach, she's getting an icy reception from championship-hungry students who doubt she can take them to a first-place victory. Toughing this gig out may prove harder than scoring her first big break ... Especially now that her best young male singer is suspected of killing the arrogant coach of Prospect Glen's fiercest rival choir. For Paige to clear his name, she'll have to sort though a chorus of suspects-and go note for note with a killer who'll do anything to knock her out of the spotlight for good ...--Page 4 of cover.
Need
ISBN: 9780544938830 OCLC: 891100752 In this exploration of the dark side of social media, and government control and manipulation, the teenagers in a small town are drawn deeper and deeper into a social networking site that promises to grant their every need--regardless of the consequences--
Skating around the law /
ISBN: 031262980x OCLC: 555656380 Minotaur Books, New York : 2010. Rebecca wants to sell the roller rink she inherited from her mother in Indian Falls, Illinois, and get back to Chicago-- fast! When she discovers the body of the town's handyman in a rink toilet, potential buyers are scared off, and she begins investigating the murder herself.
Skating on the edge :
ISBN: 031260663X OCLC: 778422364 Minotaur Books, New York : 2012. "It's Native American Summer Days in Indian Falls, and Rebecca Robbins is roped into taking a turn in the Senior Center dunk tank. That is, until her rhinestone-studded grandfather Pop needs help setting up his Elvis act. Minutes from climbing into the tank, Rebecca has to find a replacement. Roller derby girl Sherlene-n-Mean takes her place, and is promptly electrocuted and killed. It's obvious to the police and Rebecca that this was no accident, and no one knows who the murderer's intended target was. With Pop cheering her on and aided by a trio of self-appointed bodyguard derby girls, Rebecca digs for answers, dodges bullets, and races to find a killer"--
Skating over the line /
ISBN: 0312606621 OCLC: 707969464 ""Rebecca's investigative work is clever and offbeat."--Chicago Sun-Times Rebecca is desperate to sell her inherited roller skating rink in small-town Indian Falls, and--finally--she has a buyer. She can't wait to head back to Chicago, especially now that her long delinquent father has blown back into town. But Lionel, her large-animal vet boyfriend, thinks she should stay put. And the gang at the Senior Center wants her to track down the thief who's been hot-wiring rusted-out classic cars. Unable to resist, Rebecca soon has the Sheriff's Deputy threatening to arrest her for obstruction and strange, scary men threatening her life. Then cars start exploding, with people in them, and Rebecca's father goes missing. With the help of her Elvis-impersonating grandfather, Rebecca must find the pyromaniac car thief and put a stop to him--before he stops her first. This is the second in a delightful cozy series filled with small town charm and delicious laughs"--
Skating under the wire /
ISBN: 1250019591 OCLC: 827256744 "Rebecca Robbins has pulled the rink she inherited off the market. She's decided to stay in Indian Falls for good. Rebecca is certain that if she can get her maid of honor duties fulfilled and Thanksgiving dinner cooked, life will finally settle down to normal. But when Rebecca is hired to look into a string of home invasions and a dead body turns up at the bridal shower, she is forced to put aside her hopes for a quiet holiday season. With the help of her Elvis-loving grandfather and her sexy, commitment-seeking large animal vet boyfriend, Rebecca has to track down thieves that have eluded the cops for years, solve a murder, get her friend safely married, and somehow cook dinner for an ever expanding guest list without getting herself killed. Boasting the drama of both madcap wedding hijinks and the infamous Thanksgiving dinner, a puzzling murder, and a wonderful cast, Skating Under the Wire is Joelle Charbonneau's most exciting mystery yet!"--
The Testing /
ISBN: 0547959109 OCLC: 794323699 Houghton Mifflin Harcourt, Boston : ©2013. Keep your friends close and your enemies closer. Isn't that what they say? But how close is too close when they may be one and the same? The Seven Stages War left much of the planet a charred wasteland. The future belongs to the next generation's chosen few who must rebuild it. But to enter this elite group, candidates must first pass The Testing -- their one chance at a college education and a rewarding career. Cia Vale is honored to be chosen as a Testing candidate; eager to prove her worthiness as a University student and future leader of the United Commonwealth. But on the eve of her departure, her father's advice hints at a darker side to her upcoming studies -- trust no one. But surely she can trust Tomas, her handsome childhood friend who offers an alliance? Tomas, who seems to care more about her with the passing of every grueling (and deadly) day of the Testing. To survive, Cia must choose: love without truth or life without trust.
Verify /
ISBN: 006280362X OCLC: 1090283512 Chicago teen Meri Beckley's pride of living in a land of peace, prosperity, and truth crumbles when questions following her mother's death reveal buried facts, especially that words can have great power.