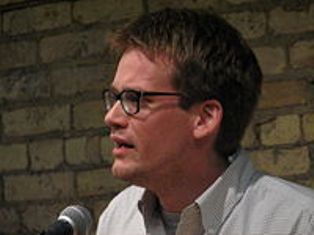 John Green
Born:
August 24, 1977 in Indianapolis, Indiana
Pen Name:
None
Connection to Illinois
: Green lived in Chicago for several years. While living there, he worked for the book review journal Booklist as a publishing assistant and production editor while writing Looking for Alaska.
Biography
: John Green is the award-winning New York Times bestselling author of young adult fiction. With his brother, Hank, John is one half of the Vlogbrothers and co-created the online educational series CrashCourse. He's also written stories for several anthologies including* The Great American Morp in 21 Proms * The Approximate Cost of Loving Caroline in Twice Told* Freak the Geek in Geektastic Outside of Chicago, Green grew up in Orlando and has lived in Birmingham, New York City and Ohio. He was born in and currently resides in Indianapolis.
---
Awards
:
Primary Literary Genre(s):
Fiction
Primary Audience(s):
Young adult readers
Facebook:
https://www.facebook.com/JohnGreenfans
Instagram:
http://instagram.com/johngreenwritesbooks/#
Twitter:
https://twitter.com/realjohngreen
Web:
http://johngreenbooks.com/
---
Selected Titles
An abundance of Katherines /
ISBN: 0142410705 OCLC: 65201178 Dutton Books, New York, NY : ©2006. When it comes to relationships, Colin Singleton's type is girls named Katherine. And when it comes to girls named Katherine, Colin is always getting dumped. Nineteen times, to be exact. On a road trip miles from home, this anagram-happy, washed up child prodigy has ten thousand dollars in his pocket, a bloodthirsty feral hog on his trail, and an overweight, Judge Judy-loving best friend riding shotgun -- but no Katherines. Colin is on a mission to prove The Theorem of Underlying Katherine Predictability, which he hopes will predict the future of any relationship, avenge Dumpees everywhere, and finally win him the girl. Love, friendship, and a dead Austro-Hungarian archduke add up to surprising and heart-changing conclusions in this ingeniously layered comic novel about reinventing oneself.
Let it snow :
ISBN: 0142412147 OCLC: 216938851 Speak, New York : 2008. In three intertwining short stories, several high school couples experience the trials and tribulations along with the joys of romance during a Christmas Eve snowstorm in a small town.
Looking for Alaska /
ISBN: 0142402516 OCLC: 55633822 Sixteen-year-old Miles' first year at Culver Creek Preparatory School in Alabama includes good friends and great pranks, but is defined by the search for answers about life and death after a fatal car crash.
Paper towns /
ISBN: 014241493X OCLC: 202483793 One month before graduating from his Central Florida high school, Quentin
The Anthropocene reviewed /
ISBN: 0525555218 OCLC: 1202531110
The fault in our stars /
ISBN: 0525478817 OCLC: 738336589 Sixteen-year-old Hazel, a stage IV thyroid cancer patient, has accepted her terminal diagnosis until a chance meeting with a boy at cancer support group forces her to reexamine her perspective on love, loss, and life. Despite the tumor-shrinking medical miracle that has bought her a few years, Hazel has never been anything but terminal, her final chapter inscribed upon diagnosis. But when a gorgeous plot twist named Augustus Waters suddenly appears at Cancer Kid Support Group, Hazel's story is about to be completely rewritten.
Turtles all the way down /
ISBN: 0525555366 OCLC: 992432937 Sixteen-year-old Aza never intended to pursue the mystery of fugitive billionaire Russell Pickett, but there's a hundred-thousand-dollar reward at stake and her best and most fearless friend, Daisy, is eager to investigate. So together, they navigate the short distance and broad divides that separate them from Russell Pickett's son, Davis. Aza is trying. She is trying to be a good daughter, a good friend, a good student, and maybe even a good detective, while also living within the ever-tightening spiral of her own thoughts. In his long-awaited return, John Green, the acclaimed, award-winning author of Looking for Alaska and The Fault in Our Stars, shares Aza's story with shattering, unflinching clarity in this brilliant novel of love, resilience, and the power of lifelong friendship.--INSIDE FLAP.
Will Grayson, Will Grayson /
ISBN: 0142418471 OCLC: 277118356 When two teens, one gay and one straight, meet accidentally and discover that they share the same name, their lives become intertwined as one begins dating the other's best friend, who produces a play revealing his relationship with them both.