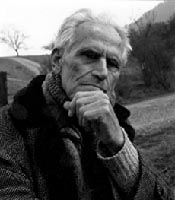 Ernst Bacon
Born:
May 26, 1898 in Chicago
Died:
March 16, 1990 in Orinda California
Pen Name:
None
Connection to Illinois
: Bacon was born in Chicago. He attended Northwestern University where he pursued a degree in mathematics and after three years of study, he moved to the University of Chicago.
Biography
: Ernst Bacon was an American composer, pianist, and conductor. He was a prolific author and composed over 250 songs during his career. He was awarded three Guggenheim Fellowships and the Pulitzer Prize for his First Symphony. In addition to his songs, Bacon has written two important essays on music; ''Words on Music'' and ''Notes on the Piano''.
---
Awards
:
Pulitzer Prize for his First Symphony
Primary Audience(s):
Children
Email:
mail@ernstbacon.org
The Ernst Bacon Society :
http://www.ernstbacon.org/
Website:
http://www.ernstbacon.org
Wikipedia:
http://en.wikipedia.org/wiki/Ernst_Bacon
Ernst Bacon on WorldCat :
http://www.worldcat.org/search?q=ernst+bacon
---
Selected Titles
28 American art songs :
ISBN: 1495000702 OCLC: 900612100
Notes on the piano
ISBN: 1306393116 OCLC: 869523265 Dover Publications, 2013. An accomplished composer, pianist, writer, and teacher offers an easy and entertaining guide for players at all levels of expertise. Tips on working, listening, and playing habits cover The Performer, The Learner, The Player and Writer, The Observer, and Technically Speaking. Should be a bedside reader for every author, composer, singer, critic, or layman interested in music. ⁰́₄ Critic's Choice.
Words on music.
ISBN: 083716768X OCLC: 572618 Greenwood Press Westport, Conn., [1973, ©1960]