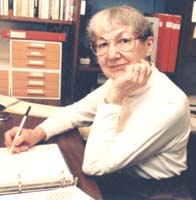 Leone Castell Anderson
Born:
1923 in Los Angeles, California
Pen Name:
None
Connection to Illinois
: Leone lives in Elgin.
Biography
: Leone Castell Anderson is a former copywriter, book store owner and librarian. She is the author of several picture books, which include: Moving Day, My Own Grandpa and The Wonderful Shrinking Shirt. Sean's War and Sean's Quest are middle-grade historical novels set in the 1832 era of the Black Hawk War. The cover illustrations for both of these books were created by Leone's husband, J. Eric, a watercolor artist. She also has written many magazine stories that have appeared in Highlights for Children and Cricket Magazine, some of which have been reprinted in textbooks.
---
Awards
:
-- ''Why LeRoy Smiled''- Highlights for Children- First Place 1989;
-- ''What's That Sound?'' Florida Writers Picture Book Competition- First place 1993
Primary Literary Genre(s):
Fiction; Non-Fiction
Primary Audience(s):
Children
E-Mail:
leoneanderson89@gmail.com
LinkedIn:
https://www.linkedin.com/in/leone-anderson-bb704a28
---
Selected Titles
Christmas handbook /
ISBN: 0895652684 OCLC: 10229326 Child's World ; Elgin, Ill. : ©1984. A collection of Christmas activities, artwork, and crafts for school and home, plus Christmas songs, stories, poems, and information about various Christmas symbols and Christmas around the world.
How come you're so shy?
ISBN: 0307102734 OCLC: 16617791 Golden Book ; New York : ©1987. Meeting a classmate even shyer than she is helps Ashley to overcome that problem.
It's O.K. to cry /
ISBN: 0895650940 OCLC: 4775905 Child's World ; Elgin, Ill. : ©1979. Two brothers must deal with the death of a favorite uncle.
Learning about towers and dungeons /
ISBN: 0516065386 OCLC: 8553380 Childrens Press, Chicago : ©1982. Describes some of the world's most famous towers as well as a few dungeons and prisons, and relates historical tales associated with several of the structures.
Moving day /
ISBN: 0307020908 OCLC: 12589010 When moving day comes for Jennifer and her family, she and her best friend Zaneed learn to turn saying "good-by" into a happy "backwards hello."
My friend next door /
ISBN: 0896932125 OCLC: 9488976 Dandelion House ; [Elgin, IL] : ©1983. A young girl is distressed when her new next-door neighbor is not immediately accepted into her circle of friends.
My Own Grandpa
ISBN: 0307021572 OCLC: 19722342 Golden Press New York : 1987 Andrew wishes for a grandfather to do things with and his mother helps him find one.
Sean's quest /
ISBN: 0963881965 OCLC: 52306496 ShadowPlay Press, Forreston, Ill. : ©2003. In this sequel to Sean's War, Sean Callahan and two friends, a Potawatomi Indian boy and a settler girl, embark on an adventure into the Minnesota region where Sean's mother is threatened by renegade Sioux Indians.
Sean's War.
ISBN: 9781491744604 OCLC: 892461250 iUniverse Inc 2014.
Surprise at Muddy Creek
ISBN: 0895656981 OCLC: 23848393 The Child's World Mankato, Minn. : 1990 Little Carrie misses her Boston home when her family moves West, but the displeasure she feels on discovering her neighbors are Indians changes as she comes to know Running Fawn, a girl her own age.
The Good-By Day
ISBN: 0307602362 OCLC: 12589010 Goldencraft 1985 When moving day comes for Jennifer and her family, she and her best friend Zaneed learn to turn saying "good-by" into a happy "backwards hello."
The wonderful shrinking shirt /
ISBN: 0807591718 OCLC: 9280581 A. Whitman, Niles, Ill. : ©1983. A flannel shirt is handed down from Paw to Maw to Sister Janie and finally to Baby Wilbur who uses it for a security blanket.