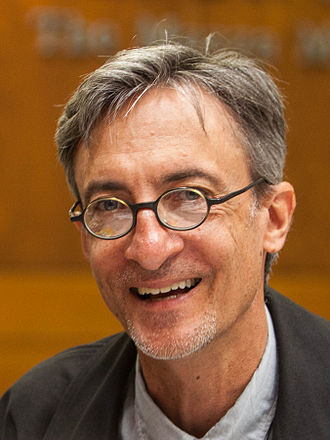 Christopher Raschka
Born:
1959 in Huntingdon, Pennsylvania
Pen Name:
Chris Raschka
Connection to Illinois
: Raschka grew up in Chicago.
Biography
: Chris Raschka is an artist and a Caldecott-winning children's book author and illustrator. While he writes and illustrates his own books, Raschka also illustrates books written by other authors. A graduate of St. Olaf College, he currently resides in New York City.
---
Awards
:
-- Yo! Yes? - Caldecott Honor Book, 1994, 100 Books that Shaped the Century list, School Library Journal, Illinois Reads Book Selection, Illinois Reading Council, 2022
-- Hello, Goodbye Window - Caldecott Medal, 2006
-- A Ball for Daisy - Caldecott Medal, 2012
-- A Poke in the I - Best Illustrated Books, New York Times , Starred Reviews - Horn Book, Kirkus, Booklist, Publishers Weekly, School Library Journal
-- Give and Take - Starred Review - Booklist
-- The Blue Table - Starred Reviews - Kirkus, Publishers Weekly
-- A Kick in the Head - Starred Reviews - Horn Book, Kirkus, Booklist, Publishers Weekly, School Library Journal,
Primary Literary Genre(s):
Fiction; Illustrator
Primary Audience(s):
Children
Web:
https://www.prhspeakers.com/speaker/chris-raschka
Web:
https://www.nocloo.com/chris-raschka-biography/
Web:
http://Raschka-Chris-1959.html
Web:
http://chris-raschka
Web:
https://www.rmichelson.com/illustration/chris-raschka/
Wikipedia:
https://en.wikipedia.org/wiki/Chris_Raschka
---
Selected Titles
A ball for Daisy /
ISBN: 037585861X OCLC: A wordless picture book showing the fun a dog has with her ball, and what happens when it is lost. This story is about what it is like to lose something special, and find a friend.
A foot in the mouth :
ISBN: 0763660833 OCLC: Somerville, Mass. : Somerville, Mass. : A collection of lively rhymes and tricky tongue twisters, poems for more than one voice, bilingual poems -- from classic Shakespeare and Lear to anonymous rhymes to contemporary riffs on everything under the sun. These poems just might inspire kids to memorize them!
A kick in the head :
ISBN: 9780763641320 OCLC: In this splendid and playful volume, acclaimed poetry anthologist Paul B. Janeczko and Caldecott Honor illustrator Chris Raschka present lively examples of twenty-nine poetic forms, demonstrating not only the (sometimes bendable) rules of poetry, but also the spirit that brings these forms so wonderfully to life. Featuring formal poems, some familiar and some never before published, from the likes of Eleanor Farjeon (aubade), X.J. Kennedy (elegy), Ogden Nash (couplet), Liz Rosenberg (pantoum), and William Shakespeare, the sonnet king himself, A Kick in the Head perfectly illustrates Robert Frost's maxim that poetry without rules is like a tennis match without a net. --
A poke in the I :
ISBN: 9780763623760 OCLC: A collection of thirty concrete poems with torn paper and mixed media illustrations.
A primer about the flag /
ISBN: 0763649910 OCLC: Somerville, Mass. : Somerville, Mass. : An illustrated poem which explores the artistry and purposes of flags.
A song about myself /
ISBN: 0763650900 OCLC: This little-known poem by the beloved poet is filled with playful rhymes that are complemented by vibrant watercolors.
Alphabetabum :
ISBN: 1590178173 OCLC: What happens to the pictures of us? Nowadays they go straight to the Internet where anyone anywhere in the world can see them. And they're nothing terribly special. It wasn't that way a hundred years ago, when getting your picture taken was a very important event. You dressed your best and you looked thoughtfully and for a long time into the awesome, magical lens of the camera. But even these important pictures sometimes were lost, sold by the photographer or even thrown away by families. After many decades some of them found their way to flea-market tables in New York City, Rome, and Paris, where the artist Vladimir Radunsky couldn't take his eyes off of them. He bought them, took them home, and looked at them over and over. Now he has chosen his favorites for this book and his friend Chris Raschka has written a poem for each one in an imagined alphabet of names and personalities. --
Another important book /
ISBN: 006443785X OCLC: New York : New York : Illustrations and simple rhyming text describe how a child grows from ages one through six.
Arlene sardine
ISBN: 9781453296233 OCLC: New York : Open Road, New York : 2013. Follows the short life of Arlene, from brisling to canned sardine.
Be boy buzz
ISBN: 9781484788400 OCLC: Celebrates being Bold, All Bliss Boy, All Bad Boy Beast, Boy running, Boy Jumping, Boy Sitting Down, and being in Love With Being a Boy.
Boy meets girl ;
ISBN: 2020676087 OCLC: San Francisco : San Francisco : This book with text featuring a boy, a girl, a cat, and a dog can be read forwards or backwards.
Buggy Bug /
ISBN: 1419712004 OCLC: Buggy Bug has something very important to say.
Can't sleep
ISBN: 9781453296578 OCLC: New York : Open Road, New York : 2013. The moon comforts bedtime fears.
Charlie Parker played be bop /
ISBN: 0531070956 OCLC: New York : Orchard Books, New York : ©1992. Introduces the famous saxophonist and his style of jazz known as bebop.
Clammy Clam /
ISBN: 1419712012 OCLC: Clammy Clam refuses to open his shell to say hello.
Cowy cow /
ISBN: 1419710559 OCLC: Cowy Cow has one hundred ideas, and some might even be good ones.
Crabby Crab /
ISBN: 9781419710568 OCLC: Crabby Crab, unhappy about the way he looks and moves, is surprised to learn that he is loved just the way he is.
Daisy gets lost /
ISBN: 0449817415 OCLC: A young dog experiences the fear of being lost and the joys of being found when she becomes separated from her owner.
Doggy Dog
ISBN: 9781419712036 OCLC: Simple words and illustrations detail some of the things that Doggy Dog is not, including a cat, a lampshade, and a potato.
Elizabeth imagined an iceberg
ISBN: 053106817X OCLC: New York : Orchard Books, New York : ©1994. By visualizing an iceberg and remembering how strong it can be, Elizabeth finds the inner strength to say, Get away from me! to a strange woman who is bothering her.
Everyone can learn to ride a bicycle
ISBN: 9780375870071 OCLC: 784123774 Schwartz & Wade Books, New York : ©2013. A father teaches his daughter all about bicycle riding, from selecting the right bike to trying again after a fall.
Farmy farm /
ISBN: 0545219817 OCLC: 683247618 Rhyming text and touch-and-feel illustrations introduce a variety of farm animals and the sounds they make.
Fishing in the air
ISBN: 0060281111 OCLC: 41580565 Joanna Cotler Books, New York : ©2000. A young boy and his father go on a fishing trip and discover the power of imagination.
Five for a little one
ISBN: 0689845995 OCLC: 59098940 A young rabbit explores the world using his five senses. If you are a bunny, try a taste, take a gander, snuffle a sniff, relish a sound, and share a hug. Everything around is waiting. If you are a boy, or a girl, or a dog, or a kitty do like our friend Bunny. And enjoy.
Fortune cookies /
ISBN: 1416968148 OCLC: 232536676 Seven fortune cookies foretell a child's fortunes for each day of the week.
Give and take
ISBN: 9781442416550 OCLC: 825196531 In his apple orchard, a farmer meets a little man named Take and follows his advice, which does not turn out well, and the next day meets a little man named Give, whose advice is just as bad.
Good sports :
ISBN: 9780375985812 OCLC: 761326833 Dragonfly Books, New York : [2011], ©2007. A collection of poems about football, skating, basketball, karate, and other sports celebrates the joy of competitive play, teamwork, and the importance of good sportsmanship.
Goosey Goose
ISBN: 0786806419 OCLC: 42753175 Hyperion Books for Children, New York : 2000. If you mess with Goosey Goose, you will be in trouble.
Grump Groan Growl /
ISBN: 9781368007825 OCLC: 1011039174 Rhythmic text exposes a bad mood on the prowl, and advises the reader not to hide, but to let those feelings be.
Happy to be nappy /
ISBN: 1484788419 OCLC: 967667455 Celebrates the joy and beauty of nappy hair.
Hip hop dog
ISBN: 9780061239632 OCLC: 243845190 Harper, New York : ©2010. A neglected dog finds his purpose through rapping and rhyming.
Home at last /
ISBN: 0061349739 OCLC: 933517184 "After Lester is adopted from his foster home by Daddy Albert and Daddy Rich, he can't fall asleep in his new bed. What will it take to make Lester feel home at last?"--
I pledge allegiance :
ISBN: 0763625272 OCLC: 56803371 Divides the Pledge of Allegiance into words and phrases in order to define its meaning.
If you were a dog /
ISBN: 0374335303 OCLC: 759048515 Easy-to-read text invites the reader to imagine life as a dog, a cat, a fish, a bird, and even a dinosaur.
In the City
ISBN: 1481486276 OCLC: Antheneum 2020 Illustrations and rhyming text celebrate pigeons as colorful, chatty denizens of the city.
Jimmy Grasshopper versus the Ants /
ISBN: 0763630217 OCLC: 77572663 Angry that his singing is unappreciated by the Ants who relied on his music to make their summer work easier, Jimmy Grasshopper decides to sue them for lacking respect and not acknowledging his usefulness in their lives.
John Coltrane's Giant steps
ISBN: 0874999723 OCLC: 50953257 Live Oak Media, New York : ℗2002. John Coltrane's musical composition is performed by a box, a snowflake, some raindrops, and a kitten.
Lamby Lamb /
ISBN: 1419710575 OCLC: 837923206 The narrator uses reverse psychology to get a young sheep dressed.
Little black crow
ISBN: 9780689846014 OCLC: 436358380 Atheneum Books for Young Readers, New York : 2010. A boy thinks about the life of a little black crow that he sees, wondering where it goes in the snow, where it sleeps, and whether or not it worries like he does.
Little treasures :
ISBN: 0547428626 OCLC: 693553924 Shares terms of endearment for children in fourteen languages, including English, Spanish, Chinese, and Hindi.
Little tree
ISBN: 1423103351 OCLC: 74469117 Hyperion Books For Children, New York : ©2006. Inspired by a poem by E.E. Cummings, this is the story of a little tree that finds its own special place in the world as a much-loved Christmas tree.
MAMA BABY.
ISBN: 0763690600 OCLC: 1109444773 Mama and Baby clap and play hide-and-seek and pat-a-cake. Mama and Baby . . . Mama? Where did Mama go? In a series of spreads, simple, bold illustrations show a mother on one side and a baby on the other, interacting in universally familiar ways — until Mama dips out briefly, then returns to her crying child to offer comfort again. With his usual flair, the redoubtable Chris Raschka offers a reassuring moment that will resonate with mamas and babies everywhere.
Moosey Moose
ISBN: 9781419712029 OCLC: 856647714 Moosey Moose wants his long pants.
Mother Goose of Pudding Lane /
ISBN: 0763675237 OCLC: 1114308166 Tells the story of Elizabeth Foster Goose of late 17th-century Boston, who sang lullabies and songs and made up rhymes and poems to help her care for her big and boisterous family of fourteen children.
Mysterious Thelonious
ISBN: 0874996740 OCLC: 45431880 Live Oak Media, New York : ℗2000. Matches the tones of the diatonic scale to the values of the color wheel in presenting a portrait of the work of the Afro-American jazz musician and composer of Mysterioso.
New shoes /
ISBN: 0062657526 OCLC: 1031999741 When a young child discovers a hole in a sneaker, mother and child embark on a big childhood adventure--a trip to the store to pick out new shoes. From having feet measured and making a selection to finally showing off the new shoes to a friend, this momentous child moment is treated with respect, excitement, and page-turning energy in a wonderfully age-appropriate picture book.--Amazon.com.
New York is English, Chattanooga is Creek
ISBN: 0689846002 OCLC: 56733085 Atheneum Books for Young Readers, New York : ©2005. New York City, though a bit boastful, decides to throw a party to make new friends of other unique cities like Chattanooga and Minneapolis.
Old dog baby baby /
ISBN: 1596438533 OCLC: 928488387 "A rhyming picture book about a lazy old dog and a playful baby"--
Otter and odder /
ISBN: 076364174X OCLC: 698624790 When Otter falls in love with his food source, a fish named Myrtle, he must decide whether to follow the way of the otter or the way of his heart.
Paul writes (a letter) /
ISBN: 080285494X OCLC: 1042082492 Picture book adaptation of the letters of Paul the Apostle.
Peter and the wolf
ISBN: 9780689856525 OCLC: 209690310 Atheneum Books for Young Readers, New York : ©2008. Retells the orchestral fairy tale in which a boy ignores his grandfather's warnings and captures a wolf with the help of a bird, a duck, and a cat.
Puddle /
ISBN: 0062651951 OCLC: 1027735262 A puddle sits despairingly as she is trampled on by humans and animals alike until something miraculous happens that makes her feel worthwhile.
Ring! Yo?
ISBN: 0789426145 OCLC: 42022282 DK Ink, New York : 2000. In a telephone conversation--of which the reader at first only hears one side--two friends, one black and one white, have a disagreement and then make up.
Saint Spotting
ISBN: 0802855210 OCLC: Eerdmans Books for Young Readers 2021 A young boy and his mother travel through a church, meeting saints and learning their stories and symbols --
Seriously, Norman! /
ISBN: 0545298784 OCLC: 731735475 Why are grown-ups so insane? That's the question Leonard, Norman, Anna and Emma (the twins) try to answer with the help of Norman's new tutor, Balthazar Birdsong (who is also fairly nuts).
Side by side /
ISBN: 0714878669 OCLC: 1055913754 A heartfelt ode to the physical and emotional roles of father and child.
Simple gifts :
ISBN: 0805051430 OCLC: 36776496 A Shaker hymn about acceptance and sharing.
Skin again
ISBN: 078680825X OCLC: 56897297 Hyperion Books for Children, New York : ©2004. The skin I'm in is just a covering. It cannot tell my story. The skin I'm in is just a covering. If you want to know who I am you have got to come inside and open your heart way wide. Celebrating all that makes us unique and different, Skin Again offers new ways to talk about race and identity. Race matters, but only so much, what's most important is who we are on the inside. Looking beyond skin, going straight to the heart, we find in each other the treasures stored down deep. Learning to cherish those treasures, to be all we imagine ourselves to be, makes us free. Skin Again celebrates this freedom. Like layers of skin, readers will peel away the pages of this visionary work from the creators of Happy to Be Nappy, and inside reveal all that is needed for us to be loving and accepting of one another. bell books is the author of a number of groundbreaking books, including Happy to Be Nappy, an NAACP Image Award Nominee; Homemade Love, a Bank Street College Children's Book of the Year; and Be Boy Buzz. She lives in New York City.
Sluggy Slug
ISBN: 0786805846 OCLC: 41981870 Hyperion Books for Children, New York : 2000. Sluggy Slug will not go because he is sluggy.
Snaily Snail
ISBN: 0786806397 OCLC: 42690033 Hyperion Books for Children, New York : 2000. Snaily Snail is loved all the time, no matter what he is doing.
Sourpuss and Sweetie Pie /
ISBN: 9780439929431 OCLC: 192081860 A little girl spends time with her Poppy and Nana and answers to two very different nicknames.
Table manners :
ISBN: 076361453X OCLC: 46422165 Chester teaches his good friend Dudunya about napkins, "full-mouthed speaking accidents," and other important aspects of proper mealtime behavior.
Talk to me about the alphabet
ISBN: 0805067825 OCLC: 49664248 Henry Holt, New York : 2003. Illustrations and simple text for each letter of the alphabet demonstrate the sounds made by that letter.
The Blue Table
ISBN: 0062937766 OCLC: Greenwillow Books 2020 The blue table becomes more than just a blue table, as plans are made, families gather, and food is served, and gratitude is felt.
The Blushful Hippopotamus
ISBN: 0531095320 OCLC: New York : Scholastic New York : 1996 Though Roosevelt the hippopotamus's sister teases him because he blushes a lot, his best friend helps him feel better about himself.
The Cosmobiography of Sun Ra :
ISBN: 0763658065 OCLC: 856977176 A one-hundredth birthday tribute to the late jazz artist explores his observations about humanity's discriminatory and violent behaviors as well as his efforts to forge world peace through music with the Sun Ra Arkestra.
The death of the hat :
ISBN: 0763669636 OCLC: 884480026 Poetry, scholars claim, is one of the oldest living art forms. This collection traces the canon from the Middle Ages - when poets may have written about a sword, a candle, or a bookworm - to the current day, when their subjects might be cocoa or a birthday card. Yet a fascination with the natural world has held true for poets across the millennia, as evidenced by Cui Tu's Tang Dynasty poem "A Solitary Wildgoose" and Mary Oliver's contemporary poem "The Summer Day." Is it possible to sum up more than one thousand years of poetry in 50 poems? Of course it is not. But Paul B. Janeczko and Chris Raschka bring intelligence and joy to the mission in this, their fourth poetry anthology collaboration for young and not-so-young readers.
The doorman's repose /
ISBN: 1681371006 OCLC: 957241858 "Some of us look up at those craggy, mysterious apartment buildings found in the posher parts of New York City and wonder what goes on inside. The Doorman's Repose collects ten stories of the doings of 777 Garden Avenue, one of the craggiest"--
The four corners of the sky :
ISBN: 0805048162 OCLC: 43540635 A collection of folk stories from around the world, each accompanied by background information, that explain the various perspectives of different peoples on how the universe and their world came to be.
The hello, goodbye window
ISBN: 9780616354698 OCLC: 1011735913 CNIB, Toronto : 2006. The kitchen window at Nanna and Poppy's house is, for one little girl, a magic gateway. Everything important happens near it, through it, or beyond it. 2005 Boston Globe-Horn Book Honors. Grades K-3. 2005.
The magic flute /
ISBN: 1481449028 OCLC: 1028581785 Retells the story of the Mozart opera, in which the noble Prince Tamino seeks the fair Pamina against a backdrop of the battle between darkness and light.
The owl and the tuba /
ISBN: 1878925024 OCLC: 26386106 Brotherstone, Elgin, Ill. : ©1991. Fred the tuba player can't toot & Hoomer the owl can't hoot. So Hoomer tries tooting, becomes a tuba virtuoso, & starts a brass band. Fred tries hooting, learns the owls' language, & becomes a great ornithologist. The squirrels are disgusted by the whole thing, but there's nothing they can do about it. Readers of all ages will be entertained & encouraged by the unlikely accomplishments of Fred the boy & Hoomer the owl.
The purple balloon
ISBN: 9780375841460 OCLC: 70839665 Schwartz & Wade Books, New York : ©2007. Easy-to-read text reveals that dying is hard work, for the old and especially the young, and how good it is that so many people help when a person dies, from medical staff to clergy and friends to family members.
Waffle /
ISBN: 0689838387 OCLC: 44612961 A child who is always worried finds a way to overcome his fears.
Whaley Whale /
ISBN: 1419710583 OCLC: 837923213 The reader is invited to find Whaley Whale's hiding place.
What you need is - table manners :
ISBN: 074458518X OCLC: 48153148 Walker, London : 2001.
When lions roar /
ISBN: 0545112834 OCLC: 777364343 Loud, scary noises frighten a child until quiet and calmness return.
Wormy Worm
ISBN: 078680582X OCLC: 41958961 Hyperion Books for Children, New York : 2000. As Wormy Worm wiggles and woggles, it is hard to tell which end is front and which end is back.
Yo! Yes?
ISBN: 9781417759385 OCLC: 264025987 Orchard Books, New York : [2007], ©1993. Two lonely characters, one black and one white, meet on the street and become friends.