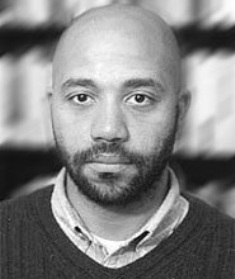 David Wright
Born:
Pen Name:
None
Connection to Illinois
: Wright lives in Urbana, Illinois.
Biography
: David Wright is an author and educator. He is a professor at the University of Illinois and serves on the editorial board of ''Callaloo''.The Memphis Flyer called his book, ''Fire on the Beach: Recovering the Lost Story of Richard Etheridge and the Pea Island Lifesavers'', "social history at its readable best." He wrote the screenplay for the documentary, ''Rescue Men'', based on the book. Magic Johnson's Aspire network premiered it and it still airs regularly. Producer Richard Brick is adapting ''Fire on the Beach'' into a feature. ''The Pea Island Story'', a television feature, won a Salute to Excellence First Prize from the National Association of Black Journalists. Wright's fiction and essays have appeared in ''The Village Voice'', ''The Kenyon Review'', ''Newsday'', ''Callaloo'', ''The Massachusetts Review'', ''The Chronicle of Higher Education'', and elsewhere.
---
Awards
:
Primary Literary Genre(s):
Fiction ; Non-Fiction
Primary Audience(s):
Adult readers
Email:
wright3@uiuc.edu
David Wright in WorldCat :
http://www.worldcat.org/search?q=david+wright
---
Selected Titles
Away running /
ISBN: 1459810465 OCLC: 913176112 In this novel for teens, Matt and Free meet in Paris where they both play American football on a team in a poverty-stricken suburb where racial tension affects the team.
Fire on the beach :
ISBN: 9780743218214 OCLC: 606542888 Scribner, New York : ©2000.
Fire on the beach :
ISBN: 0195154843 OCLC: 49284293 Oxford University Press, New York : 2002. This is the heroic, long-forgotten story of the only all-black crew in the history of the U.S. Coast Guard. It tells the story of Station 17 of Pea Island, North Carolina and its courageous captain - Richard Etheridge. A former slave and Civil War veteran, Etheridge was appointed Keeper of the Pea Island station, but when the white crew already in place refused to serve under him, he recruited and trained an entirely black crew. Although they were among the most courageous in the service, leading many daring rescues and saving scores of men, women, and children along the treacherous stretch of coast known as "the Graveyard of the Atlantic," civilian attitudes toward the Pea Island surfmen ranged from curiosity to outrage. When a hurricane hit the Banks in the late 1890s, they managed to save everyone aboard the wrecked E.S. Newman. This incredible feat went unrecognized for a century until, in 1996, the Coast Guard posthumously awarded Etheridge and his men the Gold Life-Saving Medal. This courageous story of a group of men who battled prejudice as well as fierce storms to carry out heroic deeds illustrates yet another example of the contribution of one group of remarkable African Americans to this country's history.