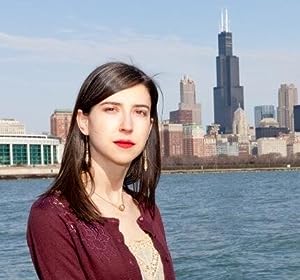 Kathleen Rooney
Born:
in Beckley, West Virginia
Pen Name:
None
Connection to Illinois
: Rooney lives in Chicago and is a senior lecturer in English and Creative Writing at DePaul University.
Biography
: Kathleen Rooney writes poetry, fiction and non-fiction. She is a founding editor of Rose Metal Press, a publisher of literary work in hybrid genres, and a founding member of Poems While You Wait, a team of poets and their typewriters who compose commissioned poetry on demand. Her work has appeared in The New York Times Magazine, Allure, Salon, The Chicago Tribune, The Nation and elsewhere. A former bookseller, she teaches English and creative writing at DePaul University She is co-editor with Eric Plattner of, René Magritte: Selected Writings and Brevity & Echo: An Anthology of Short Short Stories. In 2020, she was recognized added to Newcity Lit's, Lit 50: Who Really Books in Chicago Hall of Fame. A senior lecturer in English and Creative Writing at DePaul University, she teaches, among other things, a workshop on The Writer as Urban Walker. Kathleen is married to Illinois novelis, Martin Seay.
---
Awards
:
"""Robinson Alone"""
-- Starred Review, Booklist
"""Live Nude Girl"""
-- Starred Review, Publishers Weekly
"""Lillian Boxfish Takes a Walk"""
-- National Indie Bestseller, American Booksellers Association
-- Book of the Week, People Magazine Picks
-- Starred and Boxed Reviews, Publishers Weekly
-- Starred Review, Booklist
-- Starred Review, Library Journal
-- ILLINOIS READS Book Selection, Illinois Reading Council, 2018
"""Cher Ami and Major Whittlesey"""
-- Starred Review, Booklist
Primary Literary Genre(s):
Fiction; Non-Fiction; Poetry
Primary Audience(s):
Adult readers
Facebook:
https://www.facebook.com/kathleen.rooney.18
Twitter:
https://twitter.com/KathleenMRooney
Website:
http://kathleenrooney.com/
---
Selected Titles
Cher Ami and Major Whittlesey /
ISBN: 0525507825 OCLC: 1178997942 Inspired by true events, a novel that centers on the Meuse-Argonne Offensive of World War I, told in the voices of Cher Ami, a messenger bird, and Charles Whittlesey, an army officer.
For you, for you I am trilling these songs
ISBN: 9781582436838 OCLC: 647922984 Counterpoint, Berkeley, CA : ©2010.
Lillian Boxfish takes a walk /
ISBN: 1250113326 OCLC: 947146232 "Fall 2016 Library Journal Editors' Pick "In my reckless and undiscouraged youth," Lillian Boxfish writes, "I worked in a walnut-paneled office thirteen floors above West Thirty-Fifth Street ..." She took 1930s New York by storm, working her way up writing copy for R.H. Macy's to become the highest paid advertising woman in the country. It was a job that, she says, "in some ways saved my life, and in other ways ruined it." Now it's the last night of 1984 and Lillian, 85 years old but just as sharp and savvy as ever, is on her way to a party. It's chilly enough out for her mink coat and Manhattan is grittier now--her son keeps warning her about a subway vigilante on the prowl--but the quick-tongued poetess has never been one to scare easily. On a walk that takes her over 10 miles around the city, she meets bartenders, bodega clerks, security guards, criminals, children, parents, and parents-to-be, while reviewing a life of excitement and adversity, passion and heartbreak, illuminating all the ways New York has changed--and has not. A love letter to city life in all its guts and grandeur, Lillian Boxfish Takes a Walk by Kathleen Rooney paints a portrait of a remarkable woman across the canvas of a changing America: from the Jazz Age to the onset of the AIDS epidemic; the Great Depression to the birth of hip-hop. Lillian figures she might as well take her time. For now, after all, the night is still young"--
Listening room :
ISBN: 1948510065 OCLC: 1051685633 Fiction. The house is haunted but nobody's home. Only us chickens, standing still as sculpture while Loulou, the immortal Pomeranian, & Georgette, Magritte's guardian angel, take us on a tour of the asylum. The rooms in Kathleen Rooney's THE LISTENING ROOM are always listening, always watching. The walls have ears. The tears have eyes. Sometimes the screams are silent. Sometimes the silence is deafening. Stark & hard-edged as the paintings themselves, this novel in poems and flashes inhabits a world much like our own--suspended in a glazed animation of doomed hope & hopeful doom, where the virtual is realer than reality, where the muse & the bemused are confused, where the funny is wedded to the sad in unholy matrimony.
Live nude girl :
ISBN: 9781610752428 OCLC: 769187841 University of Arkansas Press, Fayetteville : 2008. Kathleen Rooney is the author of Reading with Oprah: The Book Club that Changed America, as well as the poetry collections Oneiromance (An Epithalamion), Something Really Wonderful, and That Tiny Insane Voluptuousness, the latter two written collaboratively with Elisa Gabbert. Her essay Live Nude Girl was selected for Twentysomething Essays by Twentysomething Writers.
O, Democracy! /
ISBN: 0984651098 OCLC: 864504946 It's late spring of 2008, and one of Illinois' two Democratic senators is poised to become the next president of the United States. Colleen Dugan works for the other one--not on Capitol Hill, but in a Chicago skyscraper that overlooks Lake Michigan, among coworkers with little to do but field calls from angry constituents while the future of the nation gets decided elsewhere. In the coming weeks, Colleen will navigate the perils of costumed protestors, thuggish union reps, vacuous interns, trifling bureaucrats, dirty tricks by the senator's Republican rival, and the unexpected discovery of a scandalous secret that will give her the power to change the course of the election and shape her own fate--though not necessarily for the better. A quarter-life crisis viewed from the ghostly perspective of the Founding Fathers, this is a hilarious and heartbreaking story about American politics and the difficult business of being a good citizen: walking the tricky line between self-sacrifice and self-sabotage, between doing your part and knowing your place.
Oneiromance :
ISBN: 0978617231 OCLC: 232132039 Switchback Books, Chicago : ©2008.
Reading with Oprah :
ISBN: 1557287821 OCLC: 57498613 University of Arkansas Press, Fayetteville : 2005. Adored by its fans, deplored by its critics, the Oprah Book Club has been at the center of arguments about cultural authority and literary taste since its inception in 1996. Virtually everyone seems to have an opinion about this monumental institution with its revolutionary and controversial fusion of the literary, the televisual, and the commercial. This is the first in-depth look at the phenomenon that is the OBC.
Robinson alone
ISBN: 9780983700142 OCLC: 809412199 Gold Wake Press, [Boston, MA] : ©2012. Poetry. Meet Robinson, the protagonist of Kathleen Rooney's brilliant novel-in-poems ROBINSON ALONE. Conjured up by Weldon Kees and set loose in an urban landscape, Robinson reflects and refracts mid-century American kitsch, optimism, and despair. 'What do you think the post-war world will be like?' he asks, via Rooney's revisions and erasures of Kees' own letters. Lyrical and detailed, precise and ornate, Rooney's genre-bending text showcases an obsession with literary history. At once repulsed by Midwestern provincialism and fearful of urban excess, 'There's still as much of yesterday as there is of tomorrow in all he does today.'?Carol Guess Kathleen Rooney is one of the best writers of her still youthful generation. Whether working in memoir, essay, fiction, or verse, she writes in a style that is strikingly original and immediately recognizable for the high-spirited energy of its surface and an undertow of emotion that is sometimes elegiac. Even when part of the art in this book is that of the ventriloquist, both of these qualities can be found in Rooney's Robinson poems, a sustained work based on her long engagement with the poetry of Weldon Kees. Kees was for a long time a poet's poet for a generation now itself growing old, so it is a fine thing to have his signature character examined and re-animated by a young poet as good as Rooney is.?John Matthias Kathleen Rooney's ROBINSON ALONE is a blood brother to the historical novel. She reminds us that epic stories started with the poem, and she does the tradition proud with her formal flexibility and attention to detail. Her poems 'photograph the obscure, ' uncovering a lost treasure in Weldon Kees, who apparently is alive and well, living between these pages.?A. Van Jordan Weldon Kees is one of the more mysterious figures in American arts. Born in Nebraska in 1914, he followed his polymorphous muse from coast to coast as a musician, librarian, writer, screenwriter, critic, and painter. He is remembered most for his poetry, and for his disappearance. Did he leap to his death from the Golden Gate Bridge in July 1955 or seek a new life in Mexico? In an extraordinary act of identification, poet and essayist Rooney (For You, For You I Am Trilling These Songs (Counterpoint, 2010)) improvises on Kees's most haunting poems, a quartet featuring an alter ego named Robinson. Her loosely biographical, knowledgeably imaginative, and gorgeously atmospheric story in verse portrays Robinson as a dapper, talented, and bedeviled man who conceals his sorrows behind insouciance. Rooney weaves lines from Kees's writings into her bluesy, funny, and scorching lyrics as she follows Robinson from elation to desolation as his wife succumbs to alcoholism and his dreams fade. Rooney's syncopated wordplay, supple musicality, and cinematic descriptions subtly embody Kees's artistic pursuits as well as Robinson's sardonic grace under pressure. An intricate, psychologically luminous homage, tale of American loneliness, and enthralling testament to poetry's resonance.?Donna Seaman, Booklist starred review.
That tiny insane voluptuousness
ISBN: 9780980454147 OCLC: 436059737 Otoliths, Rockhampton, QLD, Australia : ©2008.