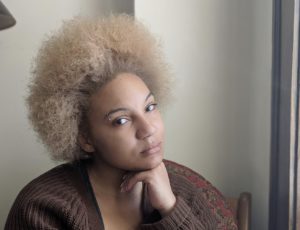 Lauren Michele Jackson
Born:
Connection to Illinois
: Jackson lives in Chicago. She attended University of Illinois at Urbana-Champaign for her bachelor's degree and received her doctoral degree in English Language and Literature from University of Chicago.
Biography
: Lauren Michele Jackson teaches in the Departments of English and African American Studies at Northwestern University. Her writing about race and culture has appeared in The Atlantic, The New Yorker, The Paris Review, Essence, the New Republic, Teen Vogue, Rolling Stone, and New York magazine, among many other places.
---
Awards
:
"""White Negroes"""
-- 11 notable Chicago books of 2019, Chicago Tribune
-- 68 Books For Every Person On Your Holiday List," Buzzfeed, 2019
-- 13 Must-Read Books for Fall, Wired, 2019
-- November 2019 Reads for the Rest of Us, Ms. Magazine, 2019
-- 5 books to read in November, The A/V Club, 2019
-- 6 STUNNING DEBUT BOOKS BY WOMEN TO READ THIS FALL, Book Riot, 2019
Primary Literary Genre(s):
Non-Fiction; Poetry
Primary Audience(s):
Adult readers
Website:
http://www.laurjackson.com/
Wikipedia:
https://en.wikipedia.org/wiki/Lauren_Michele_Jackson
---
Selected Titles
White Negroes: When Cornrows Were in Vogue ... and Other Thoughts on Cultural Appropriation
ISBN: 0807011800 OCLC: 1086481230 Beacon Press 2019 This book provides a cultural, political, and social survey through the most American of pastimes that continues to thrive today. With narrative, accessible criticism, research, and popular cultural touchstones we can all recognize, I'd like to introduce readers to the black presence that holds up daily life as they know it. It is a crucial account of the people, stories, and culture that create the hilarious, crazy wonder that is life in the 21st century. It is also a wake up call. White Negroes wants to peel open still beating heart of interracial antagonism in this country and expose a form of theft that feels natural only because we are used to it. But we don't have to be. This book documents how this very old tradition shapes our society in the present in the hopes that we can imagine something better. White Negroes will transform what readers think they know about race and culture in the new millennium and open the door to a new present and future unburdened by crimes of the past--