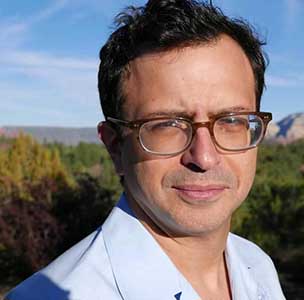 Daniel Borzutzky
Born:
Connection to Illinois
: Borzutzky teaches in the English and Latin American and Latino Studies Departments at the University of Illinois at Chicago.
Biography
: Daniel Borzutzky is the author of several poetry collections, including The Book of Interfering Bodies; In the Murmurs of the Rotten Carcass Economy; The Performance of Becoming Human, winner of the 2016 National Book Award; and Lake Michigan, a finalist for the 2019 Griffin International Poetry Prize. His translation of Galo Ghigliotto's Valdivia received the National Translation Award. He has also translated books by Chilean poets Raul Zurita and Jaime Luis Huenn.
---
Awards
:
The Performance of Becoming Human National Book Award, 2016 ;
Lake Michigan Griffin Poetry Prize shortlist, 2019
Primary Literary Genre(s):
Poetry
Primary Audience(s):
Adult readers
Web:
https://engl.uic.edu/profiles/borzutzky-daniel/
Web:
https://www.poetryfoundation.org/poets/daniel-borzutzky
Web:
https://poets.org/poet/daniel-borzutzky
Wikipedia:
https://en.wikipedia.org/wiki/Daniel_Borzutzky
---
Selected Titles
In the Murmurs of the Rotten Carcass Economy
ISBN: 9781937658335 OCLC: 894937620 Nightboat Books Callicoon, New York : 2015 This book confronts the various horrors of our contemporary landscape through a poetry that literalizes violence, that seeks to find emotional connection and personal meaning in a world that is always exploding.
Lake Michigan
ISBN: 9780822965220 OCLC: 1030624985 University of Pittsburgh Press Callicoon, New York : 2018 Lake Michigan, a series of 19 lyric poems, imagines a prison camp located on the beaches of Chicago that is privatized, racially segregated, and overrun by a brutal police force. Thinking about the ways in which economic policy, racism, and militarized policing combine to shape the city, Lake Michigan's poems explore the themes of estrangement, state violence and capitalist exploitation, and take a hard look at neoliberal urbanism in the historic city of Chicago.
The Book of Interfering Bodies
ISBN: 9780984459827 OCLC: 694394451 Nightboat Books ; Callicoon, New York : ©2011. Poems.
The Ecstasy of Capitulation
ISBN: 9781934289242 OCLC: 105635040 Blaze Vox Books, Buffalo, N.Y. : ©2007.
The Performance of Becoming Human
ISBN: 9781936767465 OCLC: 914445924 Brooklyn Arts Press Callicoon, New York : 2016 Daniel Borzutzky's new collection of poetry, The Performance of Becoming Human, draws hemispheric connections between the US and Latin America, specifically touching upon issues relating to border and immigration policies, economic disparity, political violence, and the disturbing rhetoric of capitalism and bureaucracies. To become human is to navigate these borders, including those of institutions, the realities of over- and under-development, and the economies of privatization, in which humans endure state-sanctioned and systemic abuses--Publisher's website.
Written after a massacre in the year 2018 /
ISBN: 1566895995 OCLC: 1192304372