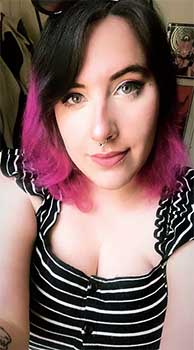 Stephanie Mided
Born:
Pen Name:
Connection to Illinois
: Mided lives in Chicago.
Biography
: Stephanie Mided is a comic artist and illustrator from Chicago who loves all things comedic, cute, and colorful. When she isnt working on comics, she spends her time collecting records and stopping her two cats from spilling drinks all over her desk.
---
Awards
:
Primary Literary Genre(s):
Fiction; Illustrator
Primary Audience(s):
Young adult readers
Web:
https://www.stephmided.com
Twitter:
https://twitter.com/Noctart
Instagram:
https://www.instagram.com/noctart/
E-Mail:
Stephmided@gmail.com
WorldCat:
http://www.worldcat.org/search?q=Stephanie++Mided
---
Selected Titles
Martian Ghost Centaur
ISBN: 1620108496 OCLC: 1162987047 Oni Press 2021 The town of Southborough used to be a major tourism destination, drawing folks from all over in the hopes they'd spot the famous Sasquatch, reportedly seen in the town many times over the years. But it's been ages since anyone's spotted the 'squatch, and tourism is starting to dry up. A tech company called Start-up.com (a start-up that helps people start their own start-ups) decides to begin buying up places all over town in order to build their techie headquarters, driving out all the local townspeople. Luckily, Southborough is also home to Louie O'Connor, firm believer in the Sasquatch's existence and all-around, mega 'squatch fan. When Louie's dads' restaurant, Squatch Burger, starts to go under and fall prey to the techie start-up, Louie and her best friend Felix decide they'll do whatever it takes to save the town from losing all the people and places that make it special. In hopes that convincing people the Sasquatch is real and to drive back tourism, Louie and Felix plan an elaborate hoax in hopes of saving the town from the dot-com takeover. But when Felix starts talking about leaving their hometown for college in LA, Louie will have to face some tough questions about herself, her future career, and her place in her beloved hometown. --