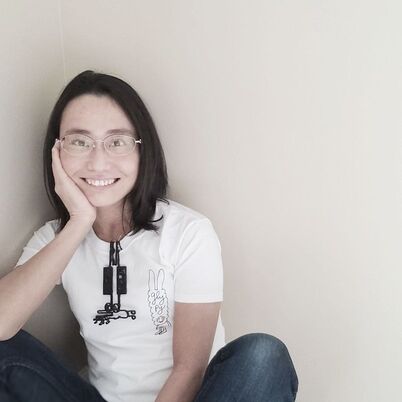 Naoko Fujimoto
Born:
Nagoya, Japan
Pen Name:
Connection to Illinois
: Fujimoto is an associate & outreach translation editor at RHINO Poetry in Chicago.
Biography
: Naoko Fujimoto was an exchange student and received a B.A. and M.A. from Indiana University. Her Naoko Fujimoto Poetry & Art site introduces readers to graphic poetry, showcases books and project developments and shares other influential poets and their accomplishments. Recent work appears or is forthcoming in POETRY, Kenyon Review, Seattle Review, Quarterly West, North American Review, Hayden's Ferry Review, Prairie Schooner, Diode Poetry Journal, and PANK.
---
Awards
:
Primary Literary Genre(s):
Poetry
Primary Audience(s):
Adult readers
Web:
https://www.naokofujimoto.com/
Web:
https://www.poetryfoundation.org/poets/naoko-fujimoto
WorldCat:
http://www.worldcat.org/search?q=Naoko++Fujimoto
---
Selected Titles
Glyph: Graphic Poetry = Trans. Sensory
ISBN: 1946482528 OCLC: 1228923222 TUPELO PRESS, DORSET : 2021.
Home, No Home
ISBN: 0996571612 OCLC: Educe Press 2016 People happily live…that is ideal; however, unwanted events happen—earthquakes, tsunami, cancer, brain surgery, unfilled love, or not making monthly rent. Naoko Fujimoto, a Japanese poet, adapted these scenes into first-person narratives in which ordinary people face these broken moments. This is captured in "Home, No Home."
Silver Seasons of Heartache
ISBN: 1941783333 OCLC: Glass Lyre Press 2017 In Silver Seasons of Heartache, Naoko Fujimoto walks a tightrope of language, making her way word by word across the chasm where hope can fall prey to heartbreak, the maybes and might‑bes of life transformed into what simply (and complicatedly) is. She is a poet of heart and humor, of insight and image. In carefully crafted yet conversational lines, Fujimoto describes the complications of our modern lives where "enough is never enough," but where you also might still be lucky enough to stop and savor the moment when your "breath is quiet— / waiting to catch the last lightning bug." —Matthew  Thorburn, author of Dear Almost Silver Seasons of Heartache is full of compelling poems that engage the senses as they navigate physical and emotional spaces: the kitchen, the family, the homeland, and the edges of this mysterious and precarious life. In "A Big Bowl of Beef Stew" she writes, "Past midnight, from the deepest forest, / a deer walked on weathered leaves." These are lovely poems, and Fujimoto's talent is the deep image. - Nancy Botkin
We Face the Tremendous Meat on the Teppan
ISBN: 1949540359 OCLC: [S.l.] : C&r Press [S.l.] : 2022 This poetry collection is a text collage about intergenerational war trauma: how my Japanese family lived through it and how we coped. This story was built from my two grandmothers' war experiences; though, the main characters are a woman narrator and her grandmother. They are celebrating Grandmother's birthday at a teppan-yaki restaurant (Japanese barbecue) and the story shifts between the present and World War II.
Where I Was Born
ISBN: 1732209189 OCLC: 1090174570 WILLOW Publishing, [Place of publication not identified] 2019.