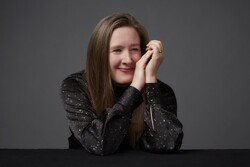 Sarah Ruhl
Born:
Wilmette, Illinois in 1974
Connection to Illinois
: Ruhl is originally from Chicago.
Biography
: Sarah Ruhl is a playwright and writer of other things. Her fifteen plays include In the Next Room (or the Vibrator Play), The Clean House, and Eurydice. She has been a two-time Pulitzer Prize finalist, a Tony Award nominee, and the recipient of the MacArthur 'genius' Fellowship. Her plays have been produced on- and off-Broadway, around the country, internationally, and have been translated into many languages. Her book 100 Essays I Don't Have Time to Write was a New York Times Notable Book. Her other books include Letters from Max, with Max Ritvo, and 44 Poems for You. She has received the Steinberg Playwright Award, the Samuel French Award, Feminist Press Under 40 Award, the National Theater Conference Person of the Year Award, the Susan Smith Blackburn Prize, a Whiting Award, a Lily Award, and a PEN/Laura Pels International Foundation for Theater Award for mid-career playwrights. She teaches at the Yale School of Drama, and she lives in Brooklyn with her husband, Tony Charuvastra, who is a child psychiatrist, and her three children.
---
Awards
:
''100 Essays I Don't Have Time to Write'',
-- New York Times Notable Book
''Letters from Max'',
-- KIRKUS BEST BOOK - 2018
Primary Literary Genre(s):
Non-Fiction; Poetry
Primary Audience(s):
Adult readers
Web:
https://www.sarahruhlplaywright.com
Facebook:
https://www.facebook.com/sarahruhlplaywright
Wikipedia:
https://en.wikipedia.org/wiki/Sarah_Ruhl
WorldCat:
http://www.worldcat.org/search?q=Sarah++Ruhl
---
Selected Titles
100 Essays I Don't Have Time to Write: On Umbrellas and Sword Fights, Parades and Dogs, Fire Alarms, Children, and Theater
ISBN: B00RKQ7EVA OCLC: Faber & Faber 2015
44 Poems for You
ISBN: 1556595840 OCLC: 1146545950 Copper Canyon Press 2020 Playwright Sarah Ruhl's first book of poetry, 44 Poems for You, offers poems that form a subtle, personal meditation on family, motherhood, and loss. With a finely tuned ear for language, Ruhl's poetry sings with a humbling honesty about what it means to share our lives with others and with those who form our hollows: a miscarriage, a close friend lost to cancer, and the sublimity of nature. She delves into womanhood through the physical reality of the everyday, and shows us life through her hands'making terrariums or jam with her husband, holding a child, grasping the counter as she bleeds. Succinct and contemplative, generous and wise, Sarah Ruhl'one of the greatest contemporary playwrights working today'addresses these poems to you.
Letters from Max: A Poet, a Teacher, a Friendship
ISBN: 1571313699 OCLC: 1030445658 Milkweed Editions 2018 Correspondence between playwright-teacher Sarah Ruhl and poet-cancer patient Max Ritvo, in which the student becomes the teacher--
Love Poems in Quarantine
ISBN: 1556596308 OCLC: Copper Canyon Press 2022 An award-winning, multi-genre writer grapples with the pandemic, death of George Floyd, and other crises of our times in gnomic poems written from inside the purgatory (and sudden revelations) of quarantine. Writing from and toward "the endless desire / to be at home in the world," Sarah Ruhl wrote Love Poems in Quarantine to mark the passage of time when all familiar landmarks disappeared. From the dawn of the COVID-19 pandemic, to the murder of George Floyd, to months of simultaneous quarantine and protest, this is―in free verse and form, lamentation and meditation―a book of days, a survival kit for spiritual malady. These poems find small solace in domestic absurdities. Even in global crisis, there is the laundry. The dog rolls in something putrid, the child interrupts a Zoom meeting, and dinner must get made, again and again. Using language to travel and touch when bodies could not, Ruhl has drawn with great care a portrait of a year unlike any other in history.
Smile: The Story of a Face
ISBN: 1982150947 OCLC: 1236259285 Simon & Schuster 2021 In this poignant and deeply intimate memoir, Sarah Ruhl chronicles her experience with Bell's palsy after giving birth to twins. At night, I dreamed that I could smile. The smile felt effortless in my dreams, the way it did in my childhood. Happily married and in the flush of hard-earned professional success, with her first play opening on Broadway, Sarah Ruhl has just survived a high risk pregnancy and given birth to twins when she discovers the left side of her face entirely paralyzed. Bell's palsy. Ninety percent of Bell's palsy sufferers see spontaneous improvement and full recovery. Like Ruhl's mother. Like Angelina Jolie. But not like Sarah Ruhl. Sarah Ruhl is in the unlucky ten percent. Like Allen Ginsberg. But for a woman, a mother, a wife, and an artist working in the realm of theater, the paralysis and the disconnect between the interior and exterior, brings significant and specific challenges. So Ruhl begins an intense decade-long search for a cure, while simultaneously grappling with the reality of her new face-one that, while recognizably her own-is incapable of accurately communicating feelings or intentions. In a series of searing, witty, and lucid meditations, Ruhl chronicles her journey as a patient, mother, wife, and artist. She details the struggle of a body yearning to match its inner landscape, the pain post-partum depression, the joys and trials of marriage and being a playwright and a mother to three tiny children, and the desire for a resilient spiritual life in the face of difficulty. Brimming with insight, humility, and levity, SMILE is a triumph by one of the leading playwrights in America. It is about loss and reconciliation, perseverance and hope. The Hollywood pitch would be Joan Didion meets Ann Lamott with a little Nora Ephron for good measure--