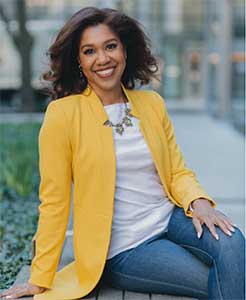 Inger Burnett-Zeigler
Born:
Pen Name:
Connection to Illinois
: Burnett-Zeigler is a lifelong Chicagoan.
Biography
: Dr. Inger Burnett-Zeigler is a licensed clinical psychologist and associate professor in the Department of Psychiatry and Behavioral Sciences at the Feinberg School of Medicine at Northwestern University. She has two decades of clinical experience helping people with stress, trauma, mood and anxiety conditions, and interpersonal strain. In her clinical practice she promotes holistic wellness through mindfulness and compassionate self-care. Ingers scholarly work focuses on the role that social determinants of health play in mental illness and treatment, particularly in the Black community. She is an advocate for normalizing participation in mental health treatment and assuring that all individuals have access to high-quality, evidence based mental health care. Inger has written dozens of articles and other publications on trauma and mental health in the Black community and lectures widely on research about barriers to access and engagement in mental health treatment, mindfulness and strategies to improve mental health treatment participation and outcomes. She is an active contributor to the public discourse on mental health and she has been featured in the New York Times, TIME Magazine, and Chicago Tribune. Inger received her undergraduate degree in psychology from Cornell University, her doctorate in clinical psychology from Northwestern University, and completed a post-doctoral fellowship at the VA Ann Arbor/University of Michigan.
---
Awards
:
Primary Literary Genre(s):
Non-Fiction
Primary Audience(s):
Adult readers
Web:
https://ingerbz.com
Twitter:
https://twitter.com/ibzpsychphd?lang=en
LinkedIn:
https://www.linkedin.com/in/burnettzeigleri
WorldCat:
http://www.worldcat.org/search?q=Inger++Burnett-Zeigler
---
Selected Titles
Nobody Knows the Trouble Ive Seen: The Emotional Lives of Black Women
ISBN: 0062959824 OCLC: 1257031400 Amistad 2021 A Northwestern University clinical psychologist challenges common cultural misconceptions to reveal the real-world systemic abuse, health traumas, and abandonment that disempower today's Black women and force them to hide behind masks of strength.