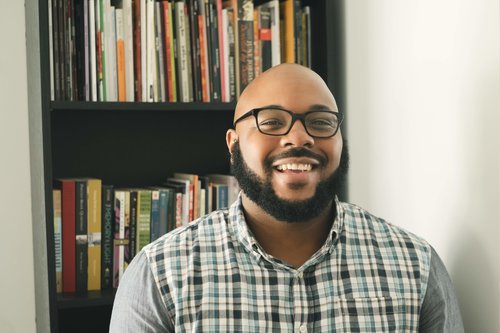 Nate Marshall
Born:
Connection to Illinois
: Marshall is from the South Side of Chicago.
Biography
: Nate Marshall is an award-winning writer, rapper, educator, and editor. He is the author and editor of numerous works including Wild Hundreds and The BreakBeat Poets: New American Poetry in the Age of Hip-Hop. Nate is a member of The Dark Noise Collective and co-directs Crescendo Literary. He is an assistant professor of English at Colorado College.
---
Awards
:
''Finna'',
-- NAMED ONE OF THE BEST BOOKS OF THE YEAR BY NPR The New York Public Library Tordotcom
''Wild Hundreds '',
-- Winner, 2017 Great Lakes Colleges Association New Writers Award (poetry category) Winner, 2016 BCALA Literary Award (poetry category) Winner of the 2014 Agnes Lynch Starrett Poetry Prize Finalist, 2015 NAACP Image Awards (poetry categ
Primary Literary Genre(s):
Poetry
Primary Audience(s):
Adult readers
Web:
https://www.nate-marshall.com/
Twitter:
https://twitter.com/illuminatemics
WorldCat:
http://www.worldcat.org/search?q=Nate++Marshall
---
Selected Titles
Finna: Poems
ISBN: 0593132459 OCLC: 1128195402 One World 2020 Definition of Finna, created by the author: fin na /'fine/ contraction: (1) going to ; intending to. rooted in African American Vernacular English. (2) eye dialect spelling of fixing to. (3) Black possibility ; Black futurity; Blackness as tomorrow. A lyrical and harp celebration, these poems consider the brevity and disposability of Black lives and other oppressed people in our current era of emboldened white supremacy. In three key parts, Finna explores the mythos and erasure of names in the American narrative; asks how gendered language can provoke violence; and finally, through the celebration and examination of the Black vernacular, expands the notions of possibility, giving us a new language of hope--
Wild Hundreds (Pitt Poetry Series)
ISBN: 0822963833 OCLC: 915158771 University of Pittsburgh Press 2015 Wild Hundreds is a long love song to Chicago. The book celebrates the people, culture, and places often left out of the civic discourse and the travel guides. Wild Hundreds is a book that displays the beauty of black survival and mourns the tragedy of black death.