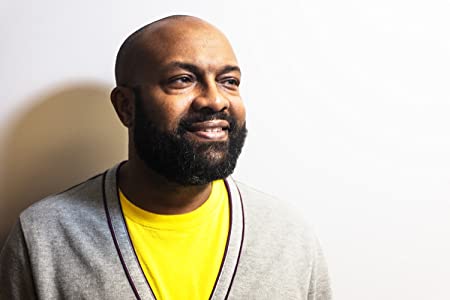 Jabari Asim
Born:
1962 in St. Louis, Missouri
Connection to Illinois
: Asim was scholar-in-residence in African-American Studies and in the Department of Journalism at the University of Illinois at Urbana–Champaign from 2008 to 2010.
Biography
: Jabari Asim is a writer and multidisciplinary artist. He directs the MFA program in creative writing at Emerson College, where he is also the Elma Lewis Distinguished Fellow in Social Justice. His nonfiction books include The N Word: Who Can Say It, Who Shouldn't, and Why; What Obama Means: For Our Culture, Our Politics, Our Future; Not Guilty: Twelve Black Men Speak Out on Law, Justice, and Life; and We Can't Breathe: On Black Lives, White Lies, and the Art of Survival. His books for children include Whose Toes Are Those? and Preaching to the Chickens: The Story of Young John Lewis. His works of fiction include A Taste of Honey and Only the Strong.
---
Awards
:
Primary Literary Genre(s):
Fiction; History; Non-Fiction; Poetry
Primary Audience(s):
Adult readers; Children; Young adult readers
Web:
https://www.thehistorymakers.org/biography/jabari-asim
Web:
https://www.poetryfoundation.org/poets/jabari-asim
Web:
https://www.encyclopedia.com/education/news-wires-white-papers-and-books/asim-jabari
Wikipedia:
https://en.wikipedia.org/wiki/Jabari_Asim
WorldCat:
http://www.worldcat.org/search?q=Jabari++Asim
---
Selected Titles
A Child's Introduction to African American History: The Experience, People, and Events That Shaped Our Country
ISBN: 0316436429 OCLC: Black Dog & Leventhal 2018 Critically acclaimed writer Jabari Asim guides readers ages 9-12 through the history of African Americans, from the slave trade to the Black Lives Matter movement, in the latest volume in Black Dog's bestselling, award-winning Child's Introduction series. This illustrated introduction to African American history goes beyond what's taught in the classroom giving young readers a more comprehensive look at this timely and important topic. Author Jabari Asim chronicles the story of African Americans from the slave trader through the American Revolution and the Civil War to the Tuskegee experiments, the Civil Rights movement, the election of Barack Obama. Sections throughout highlight the contribution of African Americans to the arts, music, literature, culture, sports and more. Lives of inspiring African American artists, inventors, and politicians including Harriet Tubman, Langston Hughes, Oprah Winfrey, Louis Armstrong, Serena Williams, are featured as well. Following in the tradition of Black Dog's best-selling Child's Introduction books, which include The Story of the Orchestra and A Child's Introduction to the Night Sky, A Child's Introduction to African American History includes 120 charming illustrations that bring the people and events to life. The book also features interactive projects that kids can do on their own or with their guardians including recipes and crafts --
A Child's Introduction to Jazz: The Musicians, Culture, and Roots of the World's Coolest Music (A Child's Introduction Series)
ISBN: 0762479418 OCLC: Black Dog & Leventhal 2022 A Child's Introduction to Jazz explores the rich history of jazz music, including profiles of famous musicians like Louis Armstrong and Billie Holliday. Written by A Child's Introduction to African American History author Jabari Asim, the book includes downloadable links throughout, to allow kids to listen along to the instruments and musical flair of jazz --
A Taste of Honey: Stories
ISBN: 0767919785 OCLC: New York : Broadway Books New York : 2009 A collection of stories that focus on the social upheaval and events of 1968 and how they impact a cast of characters.
Boy of Mine
ISBN: 0316735779 OCLC: New York ; Little Brown Kids New York ; 2009 A little boy plays among the stars before his mother tucks him into bed for the night.
Daddy Goes to Work
ISBN: 0316735752 OCLC: New York : Little Brown New York : 2006 A young girl accompanies her father to his office, helping him throughout the day.
Fifty Cents and a Dream: Young Booker T. Washington
ISBN: 0316086576 OCLC: New York : Little Brown Books for Young Readers New York : 2012 Born into slavery, young Booker T. Washington could only dream of learning to read and write. After emancipation, Booker began a five-hundred-mile journey, mostly on foot, to Hampton Institute, taking his first of many steps towards a college degree. When he arrived, he had just fifty cents in his pocket and a dream about to come true --Amazon.com.
Girl of Mine
ISBN: 0316735787 OCLC: New York : Little Brown Kids New York : 2009 Shows a dazzling little girl enjoying playtime in the moon's soft glow. As daddy cradles his baby girl, she is suddenly whisked away on a fantastical adventure, swinging above lush floral gardens under the golden moonlight. --Amazon.com.
Jamestown's American Portraits: The Road to Freedom
ISBN: 0809205831 OCLC: McGraw-Hill 2001 When Ezra Taplin, a ten-year-old slave, and his father are set free by Union soldiers, they must learn how to live as free men while struggling to discover the true meaning of freedom.
Me and Muhammad Ali
ISBN: 152473988X OCLC: Nancy Paulsen Books 2022 Langston's joyous encounter with his hero, boxing champion and poet Muhammad Ali, is everything he dreamed it would be and more.
Mighty Justice (Young Readers' Edition): The Untold Story of Civil Rights Trailblazer Dovey Johnson Roundtree
ISBN: 1250229006 OCLC: Roaring Brook Press 2020 A biography of Dovey Johnson Roundtree--one of the first black women to break the racial and gender barriers in the US Army, and an attorney in the segregated courtrooms of Washington, D.C.
My Baby Loves Christmas
ISBN: 006288462X OCLC: Harper Festival 2019 A baby discovers all the things she loves about Christmas.
My Baby Loves Halloween
ISBN: 0062884638 OCLC: Harper Festival 2020 A baby discovers all the things she loves about Halloween.
My Baby Loves Valentine's Day
ISBN: 0062884646 OCLC: Harper Festival 2020 A baby discovers all the things she loves about Valentine's Day.
Only the Strong
ISBN: B002JN57XQ OCLC: Agate Bolden 2015 Jabari Asim's debut novel returns readers to Gateway City, the fictional Midwestern city first explored in his acclaimed short story collection, Taste of Honey. Against a 1970s backdrop of rapid social and political change, Only the Strong portrays the challenges and rewards of love in a quintessential American community where heartbreak and violence are seldom far away. Moved by the death of Martin Luther King Jr., Lorenzo "Guts" Tolliver decides to abandon his career as a professional leg-breaker and pursue a life of quiet moments and generous helpings of banana pudding in the company of his new, sensuous lover. His erstwhile boss, local kingpin Ananias Goode, is also thinking about slowing down—but his tempestuous affair with Dr. Artinces Noel, a prominent pediatrician, complicates his retirement plans. Meanwhile, Charlotte Divine, the doctor's headstrong protégée, struggles with trials of her own. With prose that's sharp, humorous, and poetic, Asim skillfully renders a compelling portrait of urban life in the wake of the last major civil-rights bill. Massive change is afoot in America, and these characters have front-row seats.
Preaching to the Chickens: The Story of Young John Lewis
ISBN: 0399168567 OCLC: Nancy Paulson Books 2016 Critically acclaimed author Jabari Asim and Caldecott Honor-winning illustrator E.B. Lewis give readers a fascinating glimpse into the boyhood of Civil Rights leader John Lewis. John wants to be a preacher when he grows up a leader whose words stir hearts to change, minds to think, and bodies to take action. But why wait? When John is put in charge of the family farm's flock of chickens, he discovers that they make a wonderful congregation! So he preaches to his flock, and they listen, content under his watchful care, riveted by the rhythm of his voice. Celebrating ingenuity and dreaming big, this inspirational story, featuring Jabari Asim's stirring prose and E.B. Lewis's stunning, light-filled impressionistic watercolor paintings, includes an author's note about John Lewis, who grew up to be a member of the Freedom Riders, chairman of the Student Nonviolent Coordinating Committee, and demonstrator on the Edmund Pettus Bridge in Selma, Alabama, and is now a Georgia congressman --
Stop and Frisk: American Poems
ISBN: 0999823949 OCLC: Bloomsday 2020 In Stop and Frisk, Jabari Asim ruthlessly interrogates entrenched injustice and its insidious echoes. Part rap sheet, part concept album, Asim lays down tracks that add conviction to our collective broken record: What could be more American than pretending truths were self-evident when they seldom were? Drawing defiant inspiration from the news and the Blues, these poems arrest our attention and burn grooves into us. These starkly revelatory poems expose the dark heart of our nation and call for a reckoning-the only way out before everything breaks / into hurt, noise, and ever after. --
The N Word: Who Can Say It, Who Shouldn't, and Why
ISBN: 0618197176 OCLC: Boston : Houghton Mifflin Harcourt Boston : 2007 Reveals how the slur has both reflected and spread bigotry in America over the last 400 years. Asim pinpoints Thomas Jefferson as the source of our enduring image: in a seminal but now obscure essay, he marshaled a welter of pseudo-science to define the stereotype of a shiftless child-man with huge appetites and stunted self control. Asim reveals how nineteenth-century science then colluded with popular culture to amplify this slander. What began as false generalizations became institutionalized in every corner of our society. Asim argues that even when uttered with the opposite intent by hipsters and hip-hop icons, using the slur helps keep blacks at the bottom of America's socio-economic ladder. But, he also shows, there is a place for this word in the mouths and on the pens of those who truly understand its twisted history. Only when we know its legacy can we loosen its grip.--From publisher description.
The Road to Freedom: A Story of the Reconstruction
ISBN: 076963432X OCLC: Columbus, Ohio : Jamestown Publishers Columbus, Ohio : 2000 From 1865 to 1869, freed slaves Ezra--ten years old at the end of the Civil War--and his father deal with their newfound liberty, traveling from their former master's North Carolina plantation to finally settle in a community of free blacks in Charleston, South Carolina, where they gain education and professions.
We Can't Breathe: On Black Lives, White Lies, and the Art of Survival
ISBN: 1250174538 OCLC: Picador 2018 Asim disrupts what Toni Morrison [calls] the 'master narrative' and replaces it with a story of black survival and persistence through art and community in the face of centuries of racism. In eight ... essays, he explores such topics as the twisted legacy of jokes and falsehoods in black life; the importance of black fathers and community; the significance of black writers and stories; and the beauty and pain of the black body --Front flap.
What Obama Means: ...For Our Culture, Our Politics, Our Future
ISBN: 0061711330 OCLC: New York : William Morrow New York : 2009 Asim, author of the acclaimed The N Word, provides the context needed to understand what the Obama presidency means to Americans of all backgrounds, showing how African American performers, athletes, rhetoricians, and leaders laid the groundwork for Obama and how Obama turned the old civil-rights model of African American leadership on its head.
Whose Knees Are These?
ISBN: 031645429X OCLC: Little Brown Kids 2006 Takes a loving look at knees from the vantage point of a mother's lap.
Whose Toes Are Those?
ISBN: 031645432X OCLC: Little Brown Kids 2006 Children are invited to explore their toes by playing This Little Piggy.
Yonder: A Novel
ISBN: 198216316X OCLC: Simon & Schuster 2022 The Water Dancer meets The Prophets in this spare, gripping, and beautifully rendered novel exploring love and friendship among a group of enslaved Black strivers in the mid-nineteenth century --