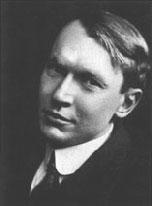 Vachel Lindsay
Born:
November 10, 1879 in Springfield, Illinois
Died:
December 5, 1931
Pen Name:
(Nicholas) Vachel Lindsay
Connection to Illinois
: Lindsay was born and raised in Springfield. He graduated from Springfield High School. He moved from Spingfield to attend college and moved back in 1929. Lindsay is buried in Oakridge Cemetary in Springfield.
Biography
: Vachel Lindsay used his hometown of Springfield, Illinois as a base from which he launched a one-man campaign to reform American poetry and culture. His most original works were such poems as 'General William Booth Enters into Heaven' and 'Bryan, Bryan, Bryan, Bryan,' which were strongly rhythmic chants about American heroes couched in colorful American colloquial speech. Such poetry was meant to express Lindsay's 'Gospel of Beauty,' an idealistic program to awaken Americans to art and learning.The Vachel Lindsay House is located at 603 South Fifth Street in Springfield, Illinois. It is the site of Lindsay's birth and death. The site is open to the public Tues-Sat: 12-4:00pm. Lindsay's grave is in Oak Ridge Cemetery in Springfield, Illinois.
---
Awards
:
-- Name engraved on the frieze of the Illinois State Library alongside other great Illinois literary figures, 1990
-- Illinois Author of the Year,'' Illinois Association of Teachers of English, 1970
Primary Literary Genre(s):
Poetry
Primary Audience(s):
Adult readers
Vachel Lindsay Association :
http://www.vachellindsay.org/
Vachel Lindsay on WorldCat :
http://www.worldcat.org/search?q=vachel+lindsay
---
Selected Titles
Daniel jazz and other poems.
ISBN: 1407721321 OCLC: 940459962 Hardpress Publishing, [Place of publication not identified] : 2012.
General William Booth Enters into Heaven :
ISBN: 9783842437616 OCLC: 916092646 tredition Hamburg 2011
Selected poems of Vachel Lindsay
ISBN: 002548270X OCLC: 234220217 Macmillan Pub Co 1931
Vachel Lindsay reads The Congo & other poems.
ISBN: 9781907818387 OCLC: 814558821 Saland Publishing, [Guildford] : [2011?] This historic recording was made just months before the author's premature death in 1931. The father of modern singing poetry is captured here performing The Congo, The Chinese Nightingale, General William Booth Enters Into Heaven, The Moon's the North Wind's Cooky, The Flowers Fed Buffaloes, and The Mysterious Cat.