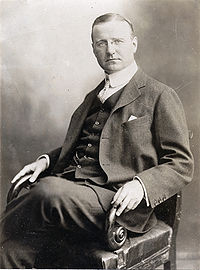 Finley Peter Dunne
Born:
July 10, 1867 in Chicago, Illinois
Died:
April 24, 1936 in New York City, NY
Pen Name:
None
Connection to Illinois
: Dunne was born in, lived in and wrote about Chicago.
Biography
: Dunne was a humorist and journalist. He was the creator of 'Mr. Dooley', an Irish tavern-keeper and shrewd commentator on public events featured in Dunne's comic newspaper sketches at the turn of the century. Dunne started writing his Irish dialect sketches in 1892, first for the ''Chicago Evening Post'' and later for the ''Chicago Journal''. The sketches were syndicated nationally after 1898, and many of them were collected in books, beginning with ''Mr. Dooley in Peace and in War'' and ending with ''Mr. Dooley on Making a Will and other Necessary Evils''. Dunne was one of the first successful Irish-American writers.
---
Awards
:
-- Name engraved on the frieze of the Illinois State Library alongside other great Illinois literary figures, 1990
Primary Literary Genre(s):
Fiction
Primary Audience(s):
Adult readers; Young adult readers
Finley Peter Dunne on WorldCat :
http://www.worldcat.org/search?q=finley+peter+dunne
---
Selected Titles
Dissertations by mr. dooley.
ISBN: 1313947970 OCLC: 926850490 Hardpress Ltd, [Place of publication not identified] : 2013.
Mr Dooley, wise and funny--we need him now /
ISBN: 0942936116 OCLC: 18078829 Lincoln Herndon, Springfield, Ill. : ©1988.
Observations by Mr. Dooley
ISBN: 9780649136773 OCLC: 1001338386